How to add a vendor
From your dashboard, navigate to "Vendors" under Manager and select add in the upper right corner.


Then, check the Vendor (1099) box and enter the business name and the name and email address of your point of contact. Once you click "Add New Vendor", they'll receive an email to set up their own account. Please note, if a vendor chooses to be paid under their Social Security Number instead of an EIN, they'll automatically be categorized as a contractor.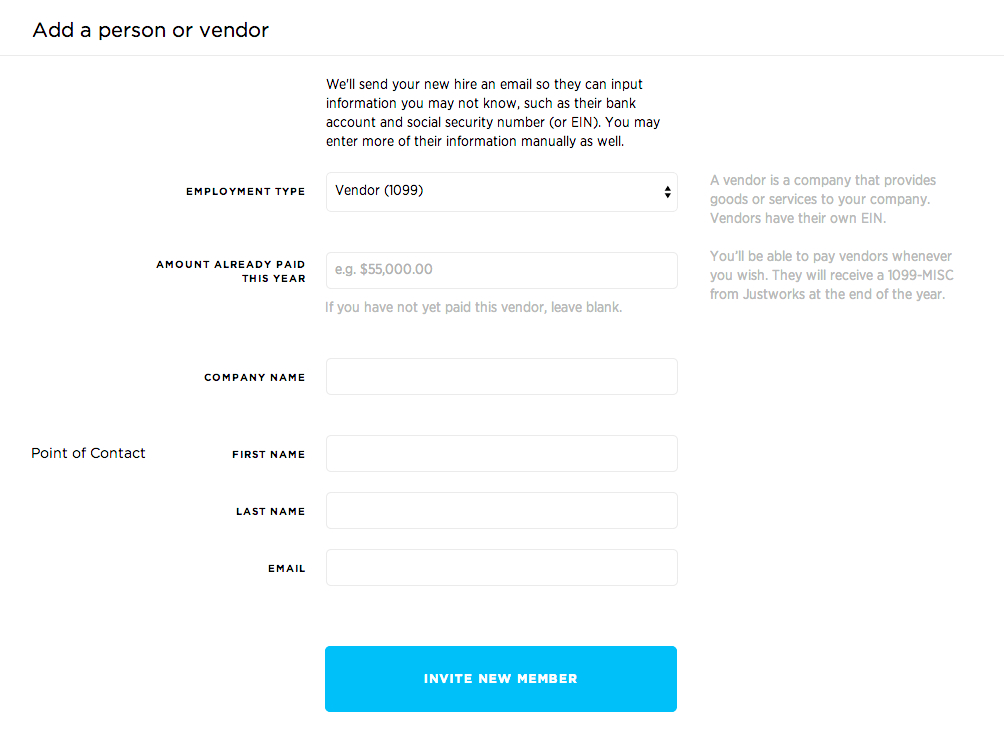 That's it!
Paying vendors is just as easy as paying employees and contractors. Enter the amount, payment date and tax classification, and the payment will be scheduled. Both you and the vendor will receive notifications about when payments have been scheduled, modified or canceled. You'll be able to see outgoing vendor payments on your forecast calendar along with employee and contractor payments.
Once the vendor has successfully signed up, you'll receive an email notification, which will look something like this:


As always, Justworks will take care of filing any necessary 1099 formswith your vendor and with the government. Vendor payments are available free of charge to all Justworks administrators.
Disclaimer
This material has been prepared for informational purposes only, and is not intended to provide, and should not be relied on for, legal or tax advice. If you have any legal or tax questions regarding this content or related issues, then you should consult with your professional legal or tax advisor.