Contractors paid over $600 in a calendar year will receive a 1099
Justworks tracks how much your contractors are paid each calendar year and will send your contractors a 1099-MISC form if they are paid $600 or more. In addition, these earnings will be electronically reported to the IRS.
This service is included free of charge with any Justworks account.
Admins can view a preview of what information will be included on their contractors' and vendors' 1099s by navigating to the Report tab, and scrolling to the 1099 Preview Report.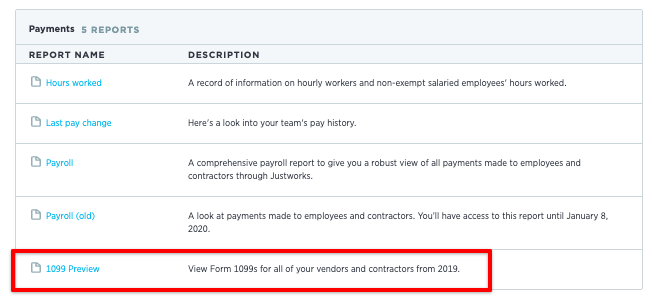 From here, admins will be able to download a spreadsheet that includes the breakdown of what will be in each box of the 1099 through Justworks. Note that report only shows contractors & vendors whose 1099 filling status is currently set to 'Justworks to file'.
More about 1099 filing, and what's required if you weren't using Justworks
Read more on our blog: Stop Wasting Time with 1099
The most common uses of Form 1099-MISC for small businesses
Here is an overview of the most common uses of Form 1099-MISC.
Who will receive a W-2?
Anyone that you have listed as an employee in Justworks that receives a salary (full or part-time) or you pay hourly, will receive a W-2 at the end of the year.
Disclaimer
This material has been prepared for informational purposes only, and is not intended to provide, and should not be relied on for, legal or tax advice. If you have any legal or tax questions regarding this content or related issues, then you should consult with your professional legal or tax advisor.