Our reporting center is flexible to cater to the needs of your company — offering you the information you need when you need it.
Report types
You can view several types of company data under the 'Reports' tab from under the Company category: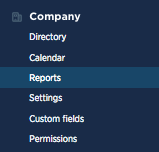 Note: any admins with the View Invoices & Reporting permission will be able to run these reports.
Here is a breakdown of the data you can access in each report:
COMPANY CENSUS
Build a report of your employees, contractors, and vendors, their personal contact information, and their relationship to the company including but not limited to job titles, managers, salaries, and start/end dates. You'll also be able to an employee's FICA/FUTA exemption status, and if they are a greater than 2% shareholder of an S-Corp, when pulling the census.
TIME OFF USAGE
Builds a PTO request report based on a date range you select and your choice of employee types (full-time, part-time, contractor, etc…), offices, departments, employee info fields (name, department, office), PTO request info (includes any notes between employee and manager).
PAYROLL
The updated version of the Payroll Report allows Justworks administrators with Make Payments and View Invoice and Reporting permissions to pull more granular data, data such as member net pay, total cost per member, and supplemental pay details directly. There's an Overview version of the report which takes the sum of taxable payments, employer-paid contributions, employer-paid taxes, and the like, but admins can also pull a CSV of a Detailed report to dig deeper.

BENEFITS USAGE
Builds a report of the benefits your employees are enrolled in, how much they cost, and how that cost is shared between the employee and the company.
RETIREMENT
Builds an employee payment with all relevant information about your employees' retirement plan deferrals (the most common of which are 401(k)s).
TIMECARDS USAGE

Builds a report that allows you to download timecard data across different pay periods all in one place. You can group results by pay periods, entry type (weekly or daily), or simply take the total hours across all pay periods.
1099 PREVIEW
New for 2019, this report shows admins a preview of the information that will be included on any of their vendors' and contractors' 1099 at the end of the year. Note that this report only shows contractors & vendors whose 1099 filling status is set to 'Justworks to file'.
How it works
To generate a report, you can simply navigate to the Reports tab under Company, and select which report to pull from the tabs at the top of the page:



For each report select the date range (except for the company census, which always reflects the current state), the employee types, and information fields. Each report defaults to the full data set available - you'll need to uncheck boxes that you don't want to include.
Date ranges
Census Reports: Includes employees with the selected attributes as of today. All employees, including those in Justworks and starting on a future date will be included in this report.
Time Off Usage: Allows you to select the desired date range. Note: the report will only include PTO requests that were made within the selected timeframe (e.g. 4/1/2015-4/30/2015 report will be include an employee that requested time off from 4/30/2015-5/15/2015).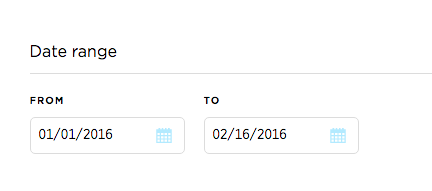 Payroll Report
The new payroll report allows you to designate a start and end date for the time period you wish to pull data from. The report defaults the dates as year-to-date, but you can change this by editing the dates entered and hitting 'apply.'

Benefits Usage: Allows you to generate a report from a specified date.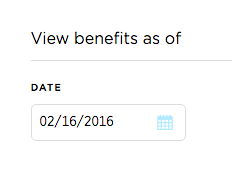 Filtering data
EMPLOYEES
You can filter employees to include in your reports based on the following:
Type of employee (full-time, part-time, contractor, etc…)
Office
Department
Current or past employees (for Payroll and Company Census reports only)
DATA FIELDS
Fields to include in reports will differ depending on which report you are generating. For instance, in the payroll report you can select things like employer tax amount, other deductions, tax amount and in benefits you can select data like insurance class covered, start date, end date and this data will populate in the columns associated with the employee data you've selected.
Invoices
You can view invoice data and payment history from 'Invoices' under Payments in the left hand navigation. The payroll journal view makes it easy to see exactly how, for each employee, you get from gross to net pay. And the cash requirements view makes it easy to understand exactly where every penny is going for all employer taxes and fees. You can find more information on how to integrate Justworks with either Quickbooks Online, QuickBooks Desktop or Xero.

Download reports
Download Report when you're ready to generate the csv file. Once you've downloaded the csv, just click 'save as' in order to save in another compatible format, like xls or pdf. The time to generate the report can vary depending on the amount of data you're generating.
Disclaimer
This material has been prepared for informational purposes only, and is not intended to provide, and should not be relied on for, legal or tax advice. If you have any legal or tax questions regarding this content or related issues, then you should consult with your professional legal or tax advisor.