What is an HSA?
A Health Savings Account (HSA) is a pre-tax savings account for employees with a qualified high deductible health plan. Those enrolled in HSAs can make accumulated tax-free contributions to pay for health insurance costs for themselves and tax dependents— including doctor and hospital visits, co-payments, eyeglasses, prescriptions, certain long-term care insurance premiums and COBRA premiums. They can also contribute to their deductible.
Why should I offer an HSA?
Offer HSAs to help your employees substantially reduce their taxable income, and pay off their medical expenses incurred with a high-deductible health plan. More and more companies offer their team FSAs and HSAs, so stay competitive in the job market by ensuring you have your employees' backs.
What can I offer my employees?
Justworks is offering HSAs to employees enrolled in a high-deductible plan. The caps set by the IRS for maximum contributions for 2019 are the following:
Individual: $3,500
Family: $7,000
If an employee is 55 or over, however, their contribution limit increases by $1,000, for both individual and family.

Contributions are deducted from the second paycheck of each month.
Do I need to offer the same contribution amount to all employees' HSAs?
If you decide to contribute to your employees' HSAs, you must contribute the same amount for all enrolled employees.
How much does it cost?
For companies that started with Justworks on or after July 1, 2019, HSA will be a $5 "add on" per enrolled employee per month. For current companies that started with Justworks prior to July 1, 2019, please reach out to your Account Manager or our 24/7 Customer Support Team if you have any questions about your current HSA fee.
If you decide to contribute to your employees' HSAs, you must contribute the same amount for all enrolled employees.
How does an HSA differ from an FSA?
Both HSAs and FSAs allow you to pay for qualified medical expenses with pre-tax dollars. There are two key differences for HSAs:
HSAs are only available to employees enrolled in high-deductible health insurance plans. Conversely, FSAs are available for all plans if you decide to offer them.
Unlike an FSA, HSA balances can accumulate and roll over from year to year. Employees get to keep their HSA funds, even if they move to a different plan at the end of the year.
When can an employer change their HSA contribution amounts?
The employer can only update HSA contributions once annually (before the start of the calendar year). Employees can change their individual HSA contributions at any time.
How can I change my company's contributions or stop offering an HSA?
Employers can only change their company's HSA contributions, or stop offering HSA to their employees, during the open enrollment period. Admins with Benefits permissions will see the option to Change Contribution in the HSA card in their Benefits Center.



From there, admins will have the options to change their HSA contributions for the next year, or remove the HSA offering altogether.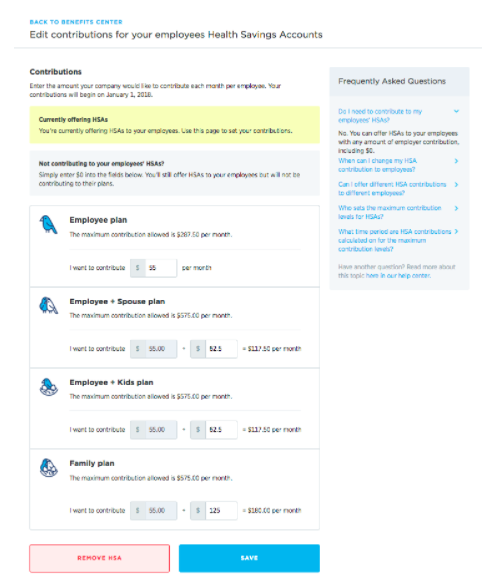 Does Justworks support contributions from both employers and employees?
Yes, both employers and employees can use Justworks to specify and edit their HSA contributions. Please keep in mind, however, that unpaid owners are not eligible for HSAs through Justworks.
When are my contributions deducted from employees' paychecks?
Contributions are always deducted from employees' second paycheck of the month. If employers offers a contribution, their contributions will be deposited into employees' HSA at the same time.
Is there a deadline for enrollment?
There is no deadline for setting up your HSA account. If you have an HSA-eligible plan, you can get started at any time.
When an employee is terminated what happens to their HSA?
Terminated employees are no longer able to contribute to their HSA, but employees will always have access to their HSA and can always use any funds in their HSA. Terminated employees will not count toward your monthly HSA cost starting the month following their termination.
If an ER is contributing to HSA, can they choose to provide those funds upfront, or does it have to be split across 12 months?
Yes, an employer can choose to provide the funds upfront.
Do I need to contribute to my employees' HSAs?
No. You can offer HSAs to your employees with any amount of employer contribution, including $0.
When can I change my HSA contribution to employees?
HSA employer contributions can only be set once a year, and cannot be changed until the next year. Employees can change their own contributions at any time.
Can I offer different HSA contributions to different employees?
Employers can set different contribution levels for different coverage tiers, such as employee only vs employee + spouse.
Who sets the maximum contribution levels for HSAs?
The maximum contribution levels for HSAs are set annually by the IRS.
What time period are HSA contributions calculated on for the maximum contribution levels?
HSA contributions are calculated on a calendar year basis.
Disclaimer
This material has been prepared for informational purposes only, and is not intended to provide, and should not be relied on for, legal or tax advice. If you have any legal or tax questions regarding this content or related issues, then you should consult with your professional legal or tax advisor.