What is the company calendar?
The company calendar will give you a forecast for all of your upcoming payments, employee anniversaries, birthdays, PTO and company holidays. Viewing the calendar will help you view cash-flow regarding upcoming payments for both regularly scheduled salary and hourly employees as well as any other upcoming payments.
Find it on your main dashboard or under Company and the left navigation bar: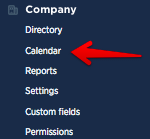 How do I add the company calendar to my Google Calendar?
In the top left corner, you'll see a button to "Subscribe via iCal". Click this and copy-paste the link.
To add a calendar using its address, follow these steps:
Click the down-arrow next to Other calendars.
Select Add by URL from the menu.
Find the address of the Google Calendar in iCalendar format, or if you have the iCalendar address of a calendar from a different application (for example, Apple's iCal), you can use this as well.
Enter the address in the field provided.
Click Add calendar. The calendar will appear in the Other calendars section of the calendar list to the left.
Disclaimer
This material has been prepared for informational purposes only, and is not intended to provide, and should not be relied on for, legal or tax advice. If you have any legal or tax questions regarding this content or related issues, then you should consult with your professional legal or tax advisor.