This article specifically refers to scheduling + recording payments to vendors through Justworks. To read more about vendor classification, visit Vendors in Justworks.
Scheduling Vendor Payments
Justworks makes scheduling payments to your company's vendors easy.
Once your vendor has completed their Justworks enrollment, you'll be able to schedule payment to them through the Payments Center. Scroll down to 'Vendor payment':

From there, you'll be able to select the vendor payment type, and the amounts.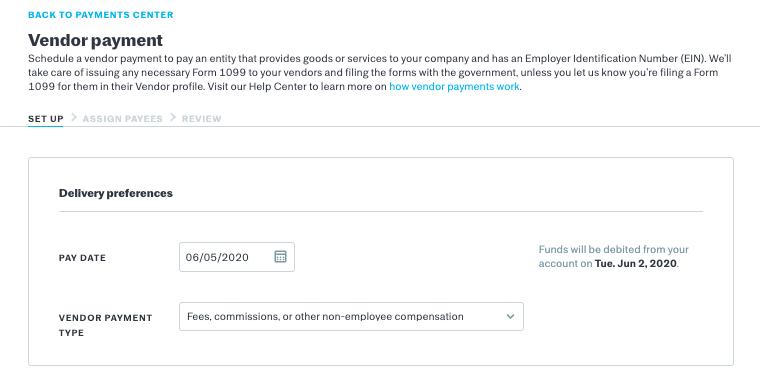 You'll also be able to enter a note with these payments.

On the next screen, you'll see all the vendors which you can schedule payments to. Only vendors will show from this screen, as you cannot schedule vendor payments to employees and contractors.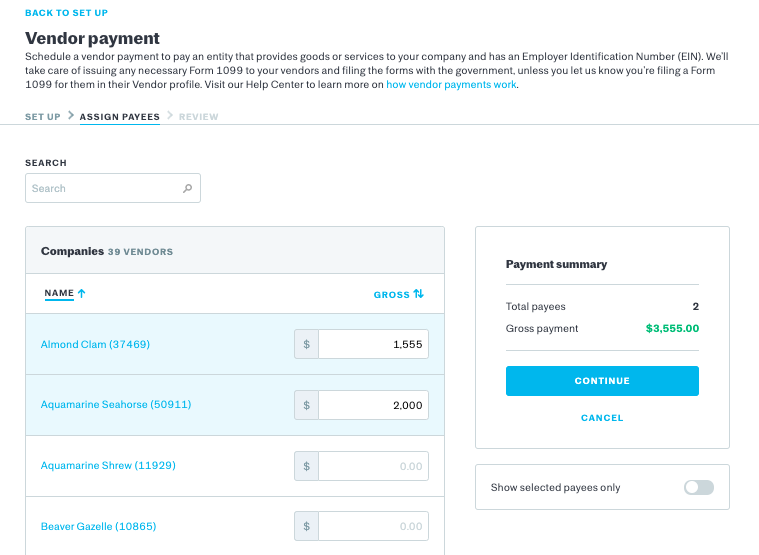 Once you review and submit, you'll see the success page as follows.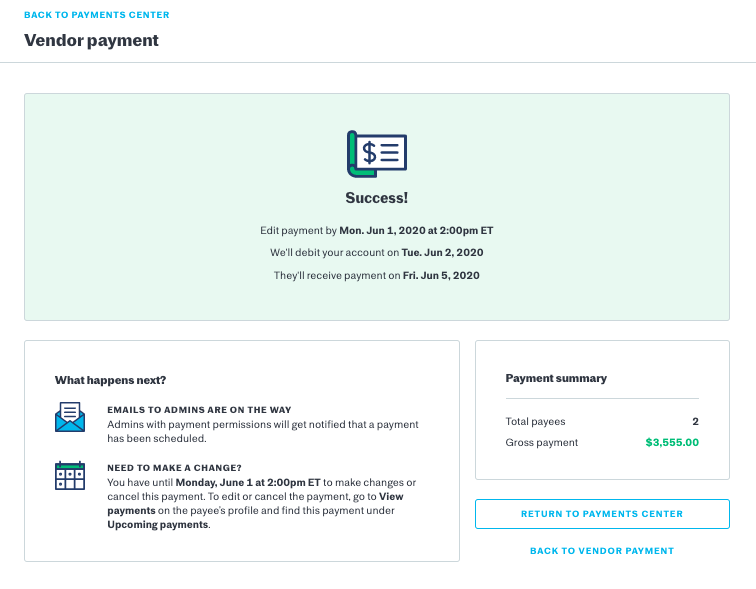 This page will let you know when your company's bank account will be debited for this payment, as well as the last time you'll be able to cancel or edit the payment.
Admins with Make a Payment permissions will also receive an email confirmation of the payment being successfully submitted.
Recipients will also receive emails letting them know that payments have been scheduled.
Recording External Payment Amounts
If you've paid this vendor outside of Justworks, you can add that payment amount to their account at any time. From Manage > Vendors, you can click on their profile, and scroll down to settings.
Here, you'll let us know whether or not you want us to file a 1099 for them, as well as any external payment amounts that need to be included on their 1099.
1099 Preview Report
Admins can view a preview of what information will be included on their contractors' and vendors' 1099s by navigating to the Report tab, and scrolling to the 1099 Preview Report.
From here, admins will be able to download a spreadsheet that includes the breakdown of what will be in each box of the 1099 through Justworks. Note that report only shows contractors & vendors whose 1099 filing status is currently set to 'Justworks to file'.