What is the 1099 Report?
In order to help you see the filing status and payment amounts for any contractors or vendors you've paid during the year, you can utilize the 1099 Report in the 'Reports" section of your Justworks account.
Reminder: Justworks will produce Forms 1099-MISC and 1099-NEC for those contractors and vendors who meet the requirements, and whose 1099 filing status is set 'Justworks to file' in their contractor or vendor settings.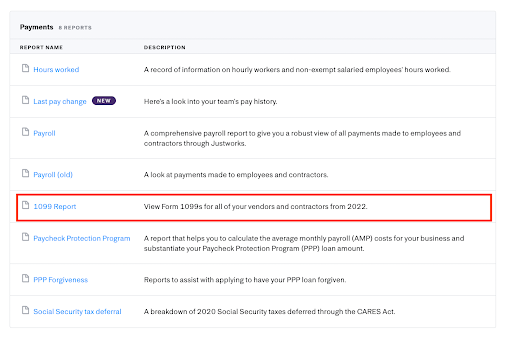 The 1099 report can be viewed in two ways:
An

in-app report

that will show you all your contractors and vendors who have 1099 payment records in Justworks (both recorded external payment amounts and/or payments issued through Justworks).

A

downloadable .csv file

that will show the filing status and payment totals only for contractors and vendors that Justworks is projected to file for you whose 1099 filing status is currently set to 'Justworks to file'.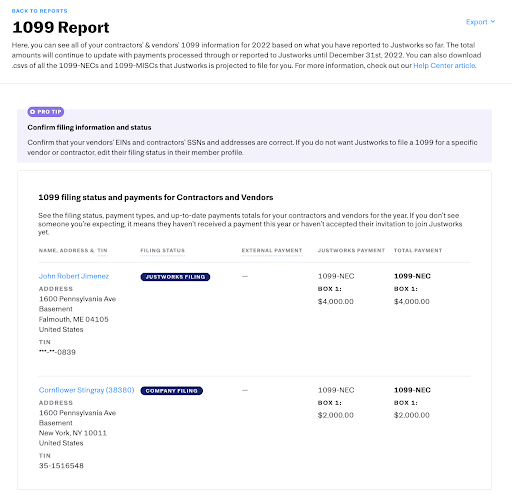 The in-app report is broken down as follows:
Name, Address and TIN

For contractors, the TIN will be their SSN and for vendors, this will be their EIN

Filing Status

Here you can see if the contractor or vendor settings are set to "Justworks to file" or "Company filing" meaning either Justworks will file or your company will handle the filing on your own.

Those with the setting "Justworks to file" will also be visible on the downloadable .csv report.

External Payment

The total external (non-Justworks) payment amounts recorded in the contractor or vendor's settings recorded during the year will appear here as well as whether the individual will be issued Form 1099-MISC or Form 1099-NEC.

Justworks Payment

The total amount of 1099 payments issued through Justworks will be shown here as well as whether the individual will be issued Form 1099-MISC or Form 1099-NEC.

Total Payment

This field will show the combined totals for both external and Justworks payments as well as the corresponding Form 1099-MISC or Form 1099-NEC Box numbers and amounts.
What if I need to change something?
If, after reviewing the information above, you realize you need to change/add external payment amounts or change the filing status for a contractor or vendor, you can quickly access those settings by clicking on their name in the report: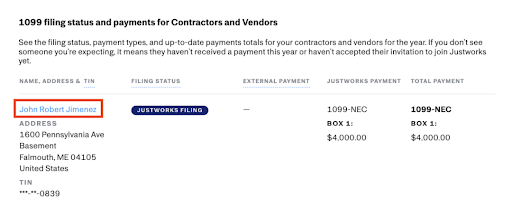 Will the report only show me contractors or vendors who will receive a 1099?
If a contractor or vendor has not met the filing threshold for either the 1099-MISC or 1099-NEC but does have payments recorded in Justworks, we will include them on the in-app report with a note that indicates that we will not be filing the form for them. However, the downloaded CSV report will only show those contractors or vendors that Justworks will file.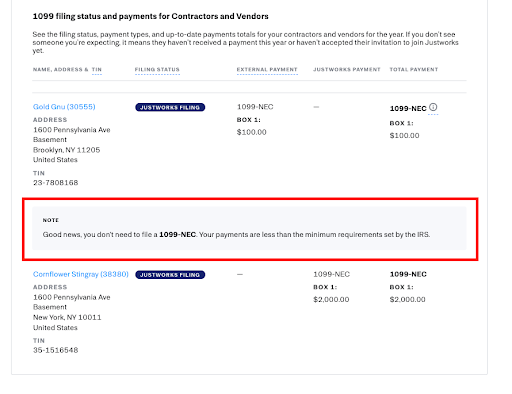 Disclaimer
This material has been prepared for informational purposes only, and is not intended to provide, and should not be relied on for, legal or tax advice. If you have any legal or tax questions regarding this content or related issues, then you should consult with your professional legal or tax advisor.