Overview
The Bulk Updates - Compensation feature allows admins to update multiple members' compensation at the same time, helping them be more efficient and accurate.


How Does the Feature Work?
The Bulk Updates - Compensation feature can accessed from the Justworks dashboard under: HR > Bulk updates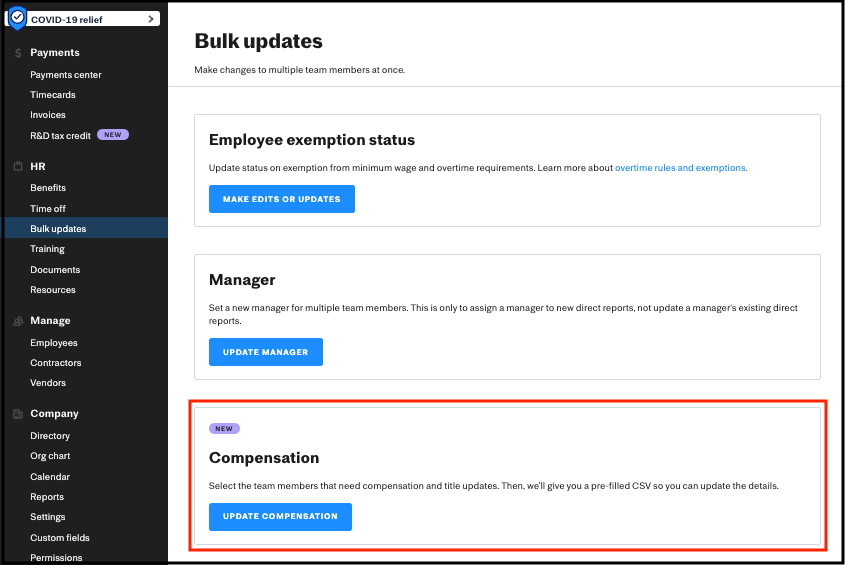 Click 'UPDATE COMPENSATION' and you will be brought to the 'Update compensation & title' overview page. There are four steps outlined at the top of the page:
Effective Date
Select Employees
Upload
Review
___________________________________________________________________________
EFFECTIVE DATE

Begin by selecting an effective date at bottom and click 'CONTINUE'.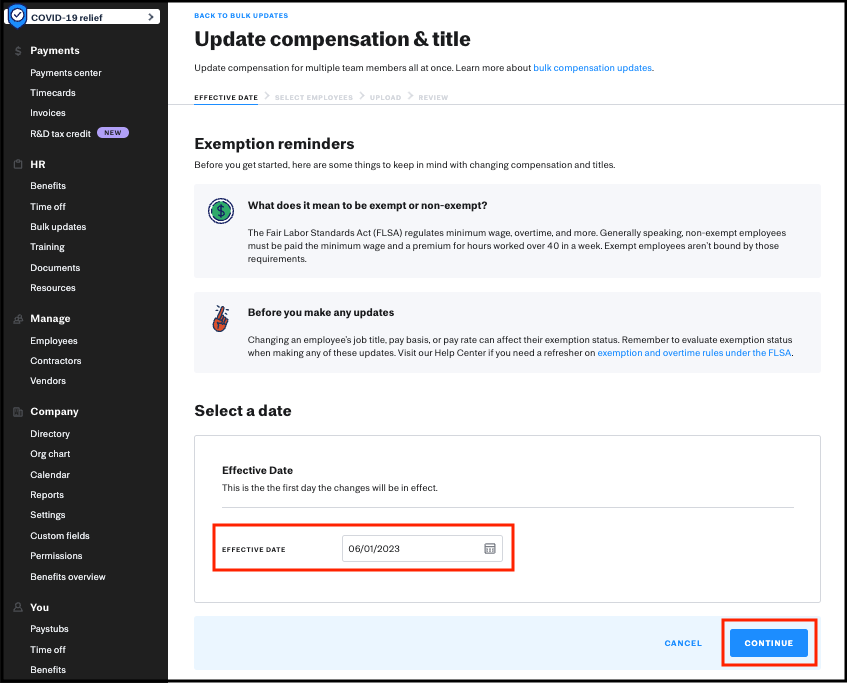 ___________________________________________________________________________
SELECT EMPLOYEES
Select the check box next to each member that you'd like to update their compensation. There are three ways to find members quicker.
Sort by Department, Office, Member type
Search for a member's name
Filter by Department, Office, Member type
You can also toggle the switch to 'Only show affected employees'.
When you're ready, click 'CONTINUE'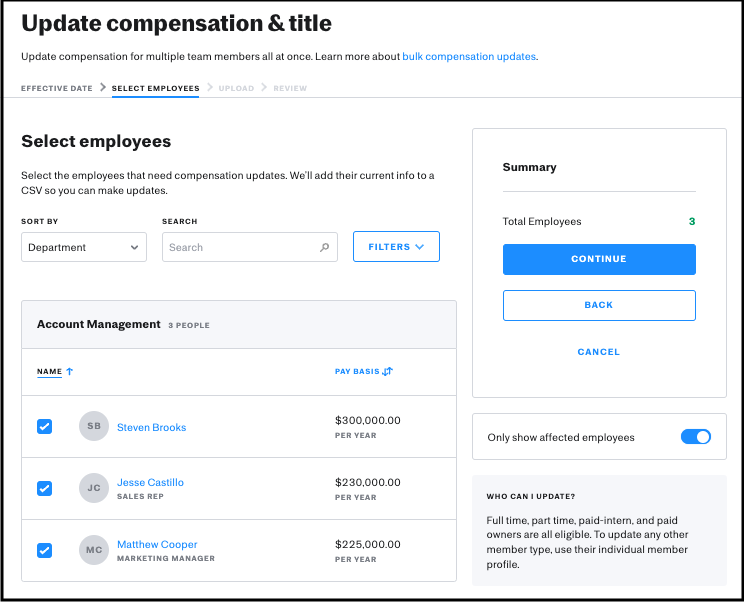 ___________________________________________________________________________
UPLOAD
From this page, you will perform these three steps:
Download your CSV
Make updates
Upload your CSV
Start by selecting 'DOWNLOAD CSV'.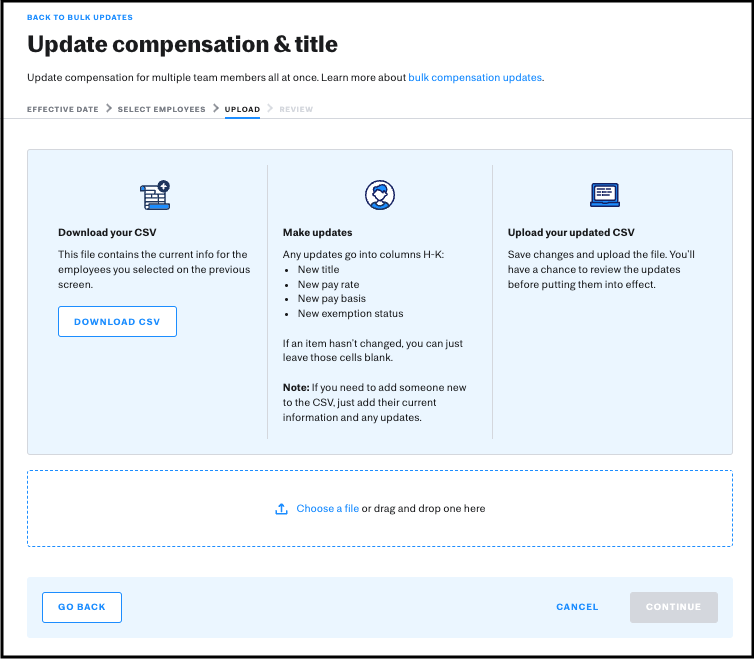 Use the downloaded spreadsheet to make updates to any of the following items:
Title
Pay rate
Pay basis
Exemption status
When you're ready, upload the updated CSV, review the changes highlighted in green, and select 'CONTINUE'.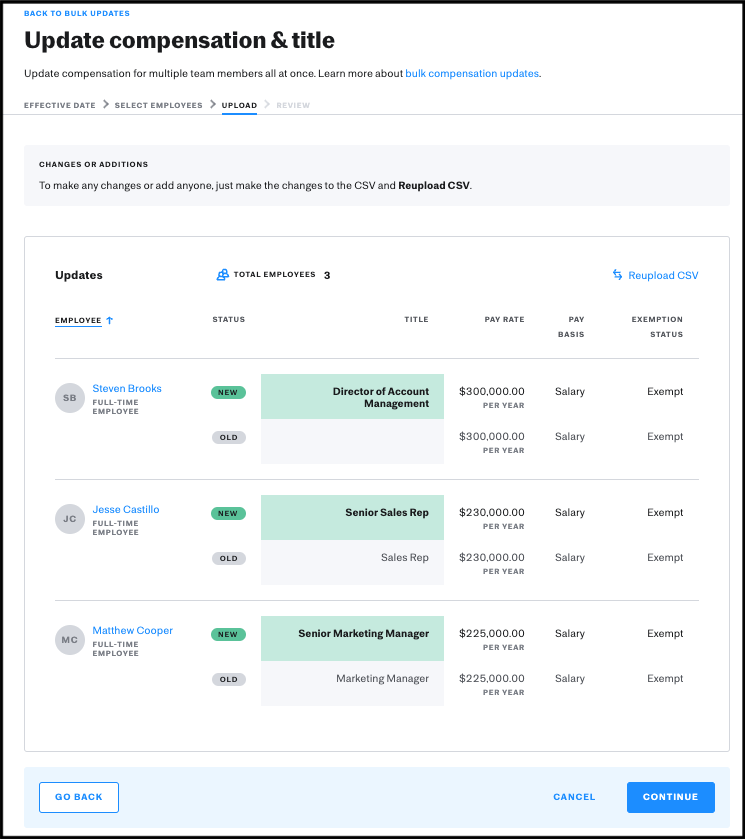 ___________________________________________________________________________
REVIEW
You will have one final opportunity to review and edit all of the details before selecting 'SUBMIT'.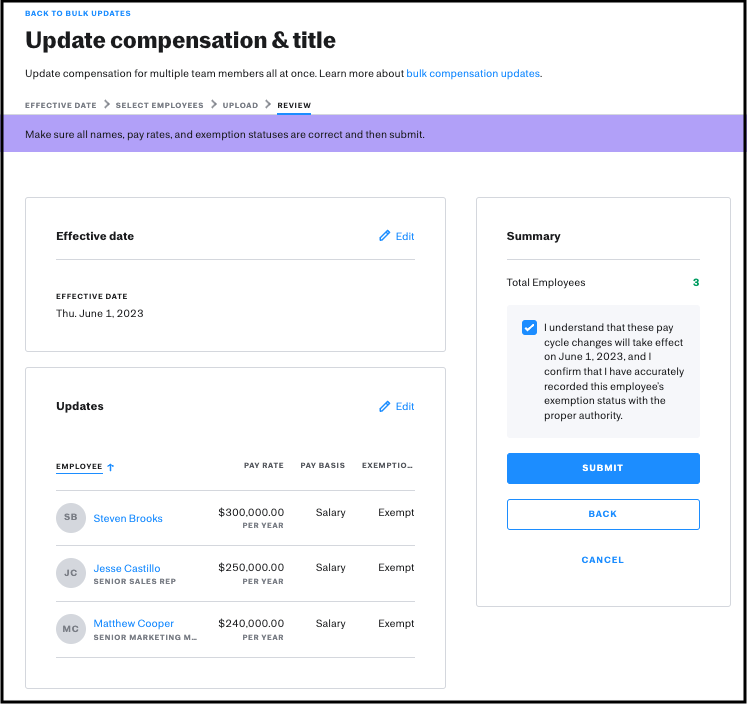 ___________________________________________________________________________
A success message will display the effective date and number of employees that have been updated. You will also have the opportunity to generate a letter and let your employees know when their compensation changes. The letters will be prefilled with employee name, old pay rate, and new pay rate. Letters can be downloaded and will be saved to the employee's documents as well as to your company documents.
To generate a compensation notification letter, click GET STARTED.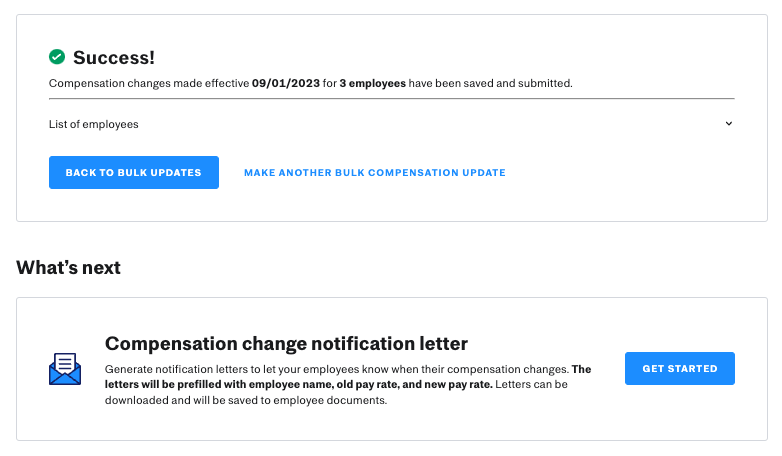 Select a letter template that best suits the reason for an employee's compensation change. After choosing the first template you have the option to "Copy to all", or continue selecting individual templates. You may also preview each letter. When you're ready, click SUBMIT & SAVE.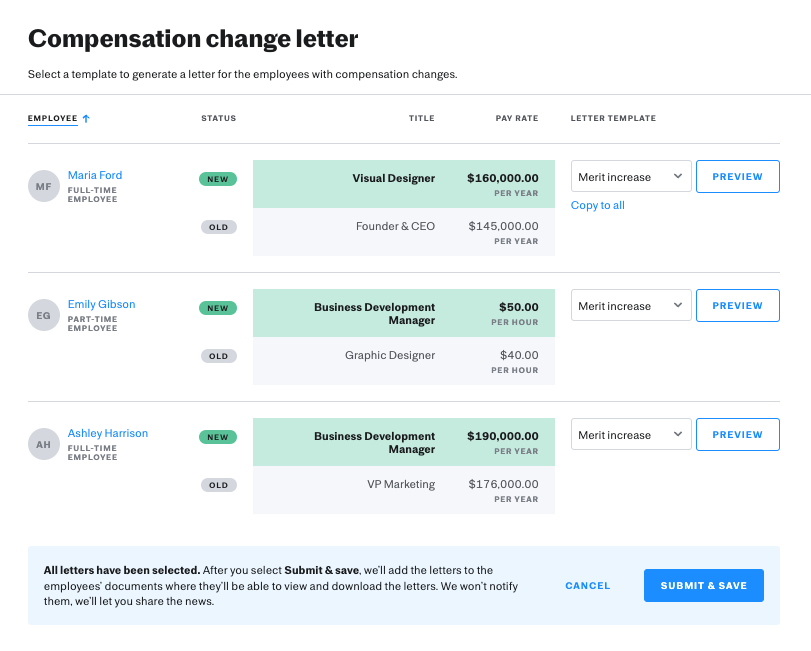 The compensation change notification letters will be saved to your company documents as well as into each employee's documents. You can email them to let them know to login and check their document. Please note, Justworks will not notify your employees of this document.
Click "List of employees" to expand the list and download the letters if you'd like.

Alternatively, you can access the letters by clicking Bulk updates from the left-hand Navigation Bar and selecting "Generate letters" within the Compensation section.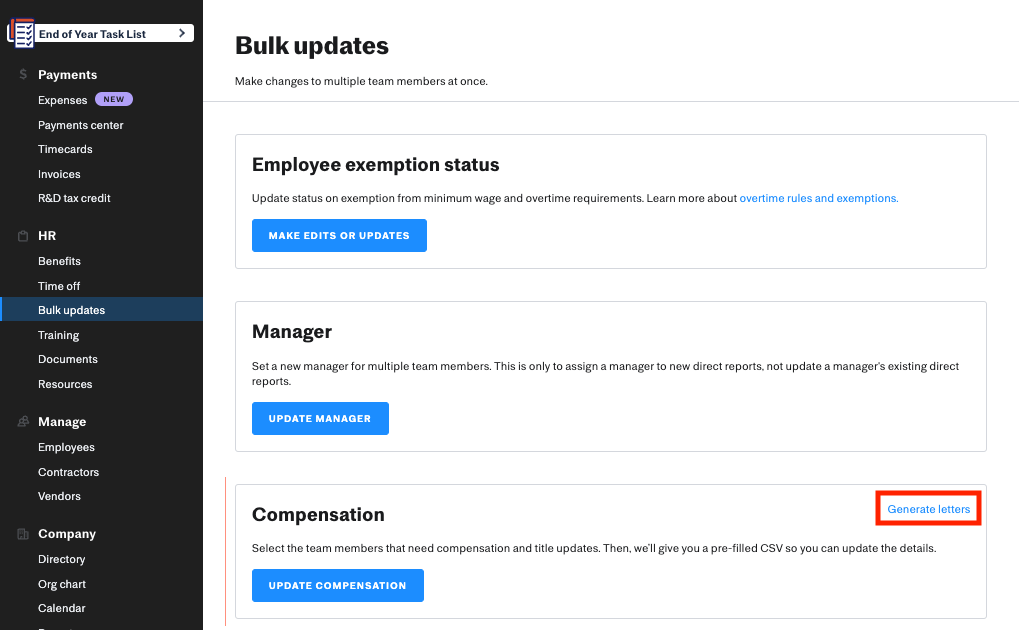 Frequently Asked Questions
What permissions do I need to make bulk compensation updates?
Only admins with the "Change Employees" permission can make updates

Who can I update?
Full time, part time, paid-intern, and paid owners are all eligible. To update any other member type, use their individual member profile.

How far in the past can I make the "Effective Date"?
The effective date can be scheduled on any date in the past. If you select a date in the past, no retroactive payment will be made by Justworks on your behalf. We plan for this functionality to be available within the year. Given that any retroactive payments you record in Justworks, but make outside of Justworks, will be processed in the current tax year, and thus will not affect previous tax cycles.

Is there a minimum or maximum number of employees that I can make bulk compensation updates to?
There is no minimum or maximum of employees needed to make updates using this feature.
Do I need to convert the downloaded spreadsheet to a CSV before uploading it?
Yes. You must make sure that you convert the spreadsheet to the .CSV format in order to upload it successfully. Please refer to these support pages if you need help converting your spreadsheet.
Apple (Numbers)
Microsoft (Excel)

How do I indicate that there is no change in the .CSV column?
If any item hasn't changed, you can leave the empty cell blank.