What are locations in Justworks Time Tracking?
Locations in Justworks Time Tracking can be thought of in several ways. Primarily, locations are anywhere employees go to do work. This can include, but is not limited to, the following:
Multiple physical locations (retail, restaurant, etc.)

Multiple job sites (construction, service providers, etc.)

Offices
Clients (track time to clients for billing/accounting regardless of physical location)
How to add a location in Justworks Time Tracking?
Adding a new location to your Justworks Time Tracking account takes just a few minutes. First let's learn how to do so on the Justworks Time Tracking website. To get started, click on 'Manage' and then on 'Locations.
Near the top of the table, you'll see a button labeled 'Add New Location'.

After clicking on the button, you'll name your location and provide an address. (see below for adding a location without an address).

You can also assign new or existing locations to specific employees or departments in Justworks Time Tracking. To do so, click on the 'Employees' tab of the location details window. By default your location is assigned to all employees, but if you uncheck the location box you'll see the option to assign to employees or departments. After you've made your assignments, click 'Save'.
Once you've provided the needed information, just click 'Save' to finish or 'Save and Add New' to add an additional location.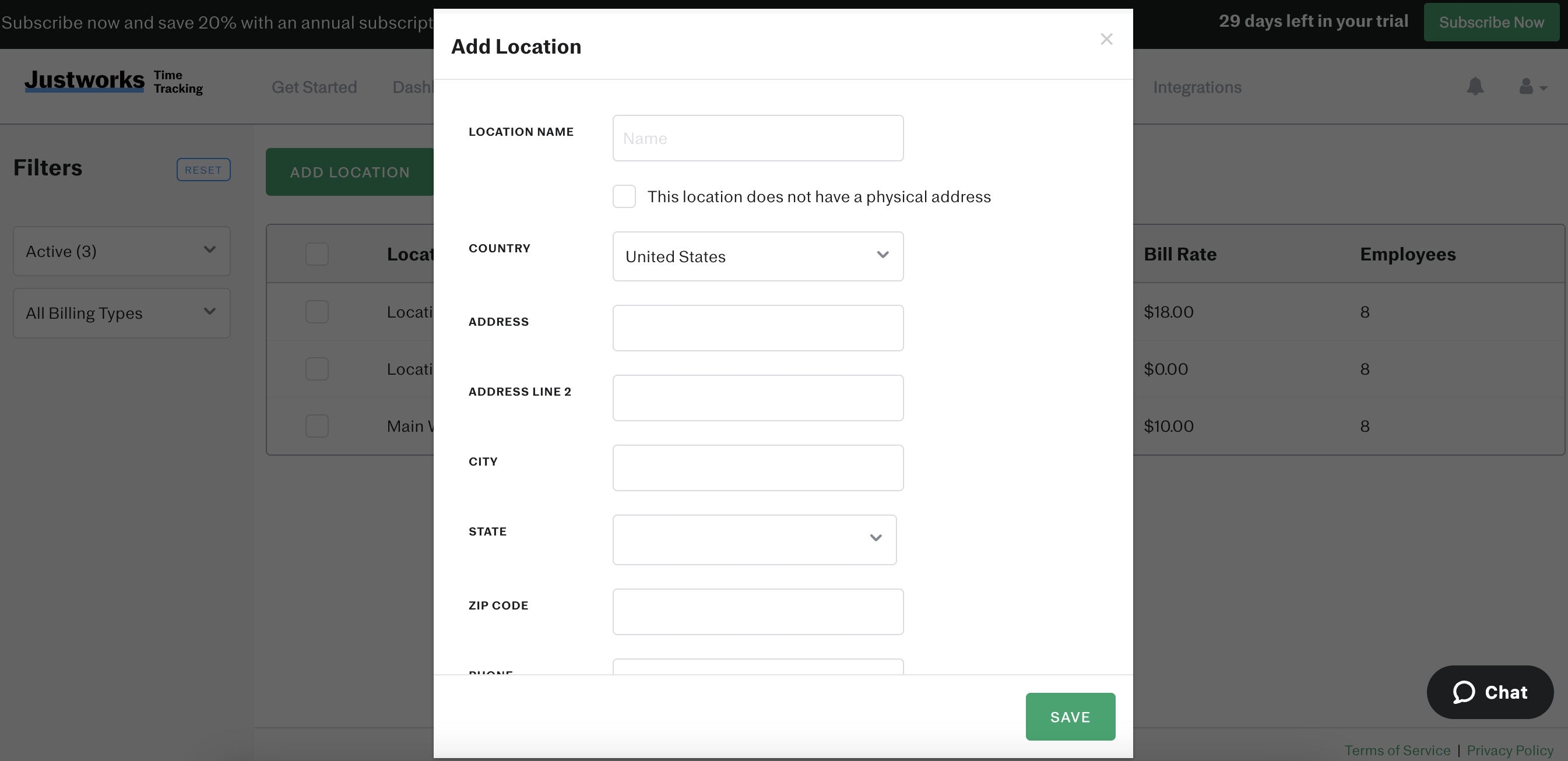 How to add a new location via the Time Tracking mobile app?
To add a location from the mobile app, access the app menu by tapping on the three lines in the top, left corner of the mobile app screen.
Next tap on 'Manage Locations'. Here you can search your location list, update details for an existing location, or add a new location. To add a new location, tap on 'Add New Location' at the top of the page.
First name the location (a name is required). The next field gives you an option to set a billable rate (see the billable rate section of this article for more information).
Next tap on 'Link a Physical Address'. To have Justworks Time Tracking autofill the address based on your current location, tap on the navigation triangle in the top, right corner. To have Justworks Time Tracking autocomplete your address based on your input, tap on the address field and start typing.
Next you can assign this location to employees or departments by tapping on 'Assign to Employees'. By default it will be assigned to all employees, to change this, switch the toggle to 'Off".