What is 401(k)?
A 401(k) is a type of retirement savings plan sponsored by an employer. It lets employees save and invest a portion of their paychecks either before taxes are taken out (traditional) or after taxes (Roth). The plan allows employees to save for their future without having to rely on an employer offering a pension. Additionally, you, as an employer, may elect to match employee contributions towards their accounts.
Making the maximum annual contribution
The IRS has an annual contribution limit for anyone participating in a 401(k) plan. If you're under 50, the maximum annual contribution amount for 2021 is $19,500 ($19,200 in 2020) and if you're 50 or older, the maximum annual contribution amount for 2021 is $26,000 ($26,000 in 2020). This IRS limit does not include any employer matching or profit sharing contributions, only employee contributions. Justworks automatically caps the limit so long as all of the contributions took place through Justworks payroll.
Please refer to this IRS article on the contribution limits.
Why should I offer 401(k) to my employees?
Offering a 401(k) can be leveraged to recruit and retain top talent for your organization. If your company decides to include employer matching as well, the match amount provided to employees can be deducted from the employer's federal income tax.
Is employer matching required?
It all depends on your plan set up; some plan options require your contribution, others don't. In some cases, it may be recommended that the employer offer a certain type of match to avoid potential compliance testing failures. Generally, Employer matching is optional for the 401(k) plan - ultimately it is the employer's decision to offer a match.
Justworks and Slavic401k
Justworks' valued 401(k) provider is Slavic 401k
Slavic401k has been in the retirement business for over 30 years. Through Slavic401k your employees will be able to invest into reputable funds managed by Fidelity and Vanguard. Through the Justworks integration, employee deductions will be automatically sent over to Slavic401k so you won't have to worry about providing a file to your 401(k) provider yourself.
How much will the 401(k) plan cost me through Slavic401k?
All companies on the Justworks platform can choose to have the 401(k) plan available to their employees. As an employer there is no additional cost to offer Slavic401k to your employees.
Employees will be charged an asset based fee that is determined by the amount of assets in the plan. As the employer you have the option to cover a portion or all of these fees for your employees at any time.
How do I set-up my Slavic401k plan?
Please visit your Benefits under HR in your Justworks account to access the enrollment flow.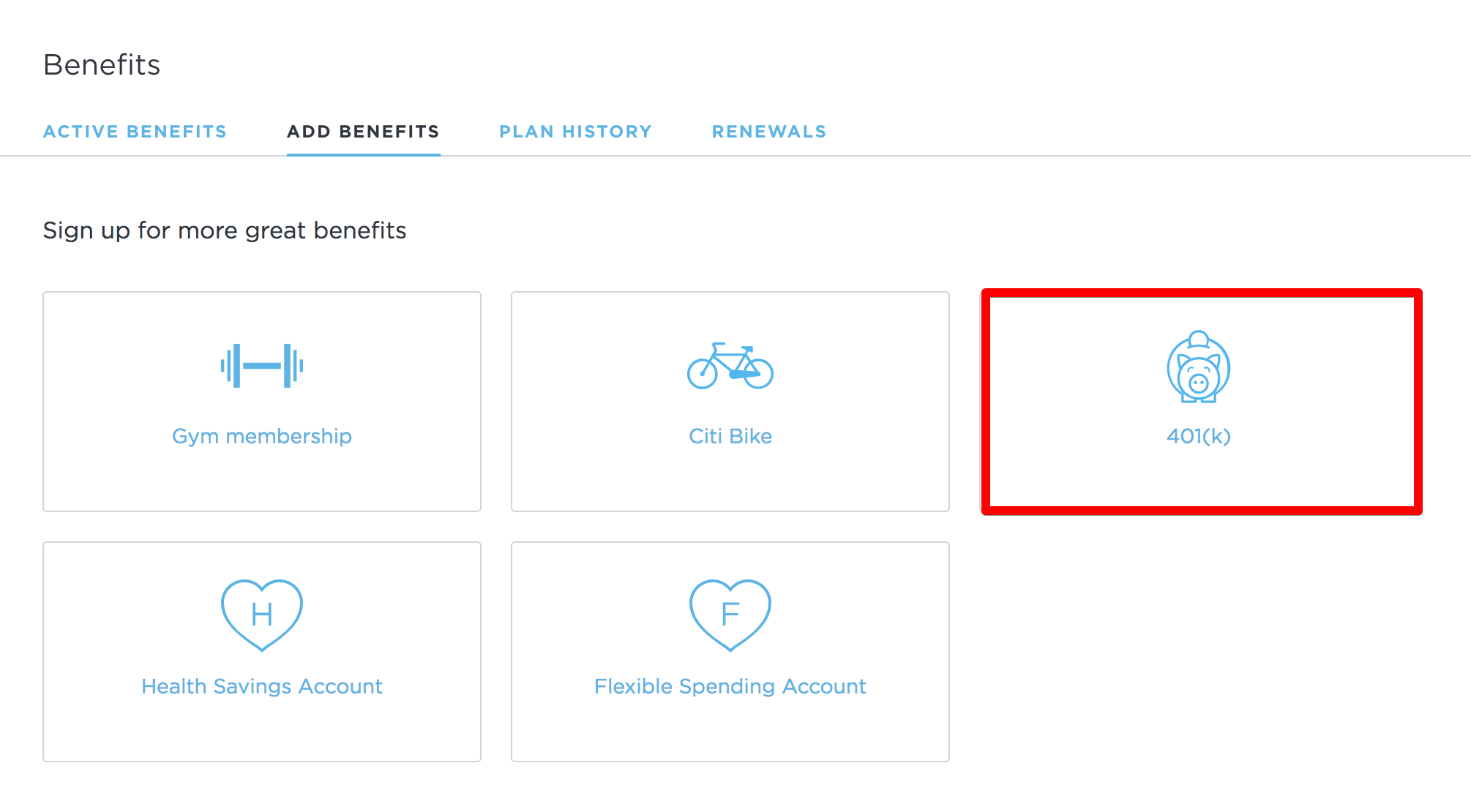 Click the 401(k) tile to learn more and begin your enrollment process.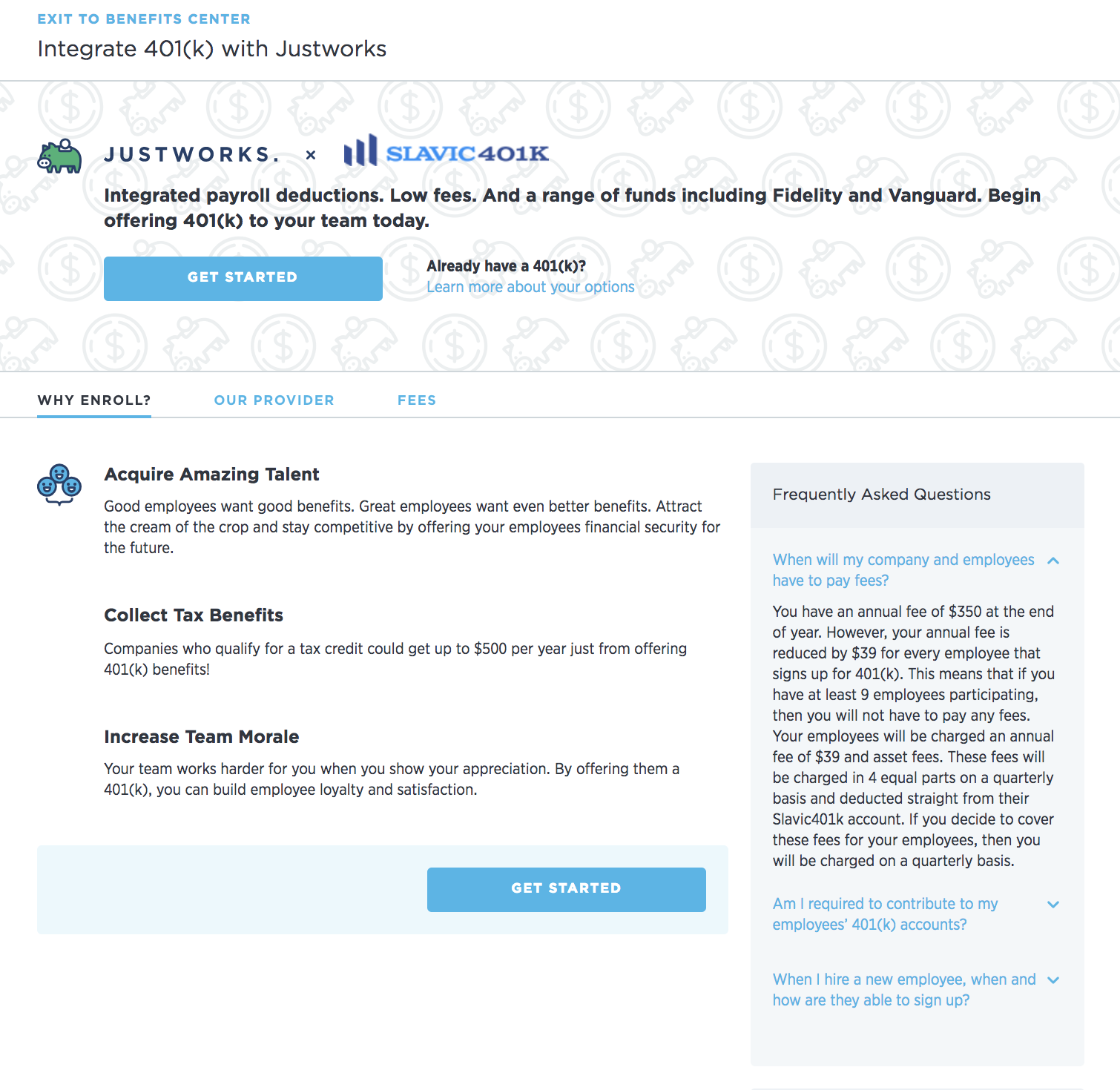 Learn about our partner, Slavic401k, explore fees, and read other FAQs before getting started.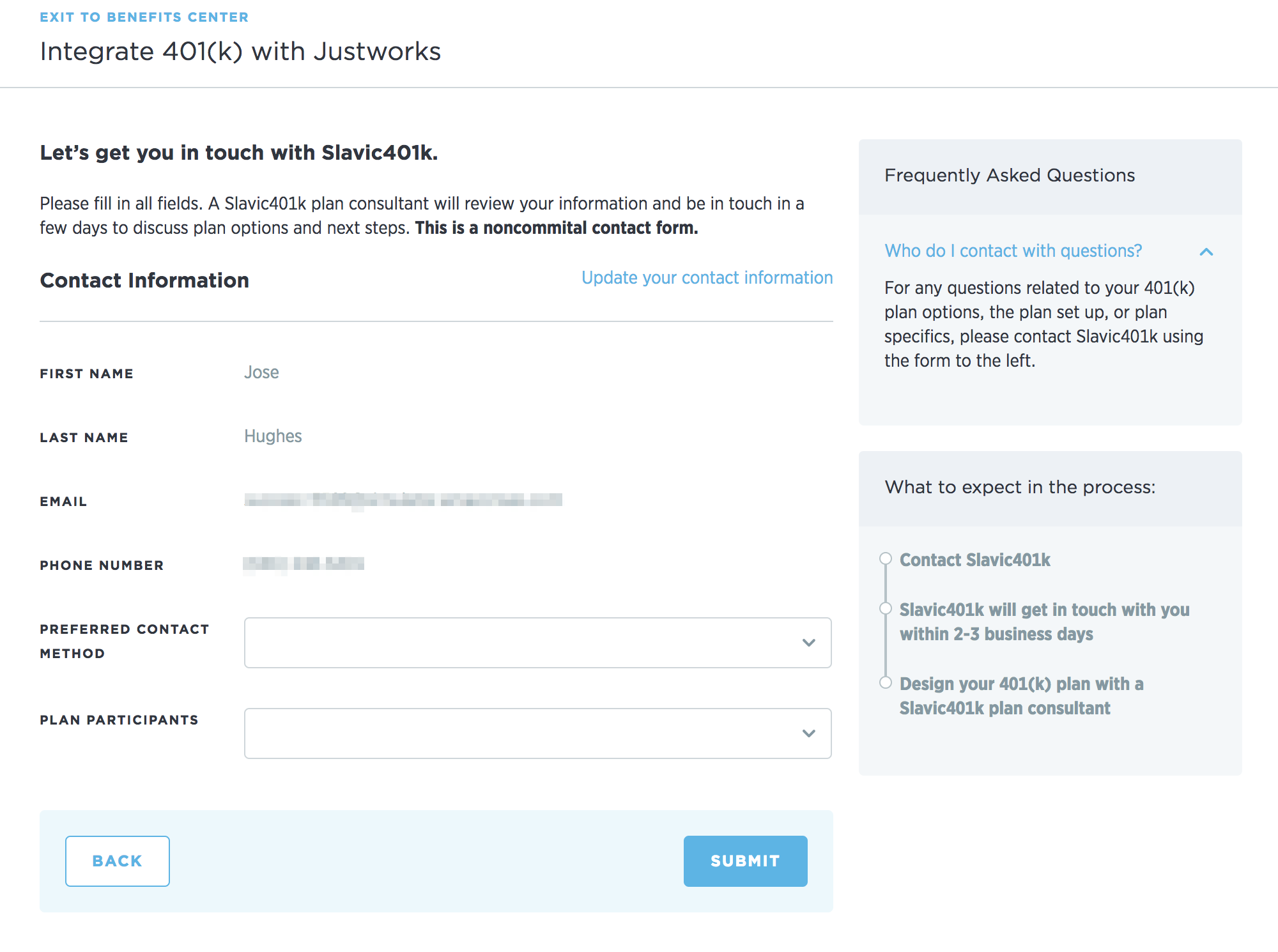 Enter your contact and enrollment information and Slavic401k will reach out with the next steps.
Once you have completed the form available in your account, a Slavic401k plan consultant will reach out to you within 2 to 3 business days. You will work with your assigned plan consultant to set up your 401(k) plan.
This process can typically take 30 to 60 days. Once your plan has been set up, Slavic401k will send the plan information to Justworks and then your plan will be available in your company Justworks account.
Some things to keep in mind in your plan set up:
Eligibility requirements for employees

Employer match

Vesting schedule
Please note: In order for employees to begin contributing to their 401(k) account, they must set up an account via Slavic401k.
Can I change my plan after it is set up?
You will be able to change the specifications of your 401(k) plan after the plan has been set up. Please contact Justworks@Slavic401k.com for more guidance.
Disclaimer
This material has been prepared for informational purposes only, and is not intended to provide, and should not be relied on for, legal or tax advice. If you have any legal or tax questions regarding this content or related issues, then you should consult with your professional legal or tax advisor.