Company-level permissions allow companies to give individual team members access to different functionalities across Justworks. As your company grows, you might find that the finance team needs access to invoices and payments, but not paid time off. Or that HR needs access to employee info and benefits, but not financial reports. With company-level permissions, you can customize which employees can do what within your Justworks account.
You can manage your company permissions here: Manage Permissions.
How it works
There are two parts to giving someone a permission: the first is to make them an admin in Justworks, and then you can manage their permissions.
Adding an admin
The first step to give someone a permission is to make them an admin on your account. Only admins can have company-level permissions.
To make someone an admin, you have two options. You can navigate to Company-level Permissions and click the blue pencil next to "Your admins." There you will be able to select any employee and make them an admin. Once you've added them, you can give them any permission by clicking the individual permissions below. This method is suggested if you'd like to give multiple employees admin status and change their permissions.


Alternatively, you can also visit their employee page, and make them an admin by clicking the blue pencil in the Permissions section of their page, from their 'Settings' tab. There, you can select "yes" to make them an admin. Then, below, you'll be able to give them any permissions you'd like. Once you're done adding permissions, scroll to the bottom of the page and click Update Permissions to save your change.
Granting and removing permissions
To add or remove an admin from a permission, visit the Company-level Permissions page. There, you can click on the permission you would like to edit and add or remove them on the righthand side of the screen. Once you're done making changes, click save.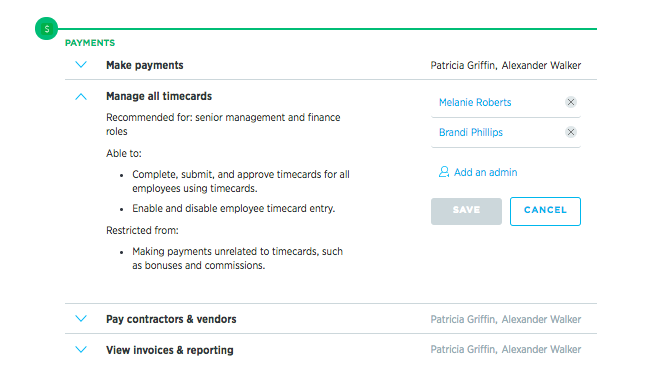 If an admin receives a new permission, this will automatically trigger an email to the user who just received this permission explaining what they can do in the system now. If the admin is losing a permission, no emails will be triggered.
You can also change permissions on an employee page. To do this, navigate to an employee's page and click on the 'Settings' tab. This will redirect you to a page where you can edit only this employee's permission.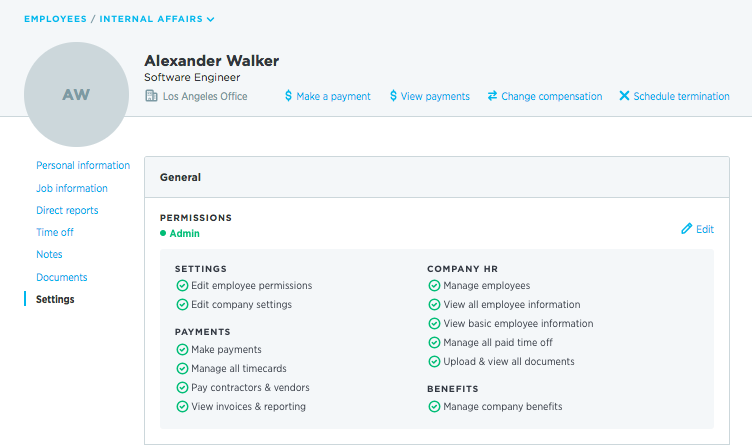 Admin names grayed out under some permissions
If an admin's name is grayed out next to a permission, that means that this admin has a higher-level permission that encompasses that permission. For example, an admin that has the "Manage employees" permission will by default have both the "View basic employee info" and the "View all employee info" permissions, since those permissions are subsets of "Manage employees."

Who can manage company-level permissions?
Only admins with the permission to "Edit employee permissions" will be able to view, add and remove permissions within Justworks. We suggest restricting access to edit permissions to a few key individuals within your company.

Every time you edit a permission, an email will be sent to all admins with the "Edit employee permissions" setting notifying them of the changes. Please note that you can only make someone an admin if you have the "Edit employee permissions" permission.
Disclaimer
This material has been prepared for informational purposes only, and is not intended to provide, and should not be relied on for, legal or tax advice. If you have any legal or tax questions regarding this content or related issues, then you should consult with your professional legal or tax advisor.