You can upload IIF files into your QuickBooks Desktop account from Justworks invoices.
First, you'll need to set up QuickBooks Desktop Settings. You can do so from going to your Invoices Page, hovering 'Accounting Integrations,' and selecting 'QuickBooks Desktop Settings'.
From the next screen, you'll need to enter an account from your QuickBooks Desktop Chart of Accounts to match to each Justworks pay type. Each account you enter must exactly match the name of an account that Chart of Accounts, so it's important to be extra careful here.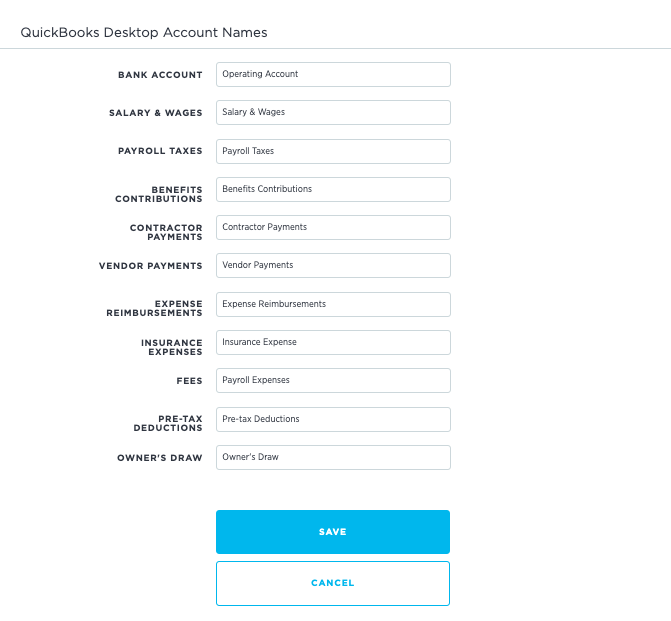 Once you have those settings saved, you'll be able to download IIF files that you'll be able to upload to QuickBooks Desktop. Go back to your Invoices tab and find the invoice you'd like to upload.
From the top right of the page, you'll see 'QuickBooks IIF', and see the option to download the file for the 2019 and later versions or the 2018 or earlier versions of QuickBooks Desktop.

You'll be able to upload the file type that you select directly into your QuickBooks Desktop account.
IMPORTING YOUR IIF FILE INTO QUICKBOOKS DESKTOP
In QuickBooks, go to File > Import
QuickBooks may require you to create a backup, simply click OK and confirm the back up.
Then select > From IIF Files, and click on the file you just downloaded from Justworks. The file name will look like this ---> justworks_invoice_[date].iif
Once your data has been imported, select > OK
That's it - your information is mapped to your accounts in QuickBooks Desktop.
Disclaimer
This material has been prepared for informational purposes only, and is not intended to provide, and should not be relied on for, legal or tax advice. If you have any legal or tax questions regarding this content or related issues, then you should consult with your professional legal or tax advisor.