What are fringe benefits?
Fringe benefits are additional benefits or compensation on top of an employee's regular salary or wages for work they do. Sometimes known as "perks," fringe benefits can include a variety of things from employee stock options to company cars. Many fringe benefits are taxable (note, we didn't say all) and, as such must be reported on Forms W-2 and 940.
Check out the IRS' Employer's Tax Guide to Fringe Benefits, for more information.
How are fringe benefits reflected on tax forms?
Many fringe benefits are considered taxable income, and are therefore subject to federal income tax, Social Security tax, and Medicare tax. The value of many taxable fringe benefits must be reported in Boxes 1, 3 and 5 of Form W-2. Fringe benefits may also be subject to taxation under the Federal Unemployment Tax Act (FUTA) and reported by employers on line 3 of Form 940.
How can I record fringe benefits in Justworks?
You can now record fringe benefits that you provide to your employees by going to the Payments Center and scrolling down to 'Record a Payment'. You'll see the option to record fringe benefits there.

Here, you can click on the name of any employee you need to record a fringe benefit payment for.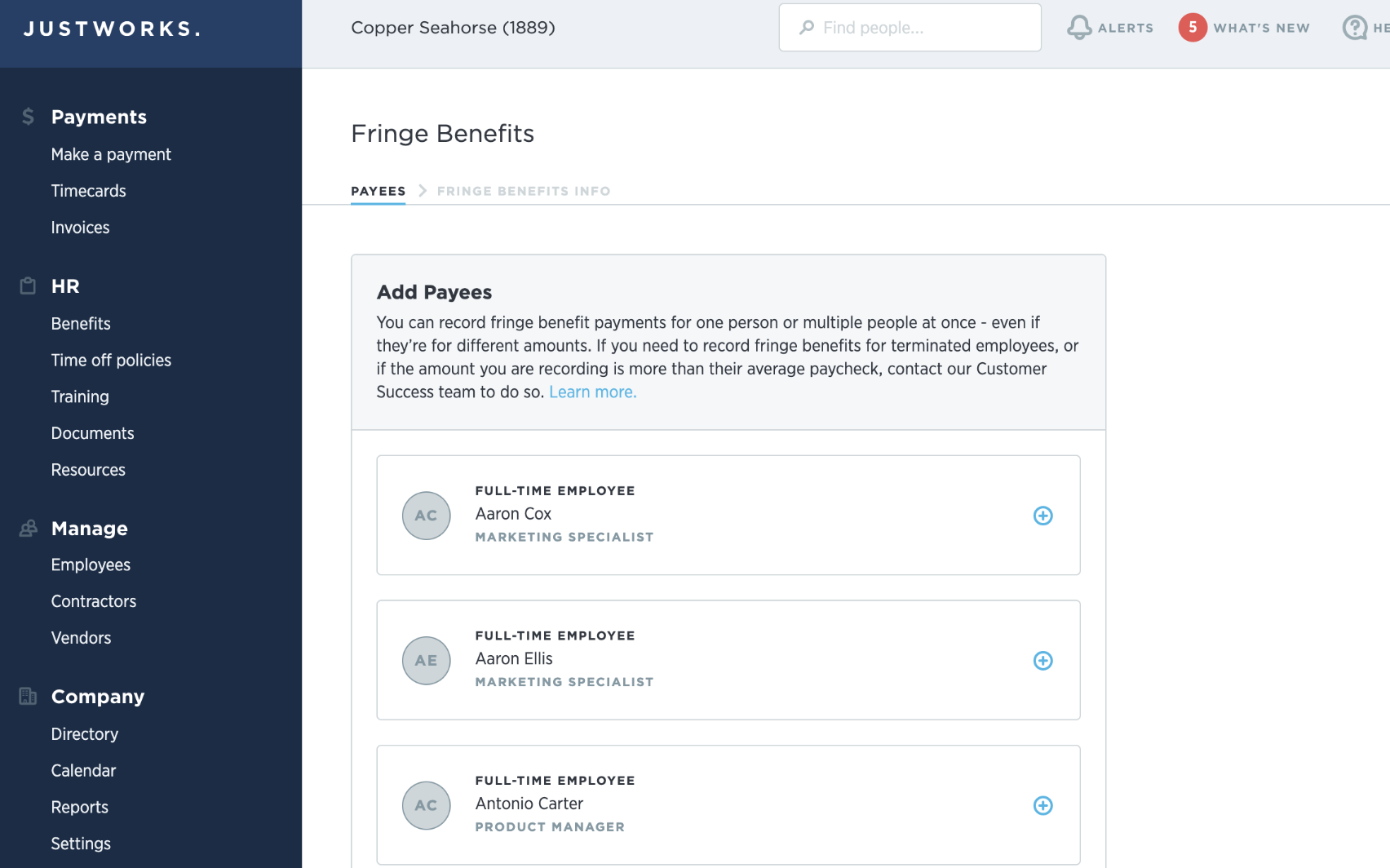 You'll be able to tell that they've been added successfully when the + next to their name becomes a check mark, like so:

Once you hit 'Continue,' you'll be able to see all of the employees you selected on the previous screen.
First, you'll have to select a payday for the fringe benefit. Though the amount will not be debited from your company's bank account, we'll add the amount of the benefit to your employees' taxable income for the year. In order to collect proper taxes from your employees, the income from the fringe benefit will need to be reflected on a future payment. You will also be charged employer taxes on the additional income reported for employees.
Once you've selected a payday for the benefit, you'll be able to add the value of the fringe benefit to any selected employee.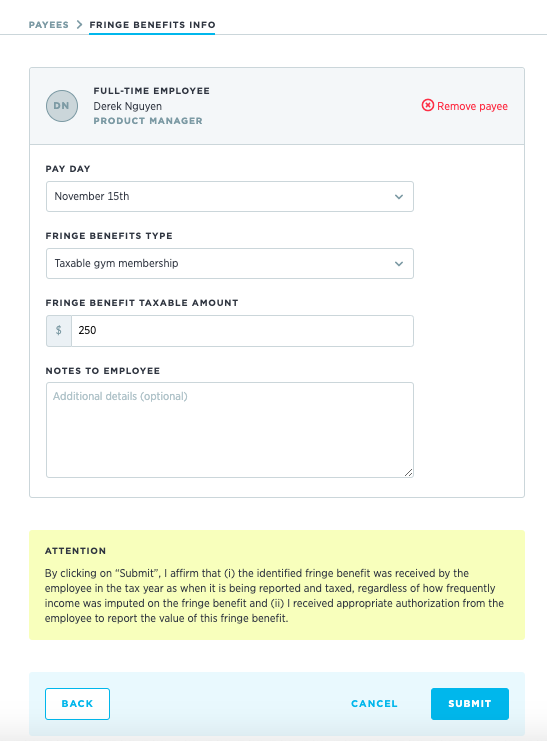 Finally, you'll have to select the subtype for the fringe benefit. Below are some guidelines for choosing the right subtype and calculating the appropriate taxable amount. However, it's best practice to consult with your accountant or tax advisor to confirm whether any employer-provided benefits you provide is taxable and the appropriate value to report. Please keep in mind that Justworks does not provide tax or legal advice.
For resources about calculating value, please refer to your accountant and IRS Publication 15b for accurate calculation.
Keep in mind that taxes for fringe benefits accessed through Justworks are already accounted for in our platform (e.g. Citibike or gym memberships with our provided partners, health coverage accessed through Justworks) and therefore do not need to be recorded separately.
Fringe Benefit Subtype

Description & Guidelines

Moving Expenses

The amount that was paid to an employee to help with a move

Taxable Gym Membership

The value of any contributions to a gym or fitness membership made by the employer.




Please note you should NOT report the value of fitness memberships provided through Justworks partnerships (e.g. NYHRC, TSI, ClassPass).

Value of Employer Provided Vehicle

The value of the personal use of the vehicle.




This should not include the value of the vehicle's use for business-related purposes.

Value of Car Lease

The entire value of the lease regardless of whether the use is for personal or professional purposes.

Taxable income from an employer-provided cell phone

The value of a cell phone paid for an employee for non-business purposes or personal use.

Taxable Transportation Benefits

Any amounts (employer contributions and employee pre-tax deferrals) that exceed per month is considered taxable.




Please note you should NOT report the value of Wageworks contributions through Justworks.

Meal & Lodging Allowances

The maximum amount per meals and lodging is based on the city.

Housing Allowance

The taxable amount should be the fair market value of the lodging.

Taxable income from exercise of nonstatutory stock options

The taxable amount should be the fair market value minus the exercise price.

Taxable income from disqualified disposition of stock acquired from qualified stock options

The taxable amount should be the fair market value minus the exercise price.

Taxable income from issuance of restricted stock

If the employee elects to be taxed on the value of the stock when it is awarded, the taxable amount should be the fair market value when the stock is awarded.

Taxable income from vesting of restricted stock

If the employee elects to defer withholding on the stock until it is vested, the taxable amount should be the fair market value of the stock on the date the stock is transferred to the employee minus any amount paid by the employee for the stock.

Taxable employer-provided life insurance

The total taxable value of group term life insurance for coverage greater than $50,000. If your company files as an S-Corp, the total amount of the employer-paid premium for life insurance is taxable for the greater than 2% shareholders.




Please note you should NOT report the value if you have employer-paid life insurance with Metlife through Justworks.
If you cannot find the subtype you're looking for, need to report it for a terminated employee, or record an amount that is much higher than the employee's average paycheck amount, please reach out to your Account Manager or our Customer Success team for help recording this benefit. It's important that these fringe benefits subtypes are not misclassified, as that could lead to inaccurate tax information for your employees.
If you'd like, you can also add a note to your entry to specify any additional details regarding this fringe benefit. The notes section will be visible to the employee when they receive the payment.
When you're ready to record the amount, hit 'Submit.'
Disclaimer
This material has been prepared for informational purposes only, and is not intended to provide, and should not be relied on for, legal or tax advice. If you have any legal or tax questions regarding this content or related issues, then you should consult with your professional legal or tax advisor.