Making bonus and commission payments
To make a payment for a bonus or commission, browse to "Make a payment". Select a Pay Date and then select Pay Type > Supplemental pay. From there, you'll be able to select "Bonus" or "Commission" from the Supplemental Pay Type dropdown.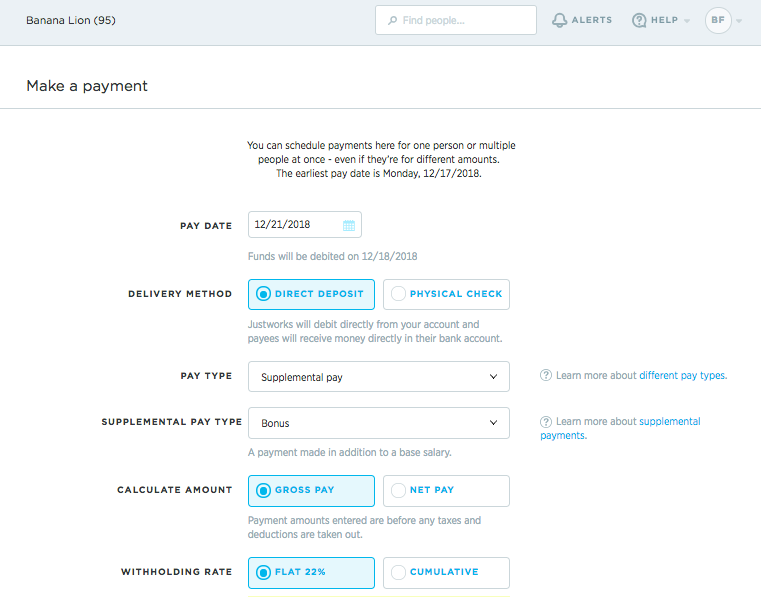 Selecting a Federal Withholding Rate
When making a bonus or commission payment, you'll have the option of selecting between a flat 22% or cumulative federal tax withholding rate for each payment. If the total of the employee's taxes paid exceeds the taxes due for the year, they'll receive a tax refund from the IRS after filing taxes.
FLAT 22% RATE OF WITHHOLDING FOR SUPPLEMENTAL PAY
If supplemental pay is included with an employee's regular wages and the amount of the supplemental and regular wages are not specified, the two types of wages will be treated as a regular payroll payment and withholding will be calculated as such.
If the bonus or commission is identified or paid separately from regular wages, a flat 22% rate will be withheld from the employee's supplemental pay,regardless of what the employee filled out on the Form W-4. Depending on a number of factors, the employee may be required to pay additional taxes on the supplemental pay at the end of the year. State and local taxes will also be applied in addition to the flat 22% for federal tax rate.
If, however, the amount of supplemental wages paid to an employee in a taxable year exceeds $1 million, then all supplemental wages that exceed $1 million will be subject to a withholding rate of 37%.
WITHHOLDING ON THE BASIS OF CUMULATIVE WAGES
The cumulative wage method calculates how much should be withheld on a given payroll payment based on the amount the employee has been paid during the year and how much has already been withheld.
While the cumulative wages method withholds tax based on previous earnings and withholdings, because there are many inputs into a person's full tax liability (homeownership, change in pay basis, secondary income sources, etc.), we can't guarantee cumulative withholding will withhold the exact amount needed for any given employee and this method of withholding may also require an employee to pay additional taxes at the end of the year.
With the cumulative wage method, all of the wages that have been paid to the employee during the current calendar year, including the current payroll period, are added together. This would be the "Total gross wages." Next, the Total gross wages should be divided by the number of pay periods that occurred to get the "Average gross wages." Once you get the Average gross wages, you would look to see how much tax should have been withheld based on the Average gross wages and then multiply that by the number of pay periods. Lastly, you would subtract the total amount that was withheld from the total amount that should have been withheld. The difference will be the amount that needs to be withheld on the current payment.
When choosing a bonus/commission payment frequency, you have two choices: monthly and quarterly. You should choose the most appropriate frequency to ensure accurate withholding amounts. If the employee receives more than one supplemental payment per year (commission or bonuses) but the amounts vary greatly, you may want to consider using one-time frequency or flat 22% withholding.
For example, an employee earns $1,000 per week with a current bonus of $5,000. This is the 10th pay period of the year. $1,925 has already been withheld from the employee's wages.
| | | | |
| --- | --- | --- | --- |
| Step | Action | Result | Example |
| 1 | Add regular, supplemental, and year-to-date wages, including the current pay period. | Total gross wages | 1,000 + 5,000 + 9,000 = 15,000 |
| 2 | Divide by the number of current pay periods. | Average gross wages | 15,000 / 10 = 1,500 |
| 3 | $200 should have been withheld from the Average gross wages. This amount should be multiplied by the number of pay periods | Total amount that should have been withheld | 200 x 10 = 2,000 |
| 4 | Subtract $1925 from the Total amount that should have been withheld. The difference is the Amount to be withheld on the current payroll period | Amount that should be withheld on this payroll period | 2,000 - 1,925 = 75 |
Applying Benefit Deductions
When scheduling out a supplemental payment, you'll also have the option to apply benefit deductions. Choosing 'Yes' will apply any and all insurance deductions, such as Medical, Dental, and/or Vision premiums, as well as deductions for other perks such as 401(k).
If you'd like to isolate 401(k) deductions as the only deduction to take from a supplemental payment, please reach out to your Account Manager or our Customer Success team.
Disclaimer
This material has been prepared for informational purposes only, and is not intended to provide, and should not be relied on for, legal or tax advice. If you have any legal or tax questions regarding this content or related issues, then you should consult with your professional legal or tax advisor.