What are compliance posters and the employer requirements for them?
Employers are required to post certain notices to employees in the workplace to notify employees of their rights under many federal, state and local labor and employment laws. Posters are required to be physically posted in a conspicuous location in the workplace where all workers are likely to see them. Such area might be a break room, a lunch room or kitchen, or a common room. Examples of areas that are not acceptable would be: the HR manager's office, outside the office hallway, a gender-specific bathroom, or anywhere that is not accessible for all employees at all times. This also means if you have multiple floors or break rooms, you may need to display the posters in multiple areas to ensure employees are likely to see the posters.
How should employers support remote employees?
Justworks can provide a digital poster for remote employees in lieu of a physical poster. Remote employees will receive an email to a web portal allowing them to download the required postings.
It's important to make sure your company indicates remote employees as such in Justworks. If you don't set the employee as remote, their location will be considered an office location for physical posters, rather than receiving the email with the digital poster.
If you're getting started on Justworks, you can indicate remote employees when you're adding them to your account by setting their office location as "Remote / Work from Home." Make sure your remote employees' addresses are correct because the posters that are sent to them will be for the state where they reside.

To ensure your remote employees are correctly listed as remote in Justworks, navigate to the employee's profile, then Job Information, and update the office location to "Remote (work from home)."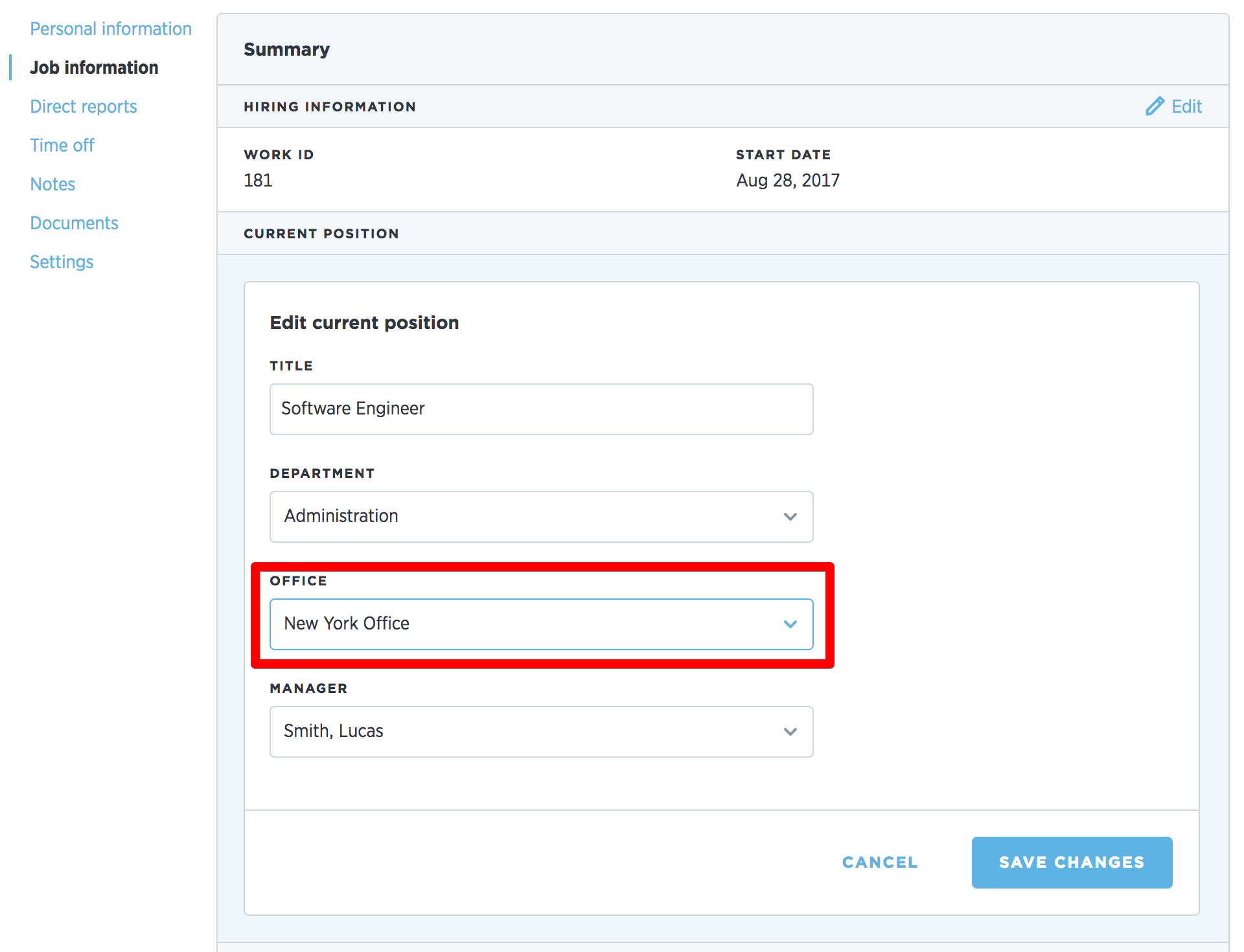 Does Justworks provide posters?
Justworks will automatically provide required federal, state, and local labor law posters for general industry to all office locations and digital versions to remote employees as listed in Justworks.* When you join Justworks, you will be enrolled to receive posters for all of your existing office locations and any time you add a new office location. This is the same for digital posters to remote employees and any time you hire any. If you need to order additional posters (e.g., you've damaged them, lost them, or need extra posters), contact us.
Justworks will use your office location(s) to provide the applicable postings for your location(s).
*The poster set does not include industry-specific posters, posters that employers are required to obtain on their own directly from the issuing agency, those that employers need to develop on their own reflecting their specific policies and practices, and posters that federal contractors are required to obtain relating to requirements specific to federal contractors.
Can I opt out?
Justworks strongly recommends that you not opt out so that you receive required labor law posters, as poster requirements that are not met can come with hefty fees and penalties. If you do not wish to receive these posters for your office locations, please contact us. Currently, there isn't a way to opt out only for certain office locations, or only for certain posters.
What kind of posters are there?
The Department of Labor requires federal postings, as well as state and local postings specific to your office location. Justworks will use your office location(s) to provide the applicable postings for your location(s).
Do I only receive posters once or do they get updated?
Changes to laws can lead to poster updates, which can occur anytime throughout the year. Some changes may not require a new poster, but may come in the form of a sticker to replace the updated poster section. When changes do happen, you will automatically receive the updates. Updates should be posted as soon as possible, as there are comply-by dates for when the updated posters must be displayed.
I'm opening up a new office in a new state soon / am hiring a remote employee in a new state. Am I able to order the posters in advance to prepare?
Congratulations on your new office! Once you add the new office into Justworks, it will automatically be opted into receiving a new set of posters for the location. You won't need to order them in advance. We also don't have a way to place the orders in advance, since it's part of the automated process of new locations.
What are the costs associated with posters?
For office locations:
The poster price per location covers an initial poster kit (federal, state, local) and all updates that occur throughout the year.
For remote employees:
The poster price per remote employees covers access to a digital web portal to view the initial poster kit (federal, state, local) and all updates that occur throughout the year.
One-off poster requests:
If you need additional posters, you can contact your Customer Success Manager or our 24/7 Support team. The price may vary depending on the request.
When will I be billed for posters?
When first joining Justworks, the poster charge will be applied to the second salaried payroll of the month. Any one-off order requests you make with your Customer Success Manager or Justworks Support will be billed at the time you place the order request.
What happens if I don't comply with poster requirements?
Any employer who does not post a required notice can be subject to penalties at the federal, state, and/or local level. Government agencies can also use a lack of required posters as grounds to audit your business and investigate additional practices for compliance with applicable laws.
Disclaimer
This material has been prepared for informational purposes only, and is not intended to provide, and should not be relied on for, legal or tax advice. If you have any legal or tax questions regarding this content or related issues, then you should consult with your professional legal or tax advisor.