Justworks X EVERFI
To help your company create a safe, harassment-free workplace, Justworks has teamed up with EVERFI to introduce a fully integrated Harassment Prevention and Inclusion Training offering to all Justworks customers.
To satisfy state and/or city training requirements and to help foster an inclusive workplace, your employer may assign you trainings in Justworks.
How does it work?
When a course has been assigned to you by your employer in Justworks, you'll receive an email with the subject "[Required Action]: You have trainings that need to be completed!" along with the names of the course(s) and due date(s) (if applicable). You'll be able to login to Justworks from the email to complete the course(s) assigned to you.

In the event that you start a course and exit halfway, or prefer to complete the course(s) in full at another time, you can find the course(s) in Justworks by navigating to the "Training" tab which lives under their "You" section of Justworks.
If you have trainings assigned to you that you have not started you will also receive notifications on your dashboard.
Reviewing your Training Course Library
When you click on "Training" from the left navigation bar, you will be taken to your Training Course Library.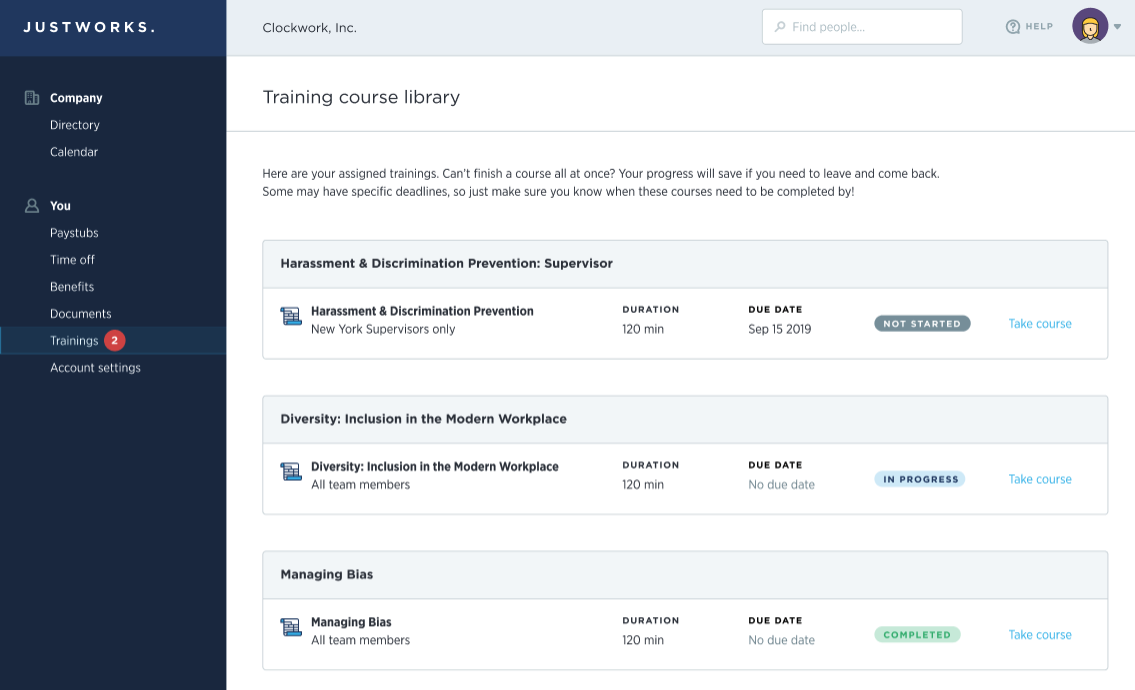 If you have had a course(s) assigned to you, you'll be able to see the titles, the duration, due dates (if applicable) and your completion status (Not Started, In Progress and Complete). To begin a training, click "Take Course."
If you are taking any of the Harassment and Discrimination Prevention courses you will be instructed to download and read your company's policy against harassment (including sexual harassment) before the training launches, as seen below.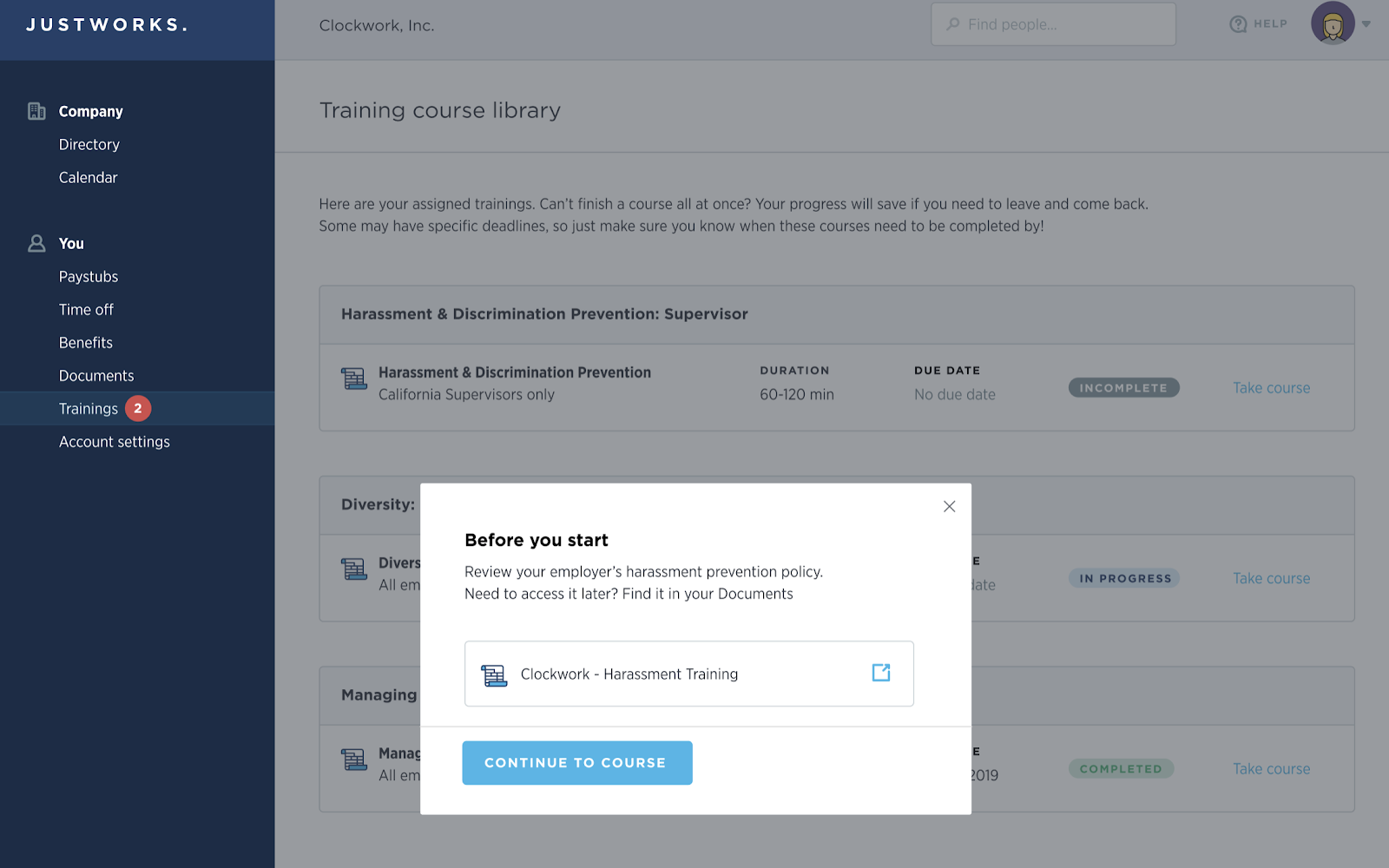 You will be able to access the company's harassment prevention policy and your signed course completion acknowledgements (which we will cover below) under "You" > "Documents" under a new category called "Training Documents".
Once you click "Continue To Course," and select the language - English or Spanish - the course will begin immediately.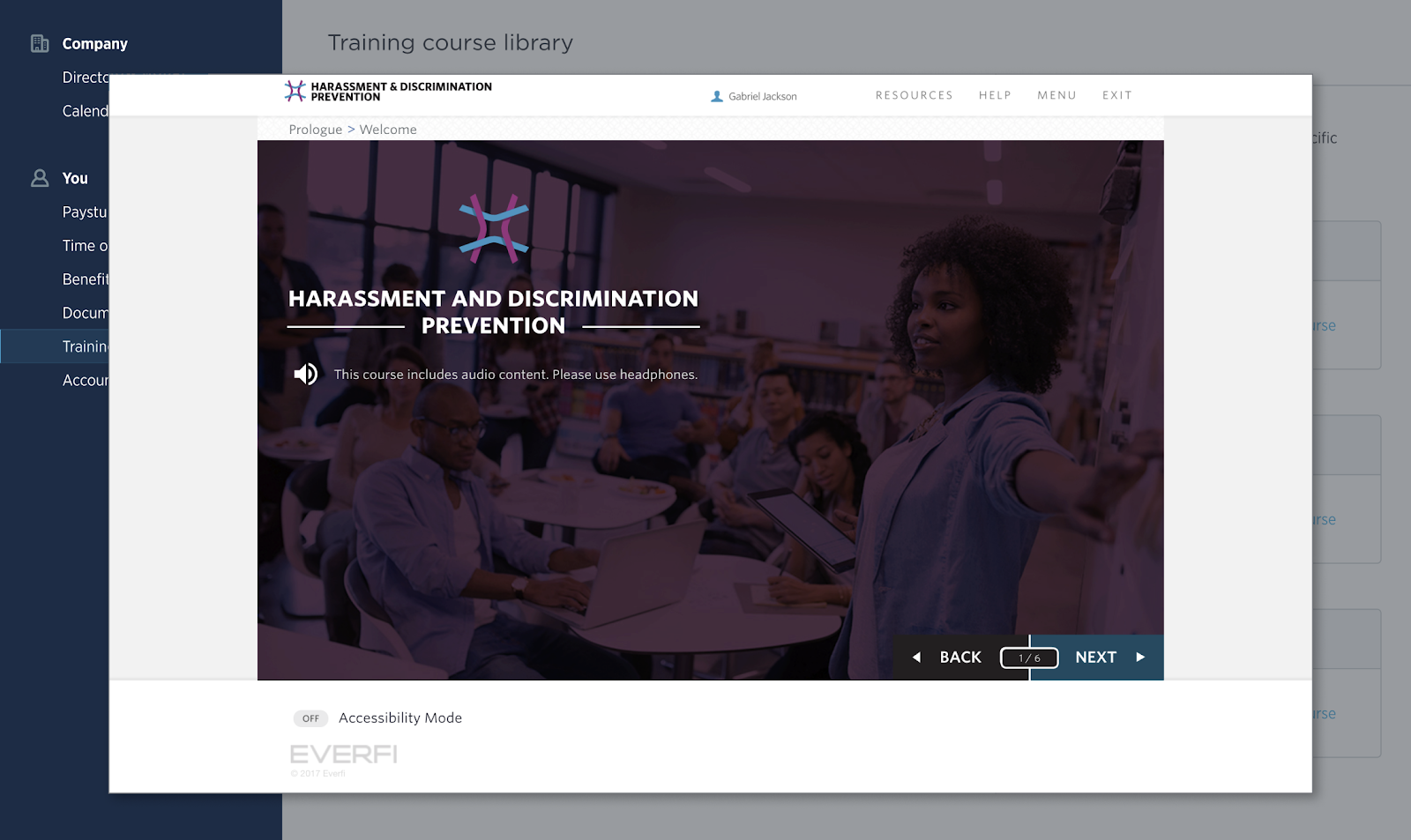 The courses are interactive and require your full attention to complete. If a you start a course and then begin to open a new window, minimize the screen or move off of a course in anyway, the courses will automatically be paused and you will need to press "Resume" to continue.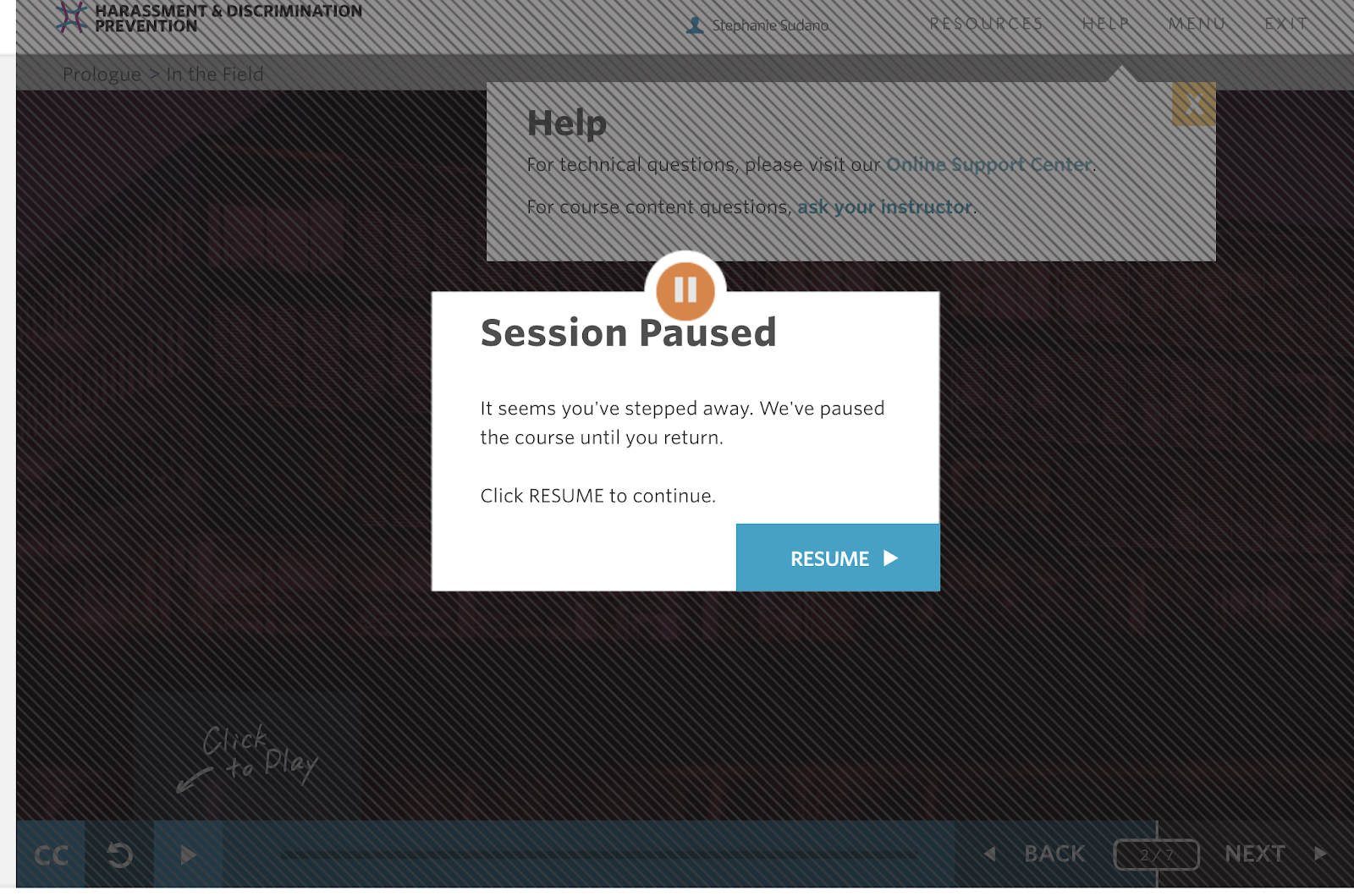 If you do decide to leave the training, don't worry! We'll save your progress so that when you come back in to complete the training, it'll pick up where you left off!
If you need technical support or have any questions related to the EVERFI content, you can click on "Help" to access EVERFI's Online Support Center for technical questions or "Ask Your Instructor" for content-related questions. Every course, except the Diversity: Inclusion in the Modern Workplace course contains both content and technical support.
If you do use the in-course "Help" options, please note you will be talking to EVERFI's support center directly and not Justworks. If you need to get in touch with Justworks, we're here 24/7 to help!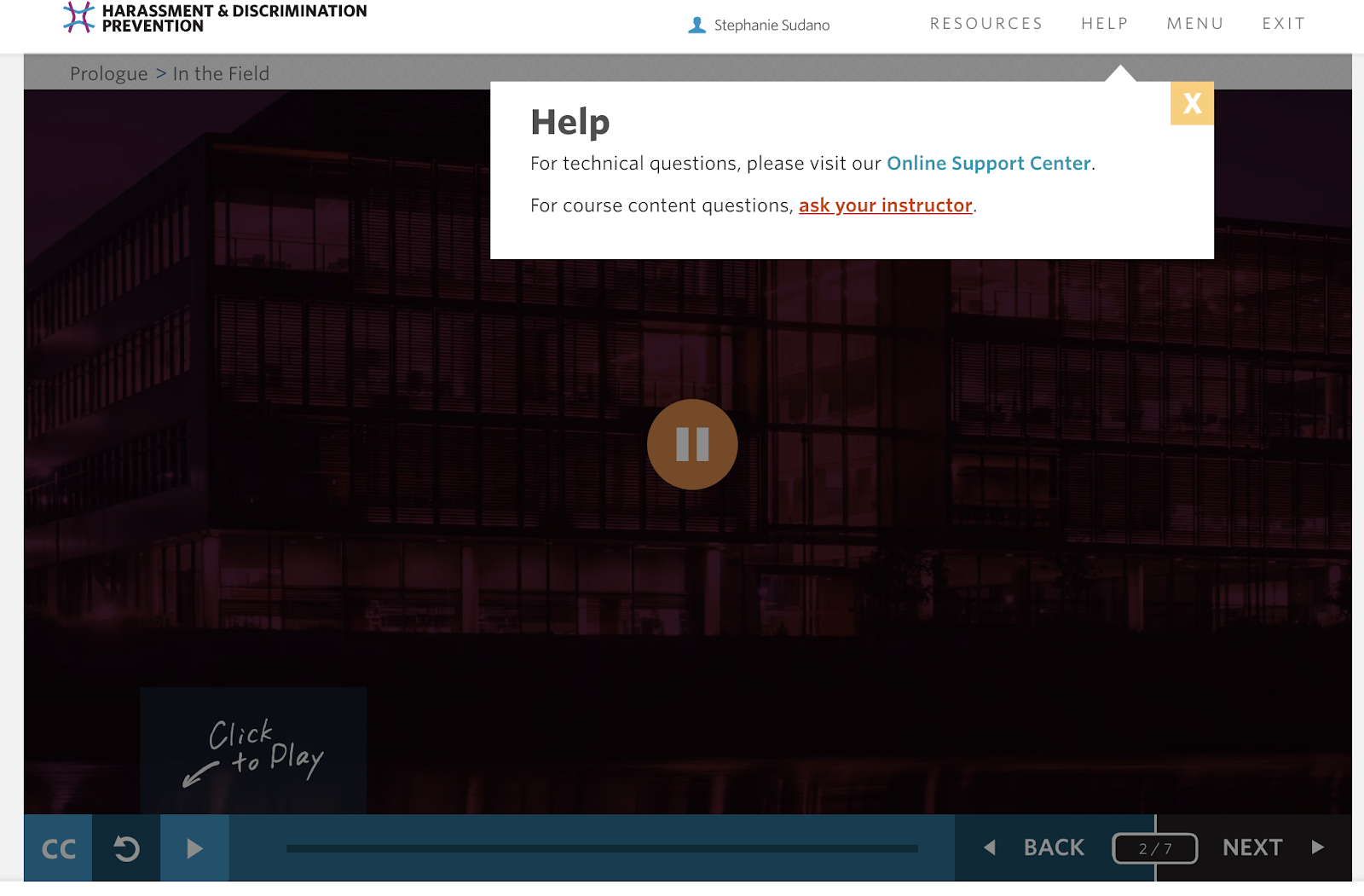 To complete any of the Harassment and Discrimination Prevention courses, you will be required to read and electronically sign an acknowledgement of completion. This will pop up automatically when the course is finished. Once you electronically sign the acknowledgement of completion, your completion status will move from In Progress to Complete.
The acknowledgement of completion will not pop up if you complete the Managing Bias or Diversity: Inclusion in the Modern Workplace courses.
What if my team and I are having issues viewing a course?
Please check to make sure you and your team are following these minimum requirements:
Bandwidth
Broadband connection (e.g.DSL, cable modem or FIOS) with 1Mbps bandwidth or better is required to view the courses. Test your bandwidth using: https://fast.com/
Browsers


Use the latest version of:

Chrome (preferred)

Firefox (preferred)

Microsoft Edge

Safari





Browser settings

Allow third party cookies

Safari Only: In

Preferences

, please ensure you have "Prevent cross-site tracking" unchecked




Tablets/Mobile Support

The minimum requirements for tablet use are iOS version 9.3 or later and running on iPad 2 or later however, a perfect experience on tablet is not guaranteed
Courses being viewed on tablet must be in landscape
EVERFI, our course provider, does not support smart phones at this time
Disclaimer
This material has been prepared for informational purposes only, and is not intended to provide, and should not be relied on for, legal or tax advice. If you have any legal or tax questions regarding this content or related issues, then you should consult with your professional legal or tax advisor.