Overview
While selecting health insurance plans to provide to your team on Justworks, we would like to give you the opportunity to choose the plans that are going to be most suitable for your team. Through our plan selection flow, you'll be able to hand pick a customized group of plans within a range that ensure your team is supported from every angle.
Plan Selection Process
Getting Started
With all the options and plan combination possibilities, we've made it easy to narrow down which plans are right for your company and team's specific needs. While there are some requirements involved, we've made it easy to satisfy them and see how you're doing it along the way.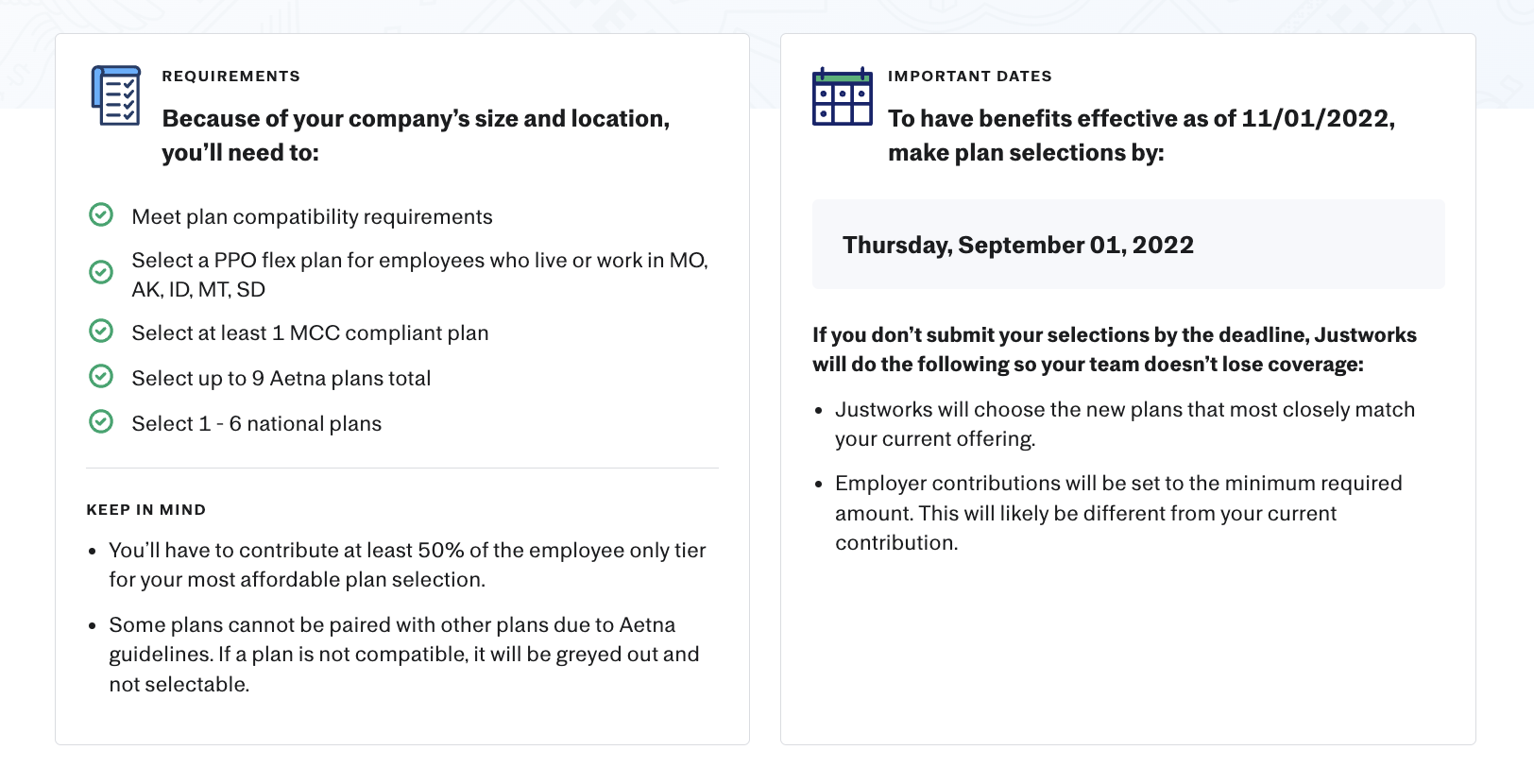 We'll also make sure you never miss a deadline by highlighting key dates to keep in mind.
Filters
Filters will be available to help you narrow down which plans to consider based on business needs. You can use one at a time or all at once.
Monthly Premiums

-

Use this filter to set a range for the full monthly premium cost. The tool will filter out plans based on the cost of the employee only premium. Premium amounts for all dependent tiers are available on each plan card.

Deductible - Use this filter to set a range for the plan deductible. The tool will filter out plans based on the deductible of the employee only tier.
Network Type

-

PPO, POS, EPO, HMO

. Each plan has a type of network that

restricts your provider choices or encourages you to get care from the plan's network of doctors, hospitals, pharmacies, and other medical service providers.

Provider

- If available, you can filter by which health insurance carrier you'd like to view plans from.

HSA Compatible Plan

- HSA compatible plans, also known as High Deductible Health Plans,

cover preventive care before the deductible – the ACA requires this of all plans – but under an HDHP, no other benefits are provided until the insured has met the deductible. That means HDHPs cannot have copays for office visits or prescriptions prior to the deductible being met. Use this filter to view plans that have this compatibility.
Plan Relativity
When going through and selecting plans, you may notice that some plans note they are incompatible with other plans. This is based on relativity rules where plans that are too different from each other in terms of premium pricing and coverage cannot be offered alongside each other. If you select Plan X that is incompatible with Plan Y, Plan Y will be greyed out and you'll be restricted from selecting this as part of your cohort.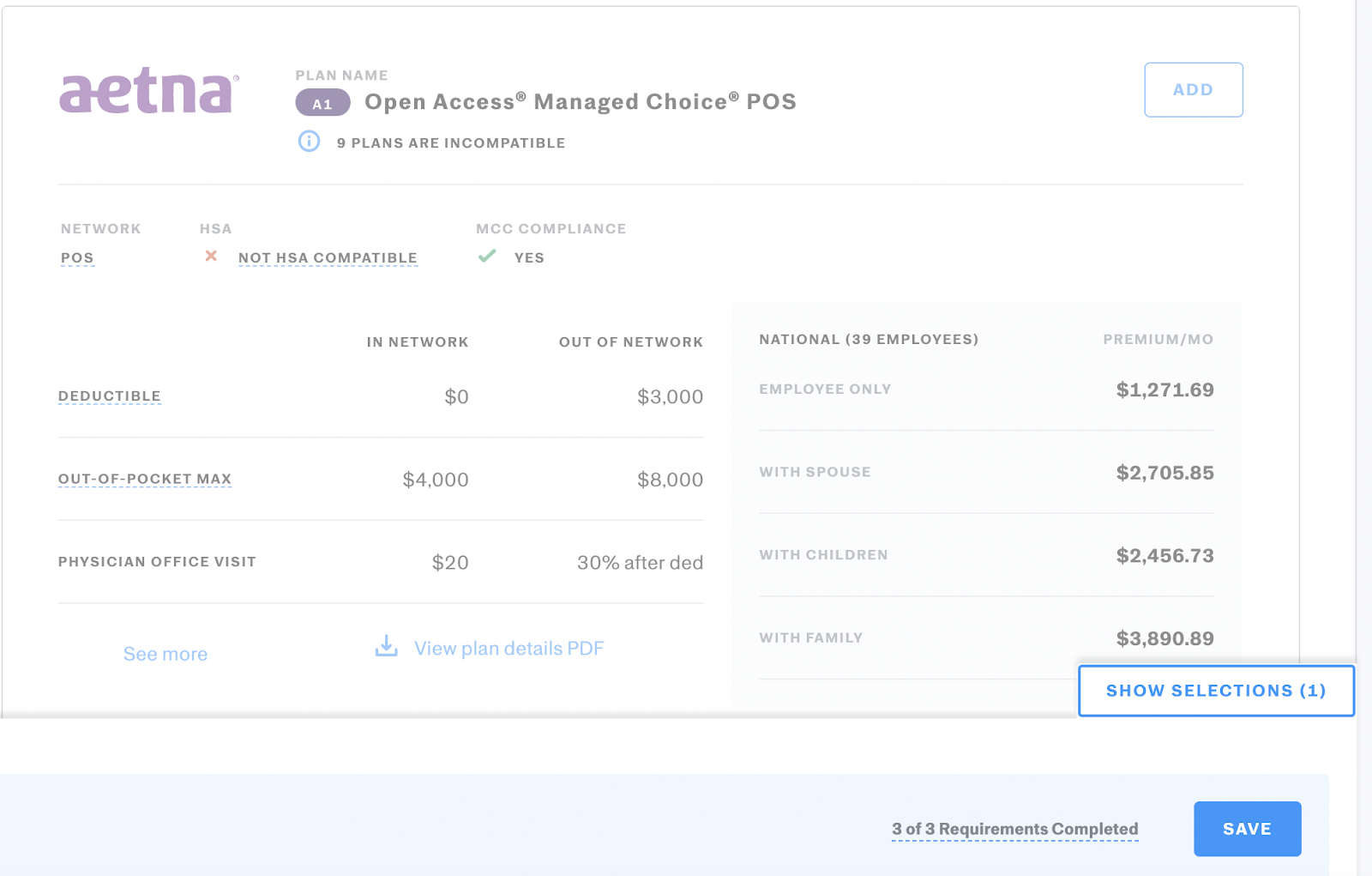 Setting Contributions
When setting your employer contributions for medical and dental plans, you must contribute at least 50% of the cost of the cheapest plan on the employee only tier, for the region in which your company is sitused.
To easily identify this amount, we've pre-calculated it for you at the top of the contribution flow page. You are also able to contribute more than the minimum and we encourage you to review how these contributions may apply to other regions your employees live in.
You can learn more setting contributions here.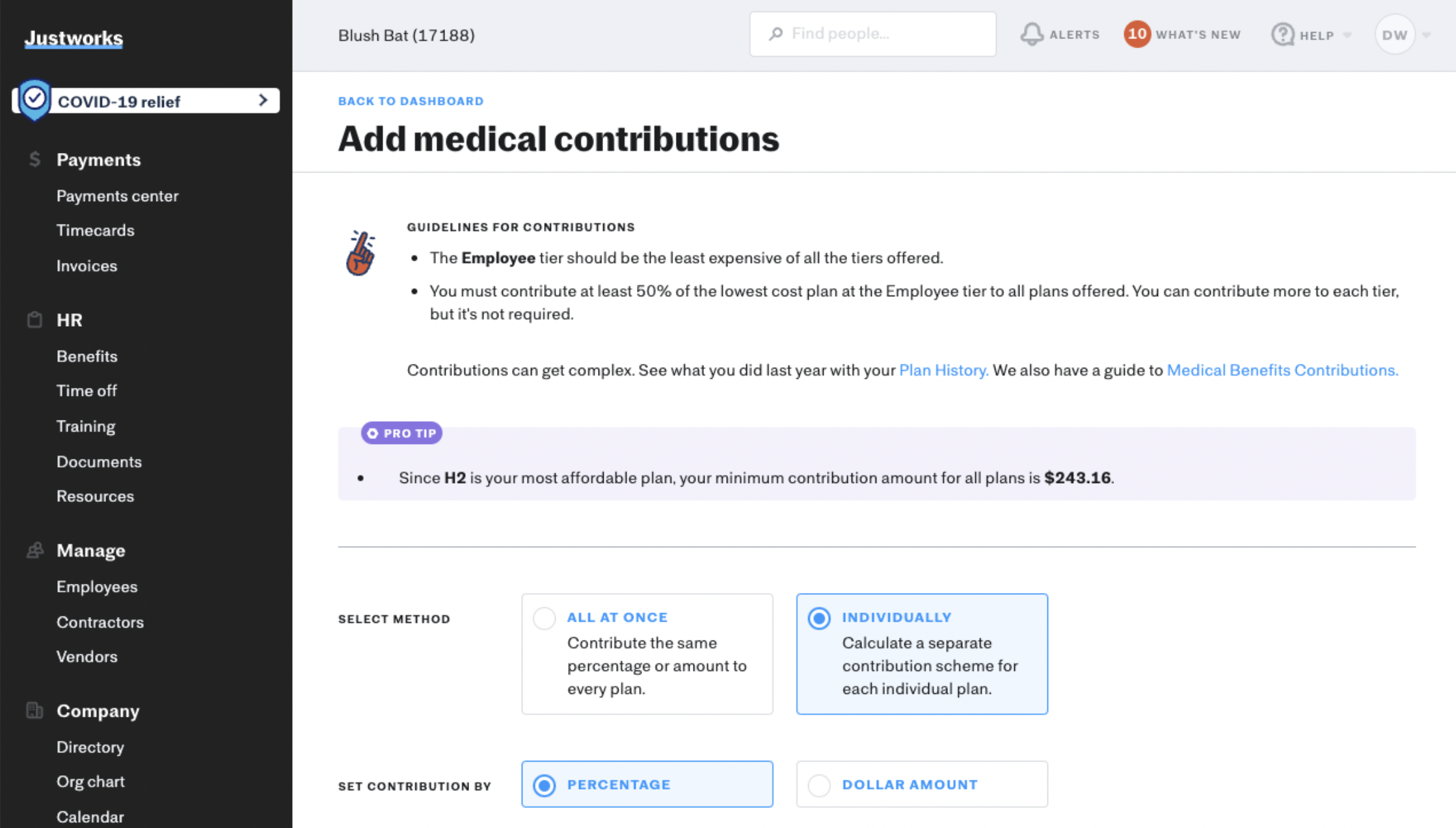 Once you've completed the process of determining medical premium contributions for your team, don't forget to submit! You will be redirected back to the enrollment dashboard after submitting, where you can move on to dental and vision plan selections and contributions.
Renewals Plan Selection
Renewals plan selection will be very similar to the process your company went through when initially onboarding onto Justworks' plans.
Disclaimer
This material has been prepared for informational purposes only, and is not intended to provide, and should not be relied on for, legal or tax advice. If you have any legal or tax questions regarding this content or related issues, then you should consult with your professional legal or tax advisor.