Terminating an employee
To terminate an employee, navigate to the employee's profile under Manage > Employees, click the "Schedule Termination" button towards the top right of the screen.
Terminated employees will receive an email notification from Justworks after their last day worked (their termination date). For example, if an employee's termination date is January 1, they will receive an email from Justworks on January 2.
Terminated employees will still have access to their Justworks account and will still be able to receive payments. Terminated admins will default to still having access to admin privileges until 2:00AM (EST) after their termination date. However, still existing admins can revoke these privileges at any time.
After an employee has been terminated, they will appear under a "Former Employee" field in the employee list. They will also no longer be searchable in your account.
Effective dates
When you terminate an employee, you'll be asked to choose an effective date. This date will determine their final payment as well as when their benefits will end. Terminated employees that have benefits will receive those benefits until the end of the month following their effective termination date.
Ex: If an employee is terminated on June 23, most of their benefits (like medical, dental, and vision) will be effective until June 30.
Voluntary vs. involuntary termination
As part of the termination process, you'll be asked if the termination was voluntary or involuntary. Justworks will use this information when administering Unemployment benefits. It's best to be as specific as possible when entering in the termination reason, to avoid the need for clarification, where possible.

Examples of voluntary terminations: employee quits, retirement, death of employee
Examples of involuntary terminations: policy violation, poor performance, employee's position is eliminated, end of contract/assignment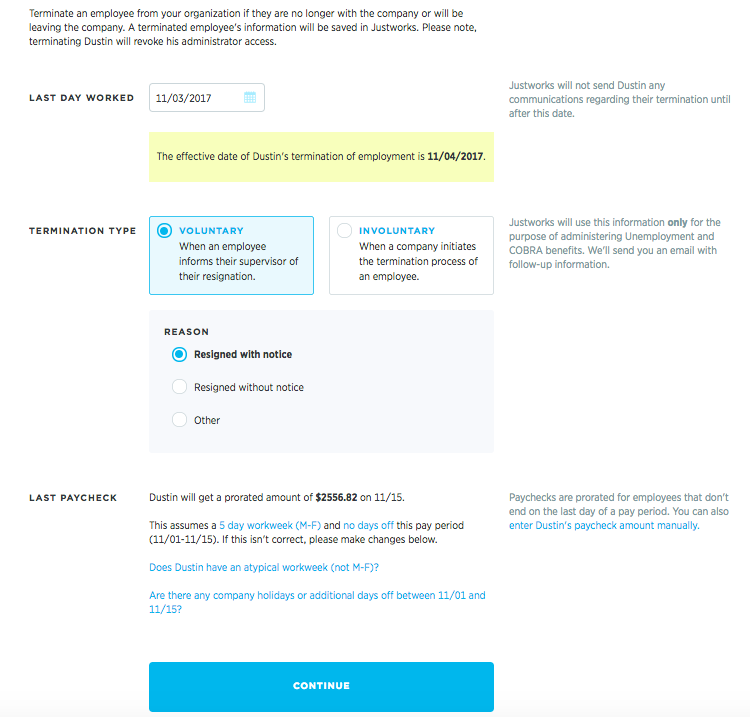 Once you enter in the termination reason, you will see the amount of the employee's last paycheck and the day it is scheduled to be paid. Please keep in mind that if an employee is terminated in the middle of a pay period, their payment will be prorated as such, but the payment will still be processed with the rest of your company's regularly scheduled payroll for that pay period.
COBRA Severance
Employers on Justworks who have terminated employees that are eligible for/or enrolled in COBRA through WageWorks have the option to contribute to the employees' COBRA premiums directly through Justworks. Please contact Justworks support to set up a COBRA severance agreement for the eligible employee. Employers must provide the terminated member's name, the duration of which the company will pay, and the amount. Justworks will bill your company directly and handle setting up employer-paid COBRA in WageWorks.
Navigating the American Rescue Plan's COBRA requirements
New in the American Rescue Plan is a 100% subsidy on COBRA premiums for coverage between April 1 and September 30, 2021 for eligible individuals. Terminated employees or employees who had their hours decreased involuntarily due to covid are eligible.
The COBRA subsidy will be funded through tax credits. We are still reviewing the full requirements of the final legislation and expect additional regulatory guidance. Once we have more information, we will update you.
ARP also provides an extended COBRA election period for individuals not currently enrolled in COBRA but who would have been eligible for the subsidy had they elected at the time of their COBRA qualifying event. This also includes individuals who elected COBRA coverage but discontinued such coverage before April 1, 2021.
Disclaimer
This material has been prepared for informational purposes only, and is not intended to provide, and should not be relied on for, legal or tax advice. If you have any legal or tax questions regarding this content or related issues, then you should consult with your professional legal or tax advisor.