Paying with Timecards 
We've made paying hourly and non-exempt salaried employees easy.
To pay your hourly and non-exempt salaried employees, navigate to the Payments section on your main dashboard and click on the Timecards tab.
Getting started
To pay your hourly employees, navigate to Payments on your main dashboard and click "Timecards."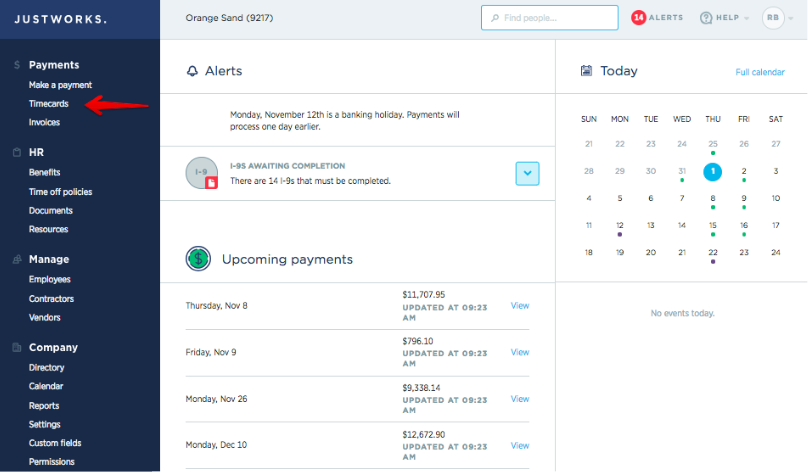 From there, you'll be able to enter the hours for your hourly employees as pictured below.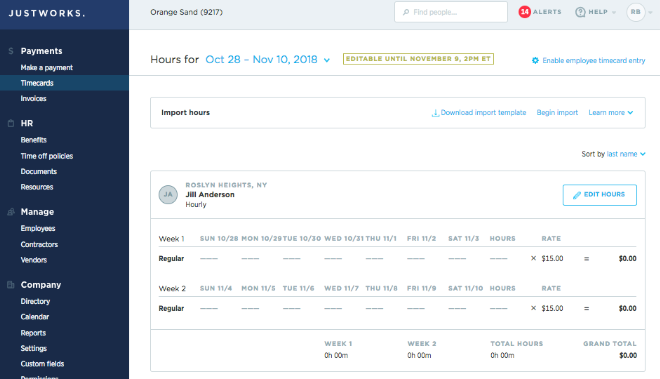 Your account is set up so that admins enter hours on behalf of hourly & non-exempt salaried employees by default.

You'll see a list of your hourly employees and their timecards, showing any time and rates that have been entered, and how much they'll be paid when your payroll runs. You can enter and edit your employees' hours until 2:00pm ET on the day we process your timecards.

Admins can also sort the list of employees alphabetically by first or last name, making it easier to stay organized and match/update information from any spreadsheets they may be using.
To edit an employee's hours click the 'Edit Hours' button in the top right of the timecard.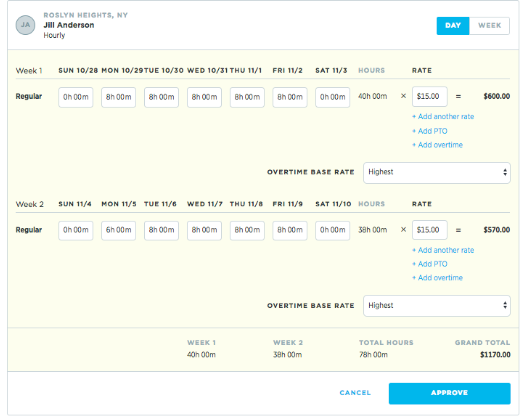 You can enter hours by week or by day. Use the toggle in the upper right to switch between the two ways of entering hours.
Once you've entered your changes, click 'Save & Approve' to save your changes, and you're all set.
Enabling Employee Timecard Entry
You can enable employee timecard entry in Justworks if you would like your employees to enter their own hours. Simply select 'Enable employee timecard entry' in the upper right corner of the above dashboard. Please keep in mind, however, that employee entry is not available for those who are on a weekly pay frequency.

To have your employees enter hours, select "employees enter hours" in the box below and click 'save setting'.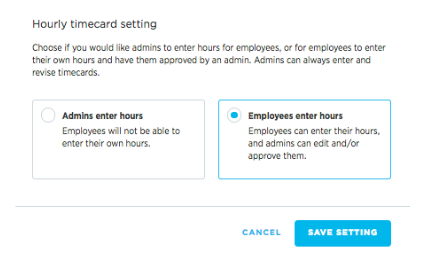 When employee timecard entry is enabled, admins see employees' timecards split up into four tabs:
Not Started - Contains timecards that have not had any hours saved by the employee or entered by their manager or admin.

Saved Drafts - Contains timecards for any hourly employees who have saved hours in their timecards, but have not submitted their hours to their admin for approval,

Ready for Approval - Contains timecards that have been submitted by employees for approval.

Approved - Contains timecards that have been approved.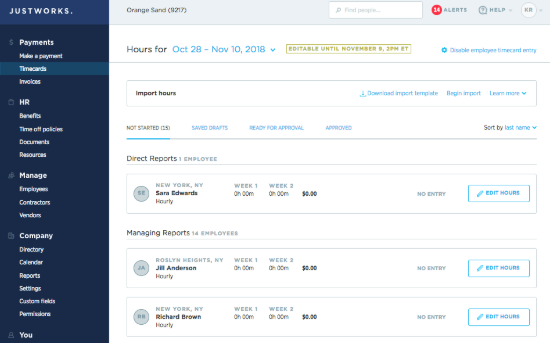 Timecards can be edited even after they have been approved up until the payroll deadline at 2:00PM EST on the day Justworks processes your timecards. Hourly employees are notified via email when their hours are edited and/or approved.

Automatically Synced PTO In Timecards
If employees have had time off requests approved from policies that have the 'Timecard Sync' setting enabled, admins will also see those hours in said employees' timecards. You can see this by navigating to the 'Edit Hours' option for any employee with scheduled PTO under your Timecards tab.
As always, admins will be able to edit the amount of hours recorded here until the timecards process for their company. If you edit PTO here, the payment amount will be adjusted accordingly. However, please keep in mind that if you edit your employees' PTO hours here, you'll also need to adjust accordingly from the 'Time Off' section of their account.
If no PTO is scheduled, then the row for PTO will not automatically show, you but you can always pull it out by selecting '+Add PTO' for the appropriate week.
Keep in mind that at this time, PTO will not be synced into a timecard if said timecard has been saved in progress or approved before those PTO hours were approved. The admin will have to manually add those hours into the timecard.
Employee-Saved Timecards
If employee timecard entry is enabled, your hourly employees also have the option to save their hours into their timecards tab throughout the pay period. You'll see any of the hours they've entered during the pay period under the 'Saved Drafts' tab.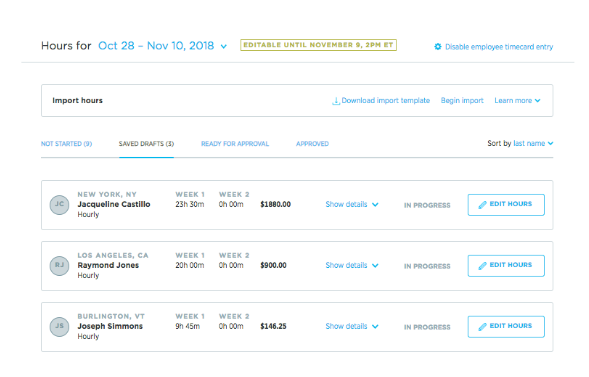 Employees will be able to save their timecards as many times as they like until the processing time. Even if they never hit 'submit' on their end, you'll be able to click into 'edit hours' and approve them prior to processing.

If you take no action, however, they will not be paid out with the rest of the approved timecards and you'll need to schedule an off-cycle payment for those hours.
Reminder emails
Admins will receive email reminders after the pay period ends, and on the day hours are due, letting you know who, if anyone, still needs hours entered for that pay period. If employee timecard entry is enabled, that email will specify which employees haven't submitted their timecards, who is waiting for approval, and whose timecard is complete.

If an employee (or you) has not entered their hours on time, they will not be paid through regular payroll for that pay period. In that event, off-cycle payments will need to be scheduled to all regularly and overtime hours that employees worked during the pay period.
Manager Permissions
You can give managers the ability to fill out, submit, and approve timecards for their direct reports and extended teams. You can set up Manager Timecard Permissions by going to the 'Permissions' tab from the left-hand menu in your Justworks account, clicking on the 'Manager Permissions' tab at the top of the screen, and enabling 'Manage Employee Timecards.'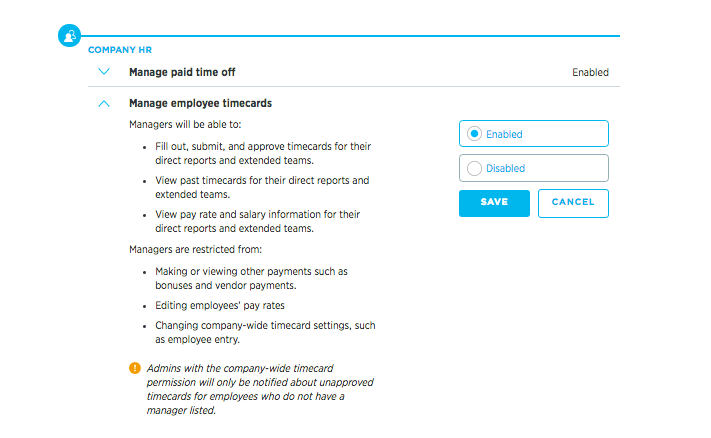 Managers who have this permission will not be able to make other payments, or approve timecards of those who are not in their reporting chain.
Contractors cannot be paid on an hourly basis
Only employees can be paid on an hourly basis. 
Hourly & non-exempt salaried employees are paid on Fridays
In order to simplify overtime calculation and processing, hourly and non-exempt salaried employees must be paid on a weekly or biweekly basis. All hourly employees will receive their payments on a Friday of the week after the pay period ends, or earlier if a holiday falls on Friday. Hours must be entered by 2:00PM EST four business days prior to pay day.




You can specify multiple rates when paying hourly employees
You can specify a base rate for each employee, which is the default rate used whenever hourly pay is scheduled. However, when you schedule an hourly payment, you may enter multiple rates beyond the employee's base rate, like Overtime and Double Time, or another rate you might need.
If you have multiple pay rates for an employee, you can change the base rate, the Overtime and Double Time rates will automatically re-calculate.
It's important to note that everything is entered in ​hours, for example:
.30 = 18 minutes
.50 = 30 minutes
.75 = 45 minutes
Unpaid Timecards
Timecards for hourly employees that are submitted but not approved will not automatically be processed or rescheduled. Instead, the admin of the account will have to schedule an off-cycle payment for their employee from the 'Make a Payment' tool.

The time entered for that employee, though, will still be stored under the 'Unpaid Timecards' tab for the applicable pay period.


You can switch an employee's pay basis from salaried to hourly
Admins with the proper permissions can find the 'Change Compensation' button on the top of an employee's profile. You can also access this workflow from the Job Information tab, and hitting 'Edit' from the Compensation section. From the following screen, you'll be able to change the employees Pay Basis to "salary" or "hourly". 

In the case that you switch an employee from hourly to salary, you will still be prompted to enter hours for the previous pay periods until the effective date of the new "salary" status.
Paying non-exempt salaried employees
Your non-exempt salaried employees will also be paid through Timecards, making it easier and to track and pay any overtime hours for compliance reasons. These employees will be on the same pay schedule as your hourly employees are.
If you'd like to record any overtime hours worked for a non-exempt salaried employee during the two-week pay period, you'll have to enter in standard hours worked as well. If zero hours are entered for the salaried employees, the system will default to their regularly scheduled gross pay, which will be their annual salary / 26 (for 26 pay periods of the year). Their paystubs will show the amount of hours entered for each pay period, even if there is no change to their regularly scheduled payment.
Justworks does not have time tracking capabilities
We do not track time; however, we recommend platforms such as Tsheets and Boomr to do so.
Disclaimer
This material has been prepared for informational purposes only, and is not intended to provide, and should not be relied on for, legal or tax advice. If you have any legal or tax questions regarding this content or related issues, then you should consult with your professional legal or tax advisor.