Who are eligible for Timecards
Both hourly and salary non-exempt employees can paid through Timecards and are paid on the same pay period schedule.
Currently, only employees can be paid on an hourly basis in Justworks, excluding any 1099 based contractors and vendors from Timecards.
Getting Started
Navigate to Payments on your main dashboard and click "Timecards."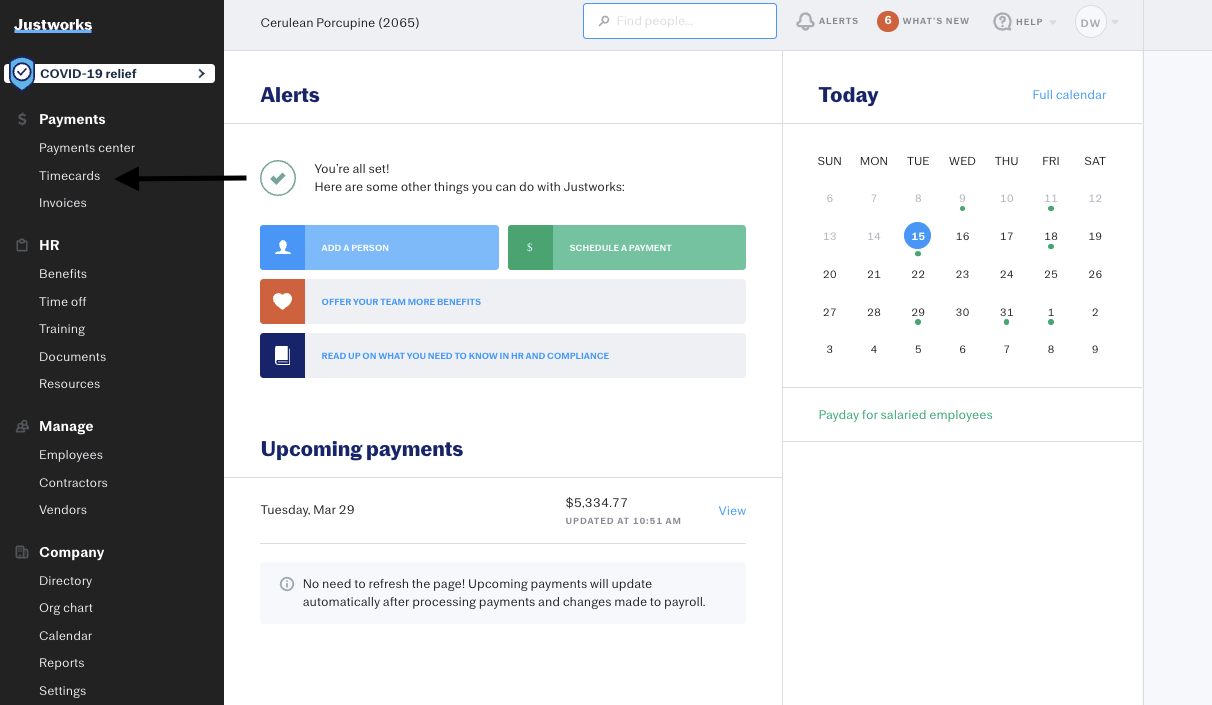 Your account is set up so that admins enter hours on behalf of hourly & non-exempt salaried employees by default. If you'd like your employees to submit their own hours directly to Justworks, you can enable Employee Timecard Entry, which we'll cover in the following sections.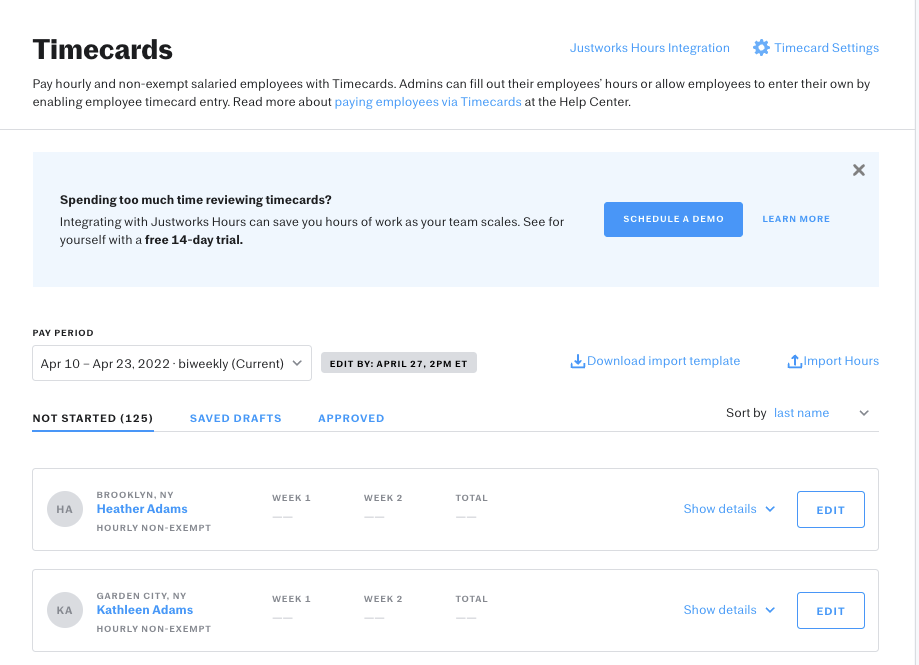 From this view, you'll see tabs for timecards that have not been started, any drafts you may have saved, and timecards you've already approved.
You can enter and edit your employees' hours until 2:00pm ET on the day we process your timecards. If you miss this deadline, you'll have to schedule off-cycle payments to these employees.
To save or approve an employee's hours click the 'Edit Hours' button in the top right of the timecard.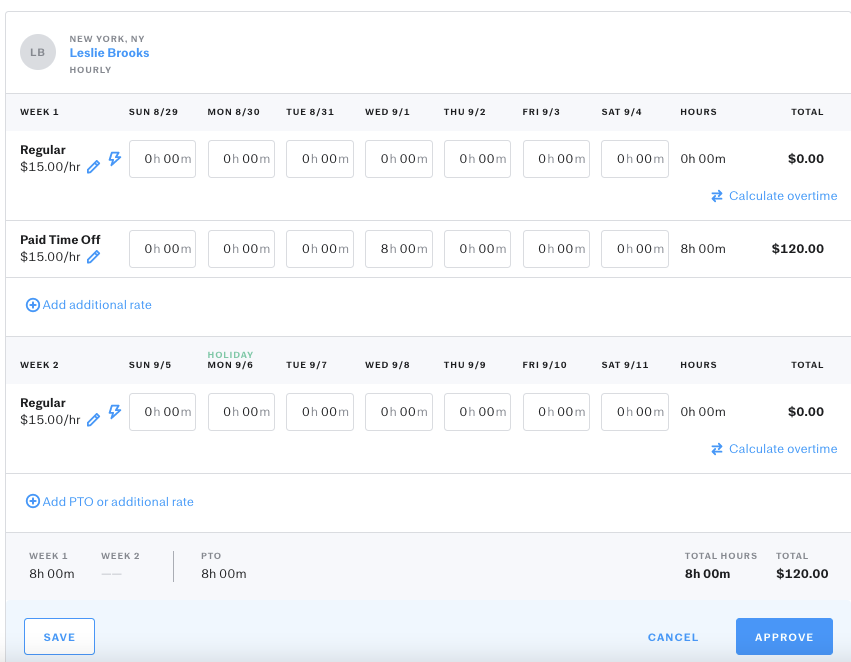 Once you've entered hours, you can either save the timecard in progress so that you can add additional hours later, or simply hit 'approve'. You will be able to re-approve timecards as many times as you wish before processing.

Timecard Entry Settings
Your account is set up so that admins enter hours on behalf of hourly & non-exempt salaried employees by default. If you'd like your employees to submit their own hours directly to Justworks, you can enable Employee Timecard Entry as detailed below. To do so, navigate via the sidebar to "Timecards" and then click "Timecard Settings" as shown below.

The first setting on the Timecard Settings page that you can change is the ability to enable employee entry for Timecards. With this setting set to "Admin Only" only admins will have the ability to enter time, but with the "Admins and Employee" selection, your employees will be allowed to enter their time into their Timecard. Both options are shown in the first section of the page as illustrated below.
Please note: Employee entry is not available for those who are on a weekly pay frequency.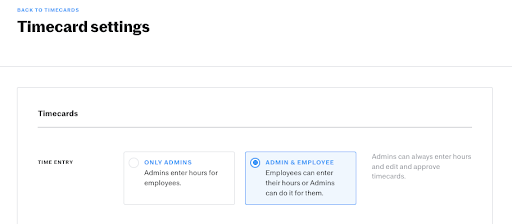 When employee Timecard entry is enabled, admins see employees' Timecards split up into four tabs:
Not Started - Contains Timecards that have not had any hours saved by the employee or entered by their manager or admin.

Saved Drafts - Contains Timecards for any hourly employees who have saved hours in their Timecards, but have not submitted their hours to their admin for approval.

Ready for Approval - Contains Timecards that have been submitted by employees for approval.

Approved - Contains Timecards that have been approved.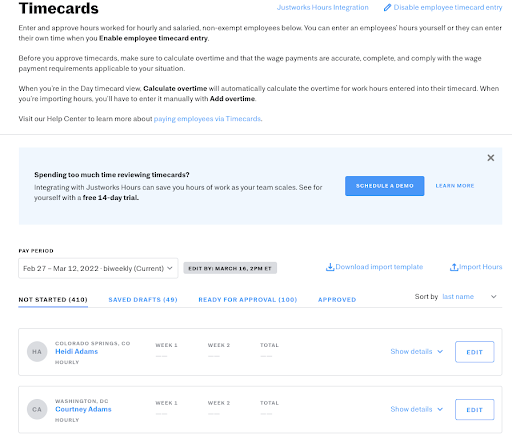 Timecards can be edited even after they have been approved up until the payroll deadline at 2:00PM ET on the day Justworks processes your Timecards. Hourly employees are notified via email when their hours are edited and/or approved.
Paying Overtime
The second setting you have access to in the Timecard Settings page is the method by which overtime will be calculated. You have the option to choose between three settings:
AUTOMATIC

Please note that automatic overtime calculations are not available for Justworks Hours Timecards or when using the Import Hours template.

Overtime will be automatically calculated for all Timecards except those in Saved Drafts.
ADMIN INITIATED

Overtime will be calculated after you select 'Calculate overtime' for each Timecard. Head over to our

Overtime

article for more information about calculating overtime at Justworks.
MANUAL ENTRY

Overtime will not be calculated. Admins need to select 'Add overtime' and add those hours for each employee. This is recommended for those with specific local, industry, or custom overtime laws.

Overtime Calculation Methods
The last setting on the Timecard Settings page gives you the ability to change how Overtime is calculated when Multiple Rates are present on a Timecard in a pay period. For more in-depth information about the two methods please head over to our Overtime page.

Automatically Synced PTO In Timecards
If employees have had PTO requests approved from policies that have the 'Timecard Sync' setting enabled, admins will see those hours automatically in said employees' timecards, so long as those timecards are not already approved.
If an employee has saved hours for the period, and PTO is approved, it will sync to the timecard as shown below.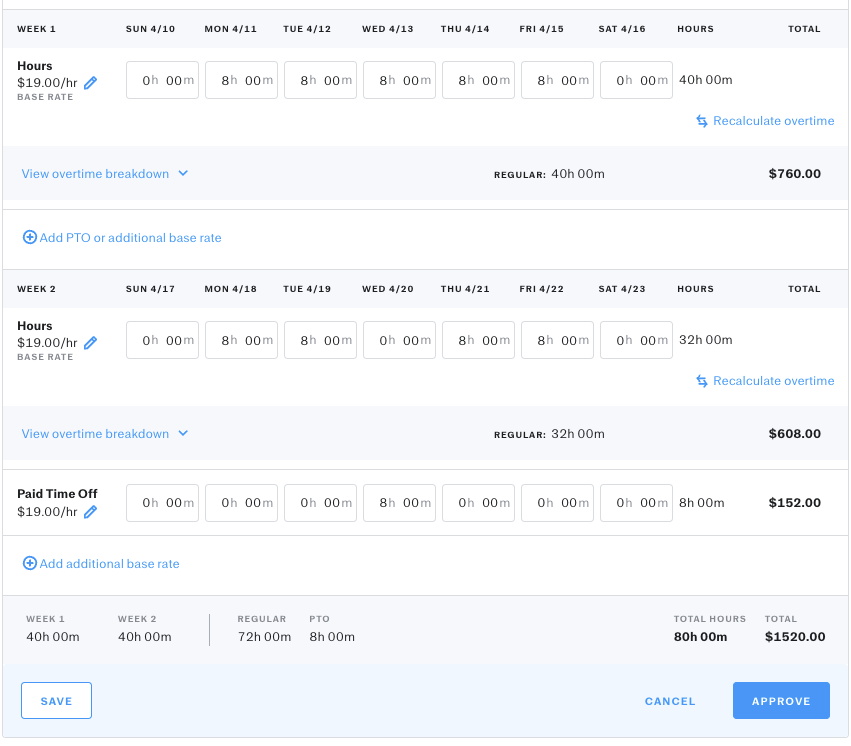 Timecards that only have synced PTO hours on them will show under the Saved Draft tab from the admin view, regardless of whether employee timecard entry is enabled or not.
Employee-Saved Timecards
If employee timecard entry is enabled, your hourly employees also have the option to save their hours into their timecards tab throughout the pay period. You'll see any of the hours they've entered during the pay period under the 'Saved Drafts' tab.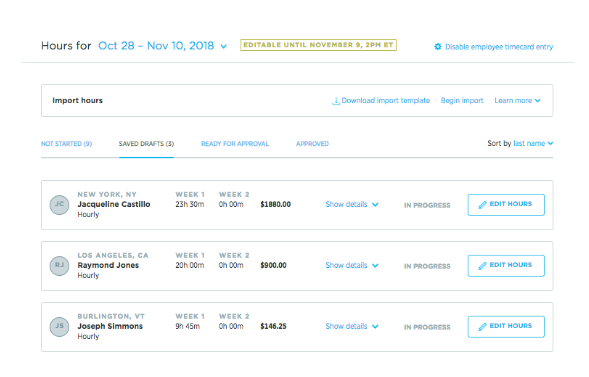 Employees will be able to save their timecards as many times as they like until the processing time. Even if they never hit 'submit' on their end, you'll be able to click into 'edit hours' and approve them prior to processing.

If you take no action, however, they will not be paid out with the rest of the approved timecards and you'll need to schedule an off-cycle payment for those hours.
Not-processed timecards
Timecards for hourly employees that were either saved or submitted but not approved will not automatically be processed or rescheduled. Instead, you as the admin will have to either schedule an off-cycle payment for the employee from the 'Make a Payment' tool or use the Late Timecard Approval tool.
The time entered for that employee, though, will still be stored under the 'Not Processed' tab for the applicable pay period.
Late Timecard Approval
You can edit and approve certain qualifying timecards that were not submitted or approved prior to payroll processing. This allows you to both schedule pay and keep an accurate record of any hours that an employee worked.
Timecards that meet the criteria for late approval are:
Not already paid
From a past pay period
For a non-exempt employee that was timecard eligible for the relevant pay period
For an employee that is either still active or was separated from the company in the current calendar year
Note: Customers are responsible for timely and accurately reporting payroll information.
The late timecard approval process is nearly identical to editing a timecard for the current pay period. To edit a past timecard that wasn't approved and paid out, navigate to Payments on your main dashboard and click "Timecards." Using the pay period dropdown you can navigate to any past pay period for which you need to edit a timecard.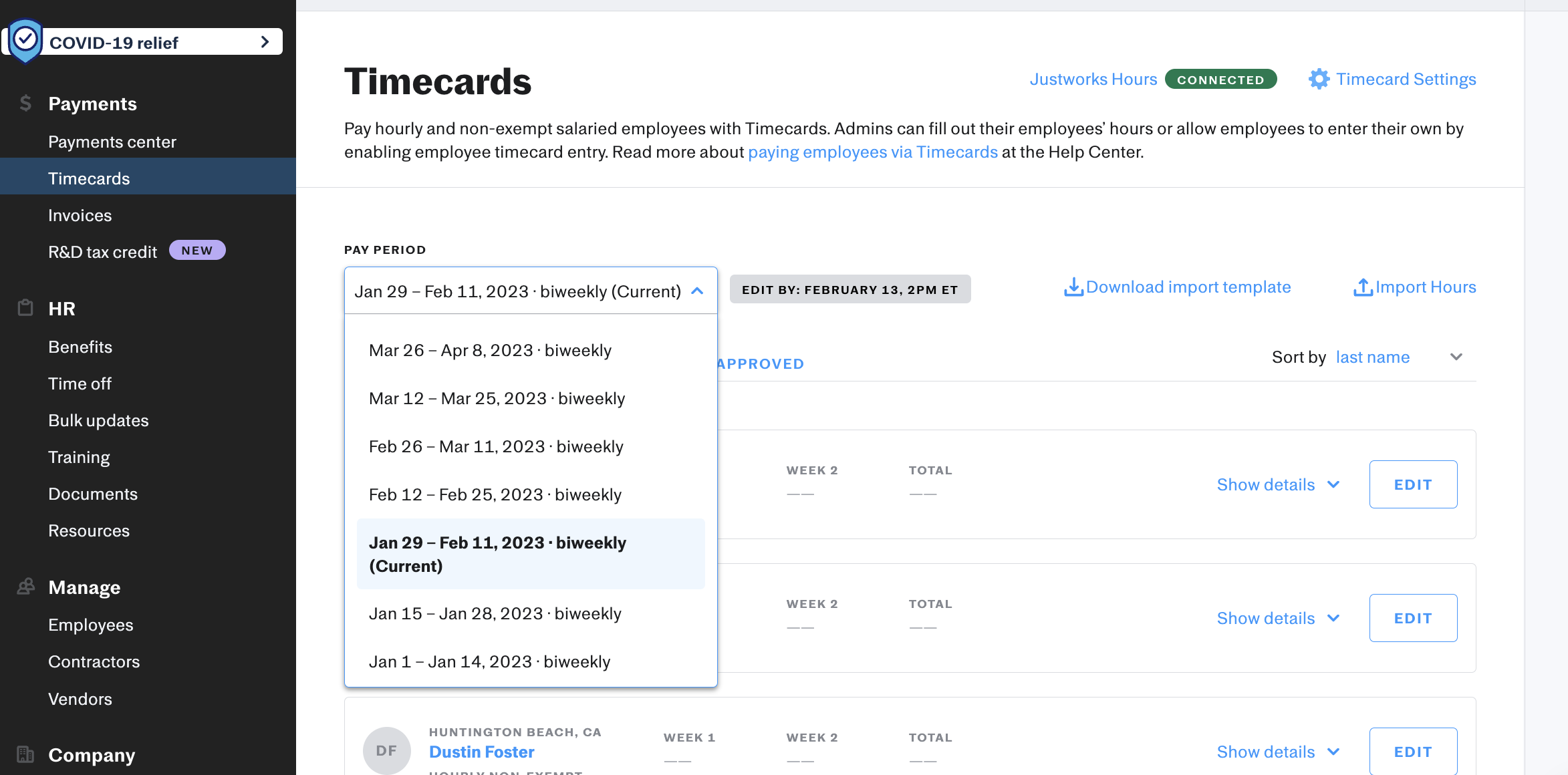 There are two tabs that will appear for previous pay periods. Timecards in the "Not Started" tab are timecards that had no hours added prior to the pay period processing. Timecards on the "Not Processed" tab are those that may have had time added, but were never approved prior to processing.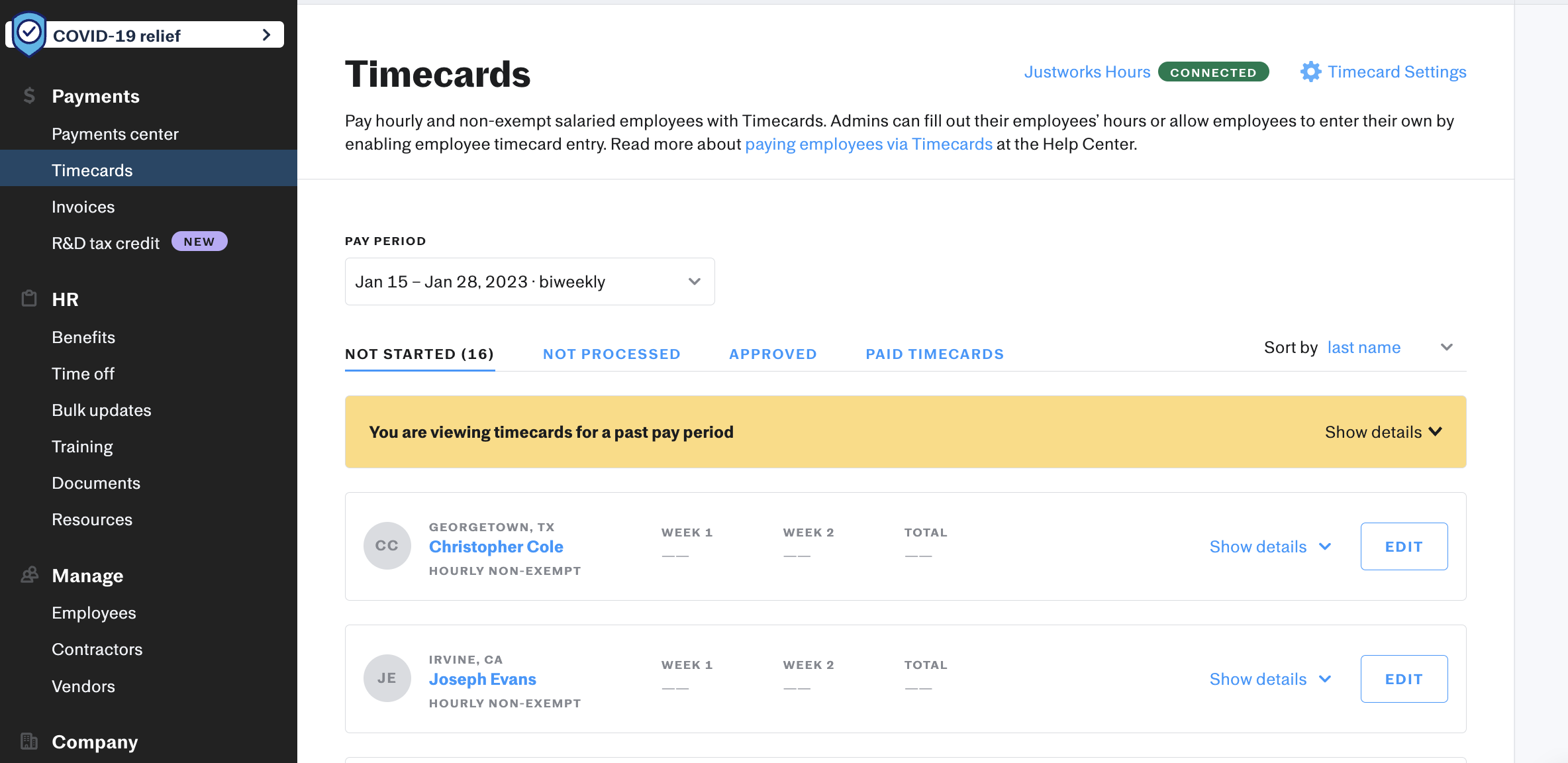 Please note the collapsable banner just above the timecards includes some additional information about the pay period, payments, and timecard settings.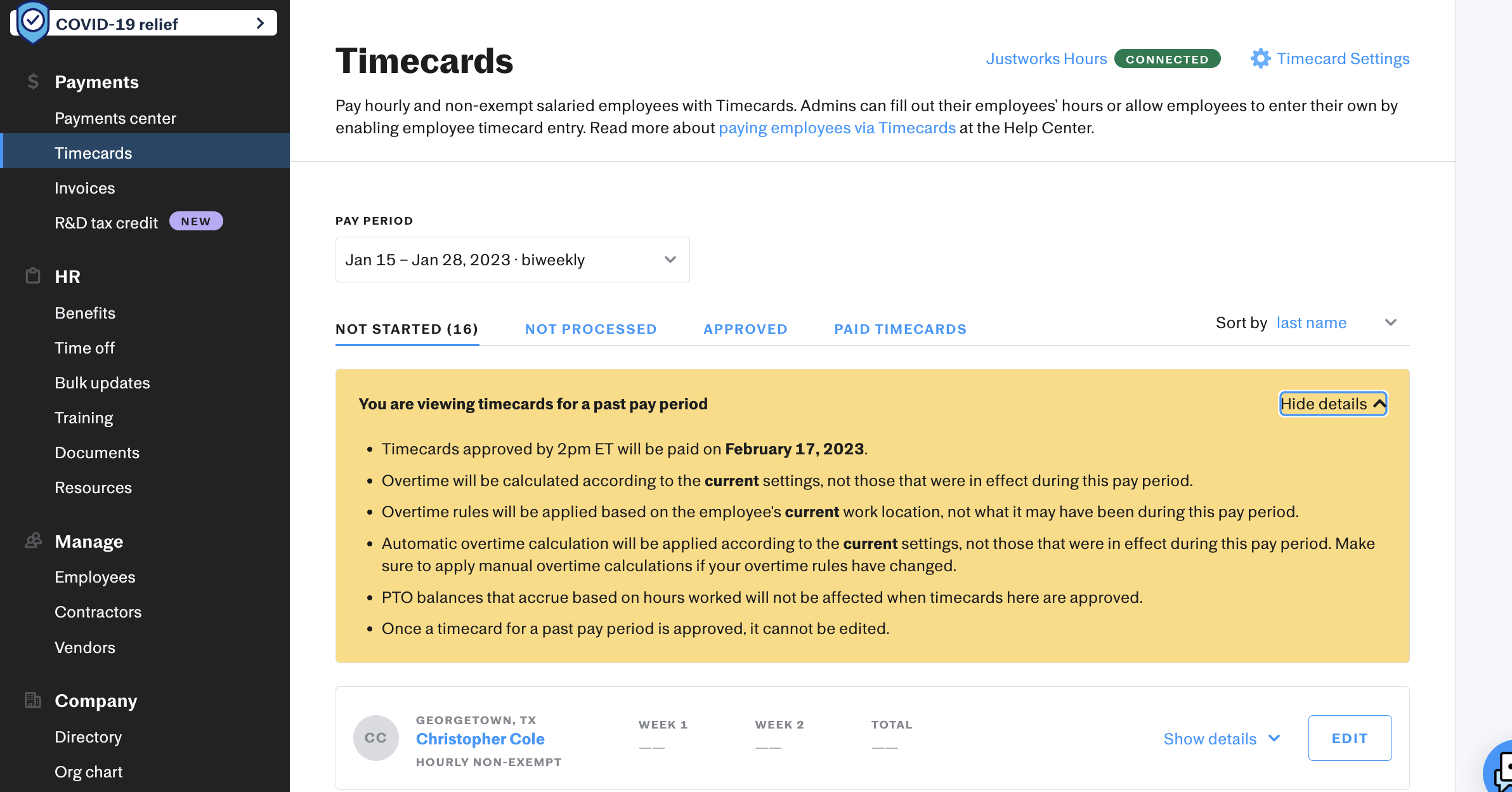 Click "Edit" on the applicable timecard and begin entering any hours as normal. Once all hours (including any PTO or overtime) have been entered, click "Approve."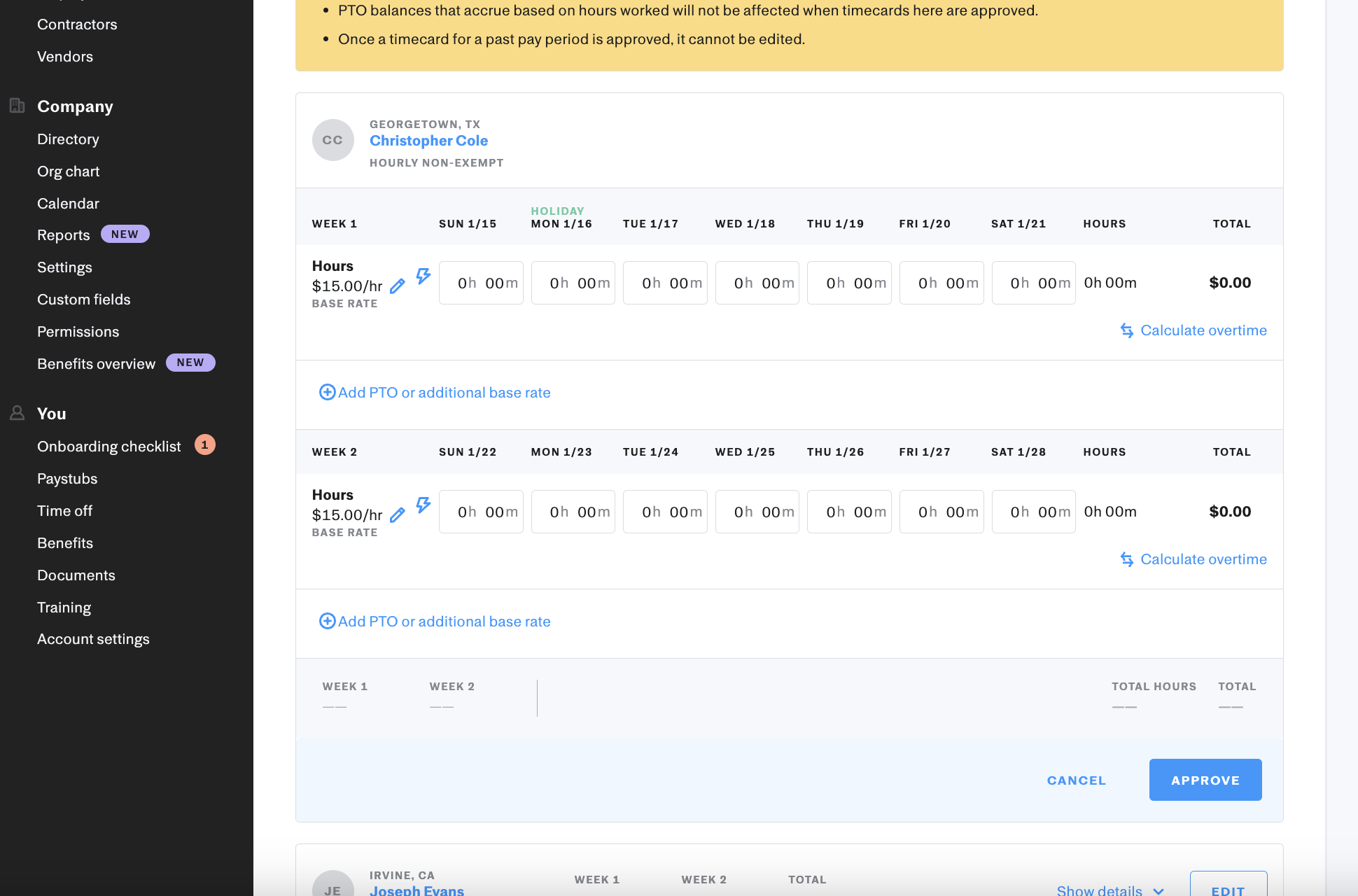 Once you hit "Approve" a banner will appear to let you know the edits have been made and the payment has been scheduled for the employee. The banner will also indicate the pay date based on your payroll processing schedule.
The timecard itself will move to the "Approved" tab.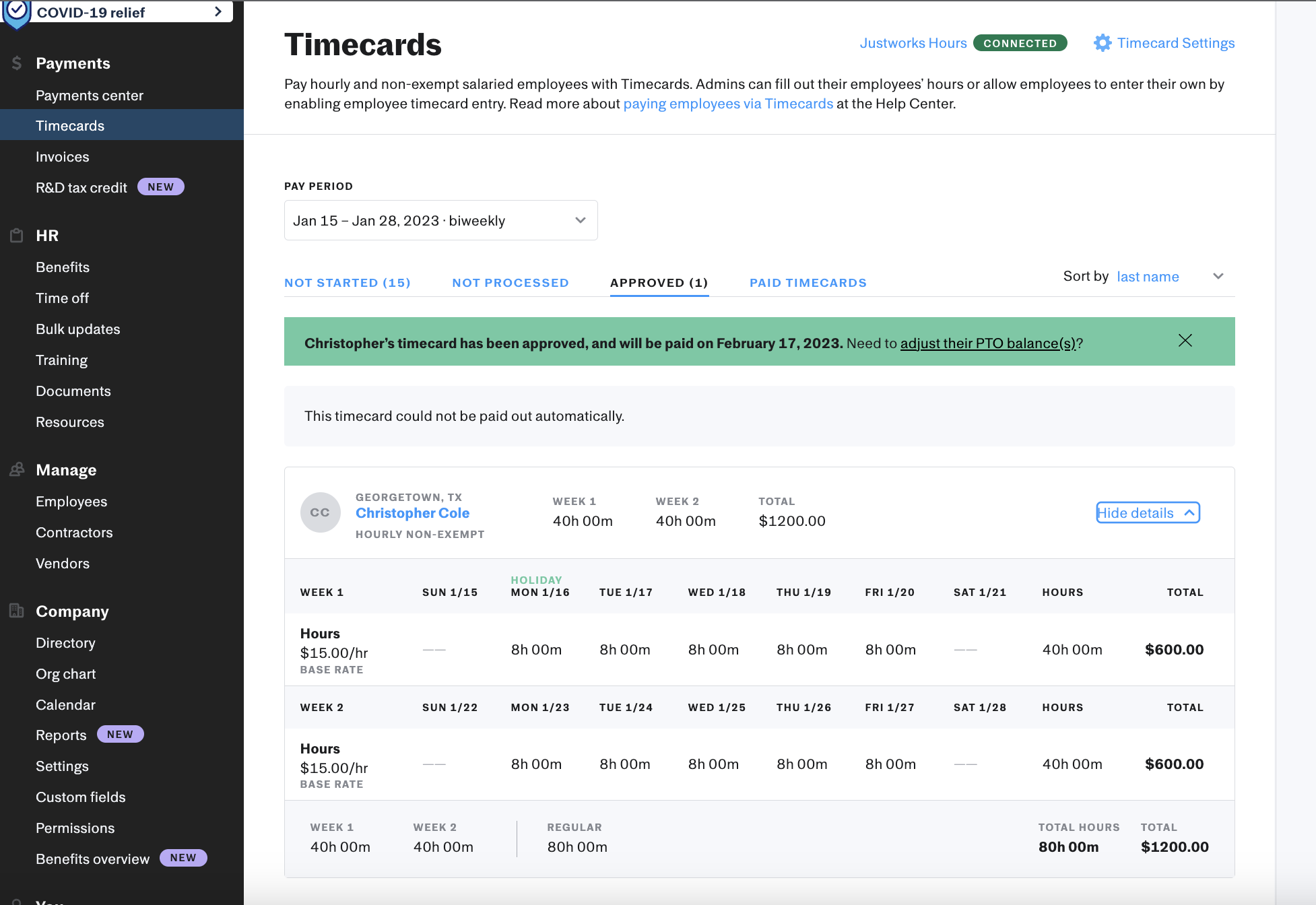 You can specify multiple rates when paying hourly employees
When you pay your employees via Timecards, you may enter multiple rates beyond the employee's base rate. In this case, you will have to manually enter/adjust overtime hours as Justworks will not calculate this automatically.
It's important to note that everything is entered in ​hours, for example:
.30 = 18 minutes
.50 = 30 minutes
.75 = 45 minutes
Reminder emails
Admins will receive email reminders after the pay period ends, and on the day hours are due, letting you know which hourly employees, if anyone, has not entered hours for that pay period. If employee Timecard entry is enabled, that email will specify which employees haven't submitted their Timecards, who is waiting for approval, and whose Timecard is complete.
If an employee (or you) has not entered their hours on time, they will not be paid through regular payroll for that pay period. In that event, off-cycle payments will need to be scheduled to all regularly and overtime hours that employees worked during the pay period.
Manager Permissions
You can give managers the ability to fill out, submit, and approve timecards for their direct reports and extended teams. You can set up Manager Timecard Permissions by going to the 'Permissions' tab from the left-hand menu in your Justworks account, clicking on the 'Manager Permissions' tab at the top of the screen, and enabling 'Manage Employee Timecards.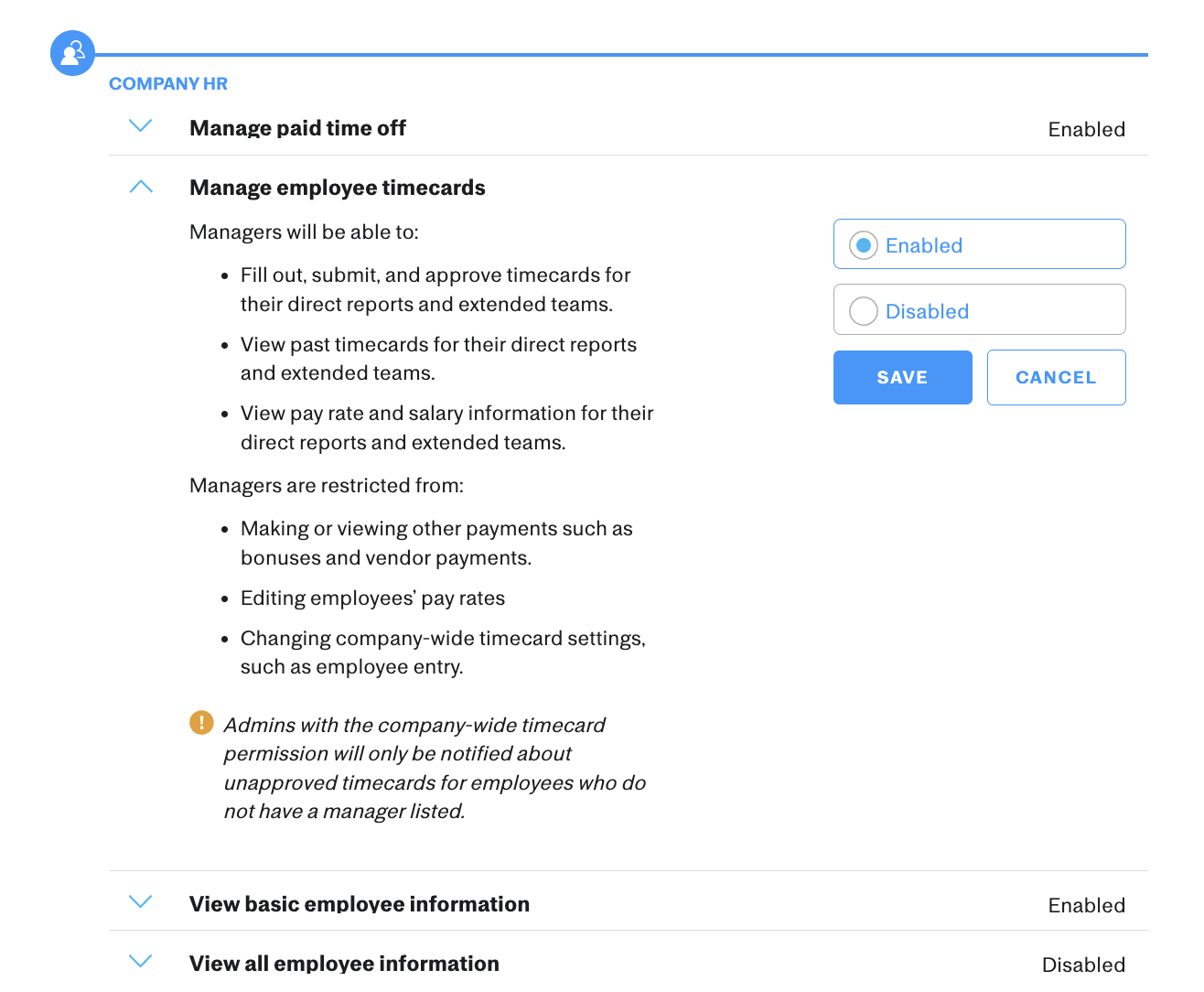 Managers who have this permission will not be able to make other payments, or approve timecards of those who are not in their reporting chain.
Hourly & non-exempt salaried employees are paid on Fridays
In order to simplify overtime calculation and processing, hourly and non-exempt salaried employees must be paid on a weekly or biweekly basis. All hourly employees will receive their payments on a Friday of the week after the pay period ends, or earlier if a holiday falls on Friday. Hours must be entered by 2:00PM EST four business days prior to pay day.



You can switch an employee's pay basis from salaried to hourly
Admins with the proper permissions can find the 'Change Compensation' button on the top of an employee's profile. You can also access this workflow from the Job Information tab, and hitting 'Edit' from the Compensation section. From the following screen, you'll be able to change the employees Pay Basis to "salary" or "hourly".

In the case that you switch an employee from hourly to salary, you will still be prompted to enter hours for the previous pay periods until the effective date of the new "salary" status.
This material has been prepared for informational purposes only, and is not intended to provide, and should not be relied on for, legal or tax advice. If you have any legal or tax questions regarding this content or related issues, then you should consult with your professional legal or tax advisor.