Justworks makes it easy to schedule payments to employees, contractors, and vendors. Admins with the proper permissions will see the 'Payments Center' from the top of the left-hand side menu upon logging in.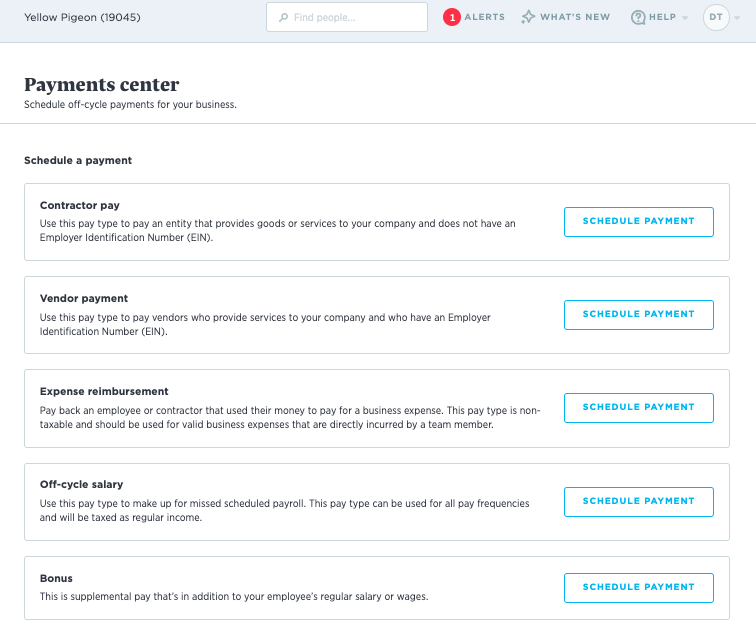 You'll see the different pay types that you can schedule to your employees here. Common pay types include off-cycle salary payments, supplemental payments (like bonuses + commissions), and expense reimbursements.
You can read more about each pay type below. For this example, we'll walk through scheduling a bonus to an employee.
Scheduling Payments

Once you select the pay type you wish to schedule, you'll see the set up page. In this example, we'll walk through scheduling a bonus payment.
Here, you'll begin by entering a pay date and delivery method. (In this example, you can select the option for physical checks, but this option is only present for bonus payments. You can read more about how you can use the physical check option on the Supplemental Payments page.).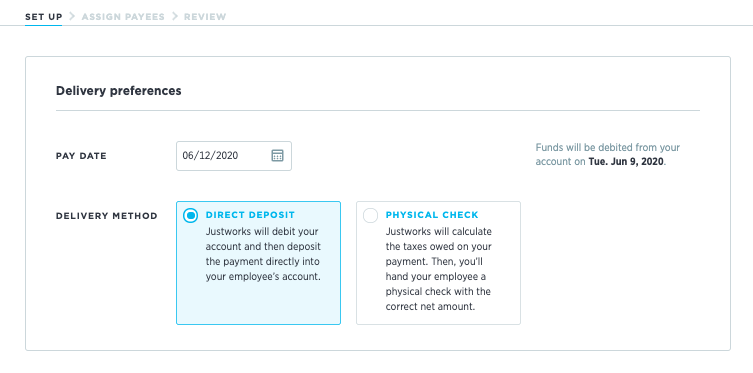 Next, you'll enter the payments settings.

Then, you'll have to enter an applicable work period for the payment, as well as the payment input. The date range you enter here will not change how the payment is taxed, but it will be present on your invoice and your employee's paystub once the payment processes. Generally, the start & end dates here should align with the pay period in which the additional payment was earned. These start & end dates cannot be the same day.
Next, you'll select the deduction settings. Please note that if your company offers Slavic401k through Justworks, "Do Not Apply Deductions" won't be a setting option for payments like bonuses, commission, off-cycle salary, etc., as those types compensation are subject to any 401k deductions the employee has set up.
You can read more on the specifics of the federal tax rate and cumulative tax rate on bonus and commission payments on the Supplemental Payments page.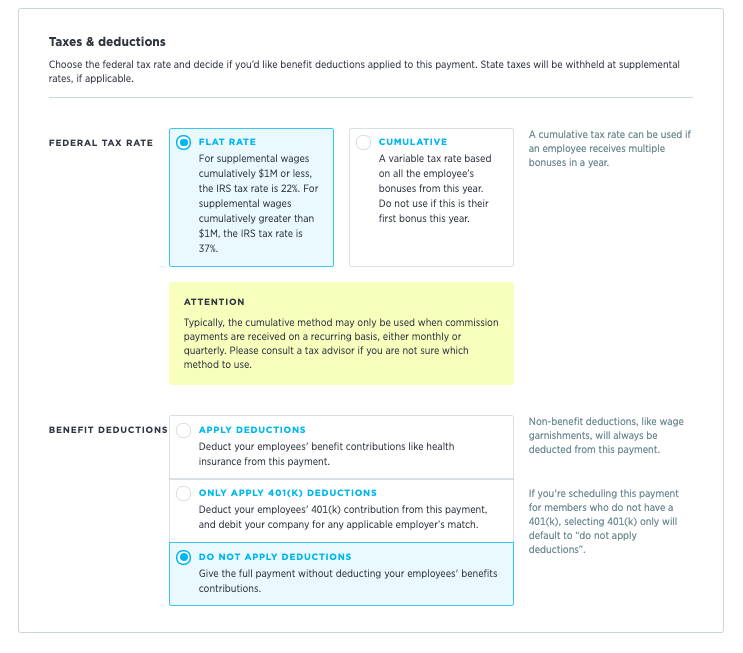 As always, you can attach a note to these off-cycle payments:

Next, you'll select the recipients of this payment. You'll be able to filter this list by department, office, and more.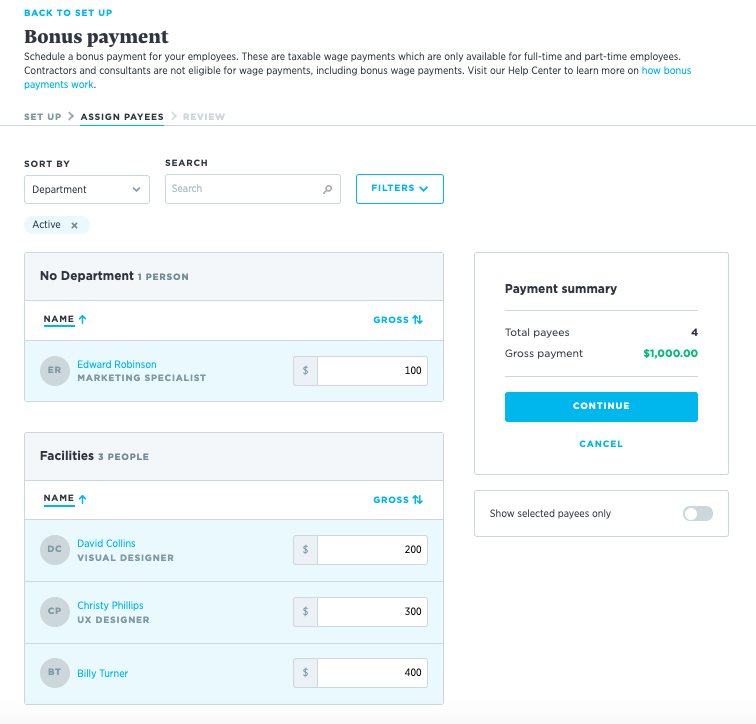 Once you've entered your totals, hit 'Continue' to review the payment.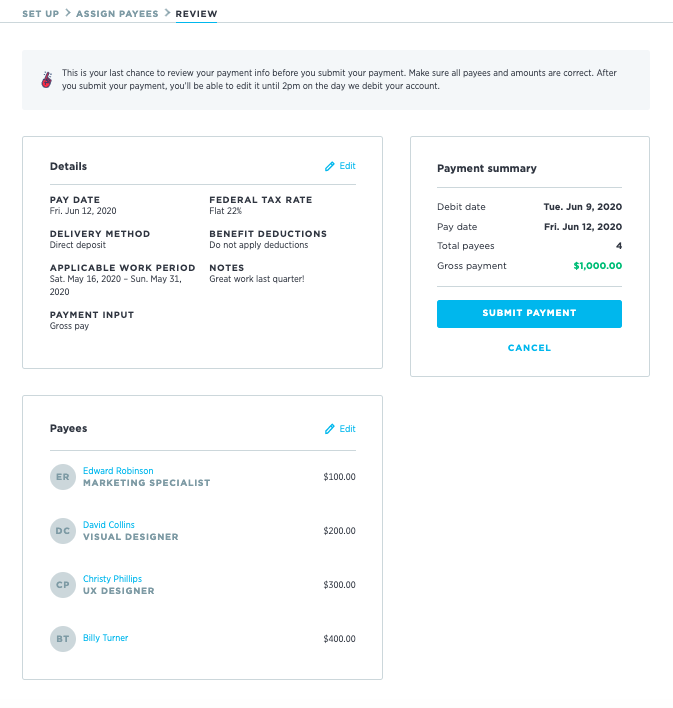 Once you submit, you'll see a confirmation page that lets you know when you can edit the payment until, when we'll debit your company's bank account, and when your recipients can expect the payment.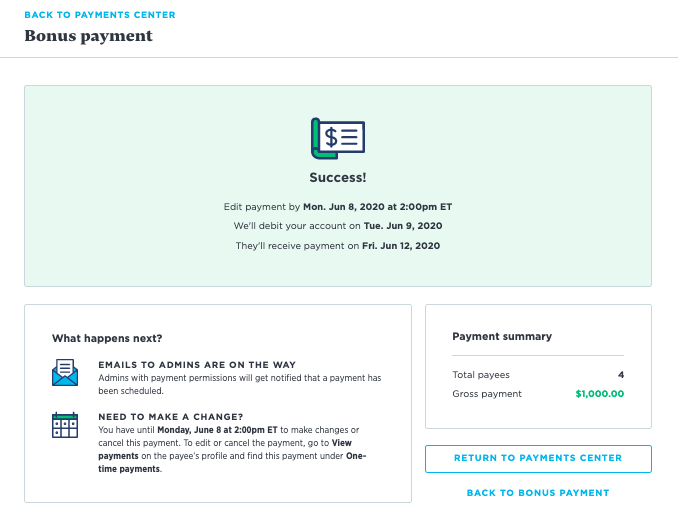 Editing & Cancelling Payments
If you need to edit or cancel a payment, find the recipient under Manage > Employees, select 'View Payments,' and find the 'One-time payments' tab.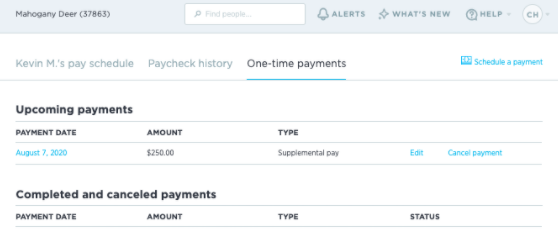 You can either edit the payment or cancel it outright. When you select 'edit', you'll be led back through the same workflow as when the payment was originally scheduled, but you'll see the member whose payment you're editing the whole way through:

Once you re-complete the flow with edited information, you'll see the option to 'Update Payment.'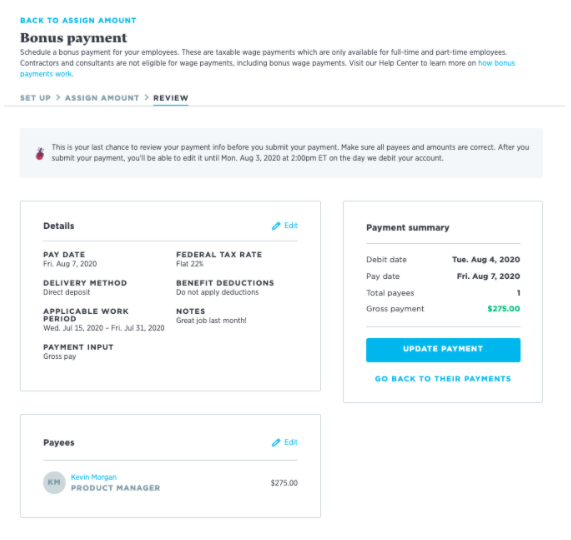 Once you do so, you can refer back to the One-Time Payments page.
Now, you'll see both the most recently-updated payment information as well as information of the original payment, so you can refer to what was changed.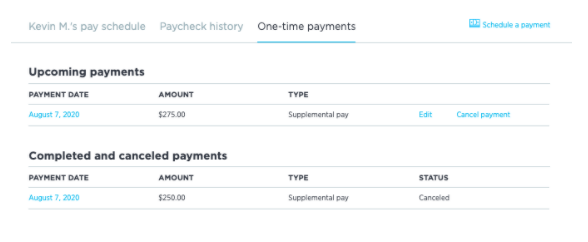 Pay Types
CONTRACTOR PAY
You can schedule payment to your company's contractors from the Payments Center by viewing their profile and selecting the option to and selecting 'Make a Payment'.
If you have questions about how to classify your contractors, you can visit our Contractors article. Otherwise, you can follow Scheduling + Recording Contractor Payments for a step-by-step guide on how to send and record 1099 payment.
EXPENSE REIMBURSEMENT
Admins can use this pay type to reimburse employees and contractors for business expenses. Keep in mind that these payments are not taxable, and not tracked as taxable income. Generally, you should ensure that the expenses you're reimbursing are valid and you should have documentation that these expenses were incurred by the employee or contractor.
You can read more at the Expense Reimbursements article.
OFF-CYCLE SALARY
You can schedule a one-off payment for an employee if you miss regularly scheduled payroll. These payments are not considered supplemental payments, which means that they are not taxed at a flat 22%; rather they are taxed as ordinary income.
If you have missed more than one pay period, it's important to schedule an off-cycle payment for each missed pay period rather than a single lump sum so that taxes are calculated correctly.
For example, if an employee should have been paid in April but was not, then you would schedule two off-cycle payments: One for the period April 1-15 and a second for the period April 16-30. This will result in the correct tax calculation.
OTHER SUPPLEMENTAL PAY
If you didn't see the supplemental pay type you need, use this to pay an employee supplemental pay. This is pay that's in addition to your employee's regular salary or wages.
OWNER'S DRAWS
Use this pay type to send owners draws', to owners of your business. Keep in mind that these payments are not taxed.
If you need help deciphering whether a payment should be classified as an owner's draw, you can refer to Understanding Owner's Draws.
Otherwise, you can view Scheduling Owners' Draws for a step-by-step walkthrough of how to schedule this payment.
PAYCHECK TIPS
Use this pay type to pay out employees for credit card tips that your business accepts. Justworks cannot record cash tips.
Admins with permissions can schedule paycheck tips at any time. These paycheck tips are taxable, and will be taxed as regular income, similar to off-cycle salary payments.
MISCELLANEOUS NON-TAXABLE
Use this pay type for other non-taxable payments that don't fit under the characteristics of reimbursements or contractor/vendor pay.
RETROACTIVE PAY
Admins should use the retroactive pay type when needing to schedule pay to a worksite employee back wages attributable to pay periods during which the employee was on Justworks' platform.
This payment type should not be used to pay employees for any time worked prior to their Justworks start date, or prior to the company's premiere date.
Keep in mind that retroactive payments are taxed at the supplemental rate, with a 22% flat federal withholding rate.
TAXABLE MOVING EXPENSE
Admins can schedule taxable moving expenses for relocation expenses that are fully taxable as earnings. These payments are often scheduled for employees who relocate to join your company.
Taxable moving expenses are also taxed at the supplemental rate, with a 22% flat federal withholding rate.
FRINGE BENEFITS
If you have fringe benefits that you provide to your employees outside of Justworks, you can record them by going to the Payments Center and selecting 'Record fringe benefit.' To understand that workflow and the basics of fringe benefits, refer to Fringe Benefits.
Disclaimer
This material has been prepared for informational purposes only, and is not intended to provide, and should not be relied on for, legal or tax advice. If you have any legal or tax questions regarding this content or related issues, then you should consult with your professional legal or tax advisor.