If you miss regularly scheduled payroll, you can schedule an off-cycle payment
You can schedule a one-off payment for an employee if you miss regularly scheduled payroll. These payments are not considered supplemental payments, which means that they are not taxed at a flat 22%; rather they are taxed as ordinary income.
If you have missed more than one pay period, it's important to schedule an off-cycle payment for each missed pay period rather than a single lump sum so that taxes are calculated correctly.
For example, if an employee should have been paid in April but was not, then you would schedule two off-cycle payments: One for the period April 1-15 and a second for the period April 16-30. This will result in the correct tax calculation.
Schedule a supplemental payment (such as bonus or commission) at any time
Supplemental payments are payments made in addition to regularly scheduled salary or wages. Bonus, commission, severance, and retroactive pay are paid as supplemental payments.
Supplemental payments are taxable payments which are only available for full-time and part-time employees, not contractors or consultants. Additionally, please keep in mind that severance payment should not be scheduled to employees who were no longer with your company when you joined Justworks. If you need to schedule severance payment to an employee while in the process of joining Justworks, you can schedule the payment via your current PEO, payroll provider, or with assistance of your CPA.  
You'll notice when you head to "Make a payment" there is a Delivery Method option. Now you will have the choice of selecting "Direct Deposit" or "Physical Check" for Supplemental Payments only. If you choose "Physical Check", the Pay Type will default to"Supplemental pay", Bonus, and "Net Pay". This allows customers to give their employees physical checks for bonuses only. Physical checks will need to be issued by the company directly and Justworks will process the appropriate taxes.
Admins have the ability to choose if they'd like to schedule a "gross-up" payment to their employees. If they choose "Net Pay" as the Calculate Amount, we'll then add the employer taxes as an addition. This will allow you to schedule a bonus and enter "Net Pay" for the exact take-home amount you'd like your employees to receive. When this is selected, we'll only allow for a Flat 22% Federal Withholding Amount.
When scheduling a bonus or commission supplemental payment, you have the choice of withholding federal taxes at a flat 22% rate or cumulatively. You can learn more about scheduling and the tax difference here.
Other supplemental payments are withheld at a flat 22% rather than using an employee's tax bracket. In addition, state and local taxes may be withheld at different rates.
You'll also have the option to apply benefit deductions, such as medical, dental, and vision premiums, to this payment. Please keep in mind that even if you select 'No' here, 401(k) deferrals will be taken out if the recipient of the supplemental payment has an active Slavic deferral set up. The same percentage or flat amount that applies to regularly scheduled payments will be deducted from the bonus or commission. If your employee would like to change the amount deducted here, they will have to change their deferral selection in Slavic at least 48 hours before the supplemental payment processes, and change it back after if they wish to do so.If your employee has a supplemental payment that will process at the same time as a regular payment, any deferral changes they make will apply to all payments that are processed before another change is made.
If you'd like to isolate 401(k) deductions to be the only ones taken out though an off-cycle payment such as a bonus or commission, whether the employee is enrolled in a 401(k) plan via Slavic or an outside provider via manual deductions, please reach out to your Account Manager or our Customer Success team.
You can schedule a supplemental payment by going to the dashboard, clicking on "Make a payment", choosing Pay Type > Supplemental Payment and then selecting the employee who will receive the payment and scheduling a new one-off payment.
The difference between "Off-cycle Semimonthly Pay" and "Supplemental Pay"
Supplemental pay gets taxed as a lump sum, which is taxed at the supplemental rate of your choosing (flat 22% or cumulative). This is ideal for one time payments. For example, if you have an employee you'd like to pay severance to, you can schedule a supplemental payment.
If you'd like the payment to be treated as normal pay, schedule an "off-cycle semimonthly" payment for each semi-month worth of pay. For example, if normal payroll payments were missed for an employee for 3 months, you can schedule the 3 months of back pay out over the next three months with the off-cycle semimonthly payments feature.
Pay credit card tips to an employee by scheduling a one-off payment
Many employees work in industries where they receive tips. If your business accepts credit card tips, we've got you covered. You can add tips to employee's paychecks, in addition to their regular hourly or full time salary. On the "Make a payment" page, go to Pay Type > Paycheck tips. Tips are not taxed differently than normal payment disbursements.
Record fringe benefits through the Make a Payment tool
If you have fringe benefits that you provide to your employees outside of Justworks, you can record them by going to the Make a Payment tool, and selecting 'Record fringe benefit.'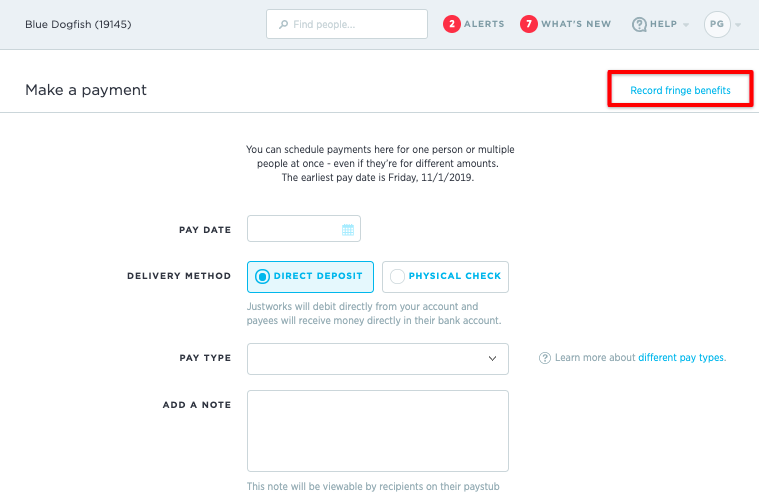 From there, you'll be led to the Fringe Benefit tool.  
Pay contractors with Justworks and it will be reported on their 1099
To pay a contractor with Justworks, schedule a one-off payment with Type > Contractor payment (1099). The payment will be tracked and reported as non-employee compensation on the contractor's 1099 if they are paid at least $600 in a calendar year.
You can send expense reimbursements to employees and contractors
To schedule an expense reimbursement, simply schedule a one-off payment with Pay Type > Expense reimbursement. These payments are not considered taxable and are not tracked as taxable income. Generally, you should ensure that the expenses you're reimbursing are valid business expenses and you should have documentation that these expenses were incurred by the employee or contractor.
View past one-off payments and notes in an employee's record
Go to Schedule Payment > pick the person you paid and then view past one-off payments. That will let you see the payments, with any notes you may have included. 
Preview Payment
Before you submit the payment, you'll be asked to review information such as recipients(s), amount, delivery method, withholding rate (if applicable), and pay date. Once you hit submit, you'll be all set.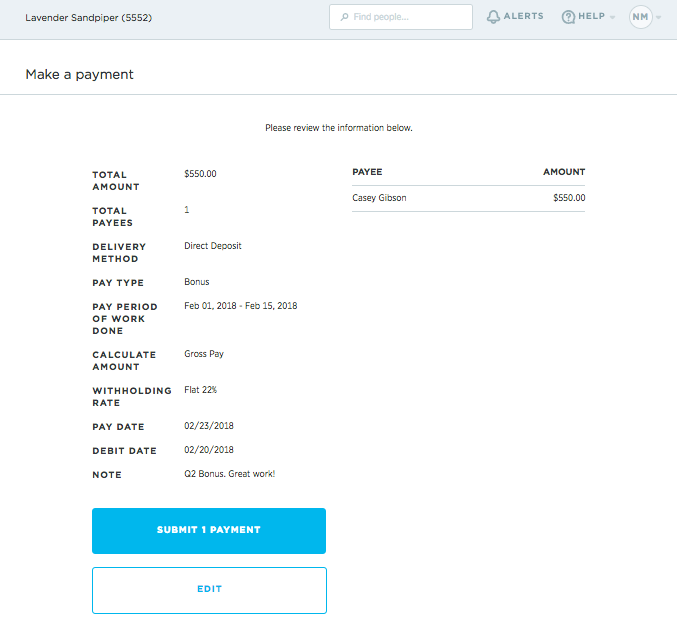 Disclaimer
This material has been prepared for informational purposes only, and is not intended to provide, and should not be relied on for, legal or tax advice. If you have any legal or tax questions regarding this content or related issues, then you should consult with your professional legal or tax advisor.