What are benefits classes?
Some companies want to set different contribution amounts or different waiting periods for different groups of employees. These groups are called benefits classes. Please note a company can only change these classes once annually, during the health insurance renewal.
Enabling benefits classes is an optional step, and it comes with serious compliance considerations. The majority of our customers do not use benefits classes.
How do I set up benefits classes?
While selecting the insurance plans your employees will have access to, either for the first time or during your annual renewal, you'll have see the option to manage benefits classes as part of the insurance dashboard. Follow the instructions on that page to turn on benefits classes, edit the names of your different classes, assign each employee to the appropriate class, and finally set the waiting periods and contribution amounts for each class.
How am I allowed to group my employees?
To protect against discrimination, there are many regulations dictating how employers can group employees in benefits classes. Make sure you understand the rules before enabling them for your company. Please note that if the available benefits, eligibility requirements, and employee premium costs are not the same for all eligible employees, you could put at risk the Section 125 pre-tax benefits for higher paid employees. Each employer is responsible for ensuring that its insurance class system complies with any applicable nondiscrimination requirements and, if applicable, does not negatively impact the employer's strategy for complying with the ACA employer mandate.
How can I change an employee's benefits class?
You can change an employee's benefits class directly in Justworks. If you're also updating their compensation or employment details, you'll be able to change their benefits class directly from both workflows.

If you only wish to change their benefits class, and not their compensation and/or exemption status, you can do so by selecting 'Settings' after clicking on the employee's name under the Manage tab. You'll see the blue pencil with the option to 'Edit' next to benefits class.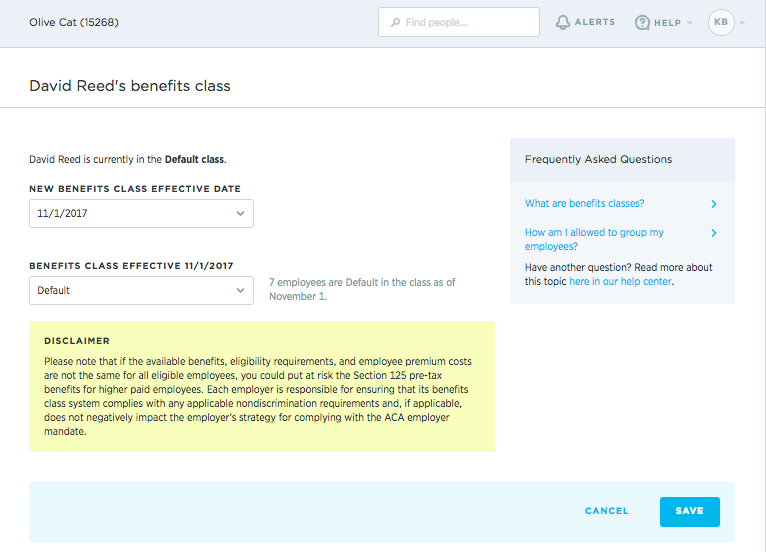 You'll have to select the date for which the benefits class change will come into effect. Keep in mind since we can only make changes effective for the first of the month, per our policy with Aetna, the dropdown will give you the option to make the change effective as of the first of forthcoming months.

Once you select which benefits class to move your employee too, and hit 'save,' you'll be all set.
Disclaimer
This material has been prepared for informational purposes only, and is not intended to provide, and should not be relied on for, legal or tax advice. If you have any legal or tax questions regarding this content or related issues, then you should consult with your professional legal or tax advisor.