Adding an employee or contractor to your team is super easy!
Adding Employees
All you'll need to do is head to "Employees" under "Manage" on the left-side navigation bar. From there, click "Add" in the top right corner.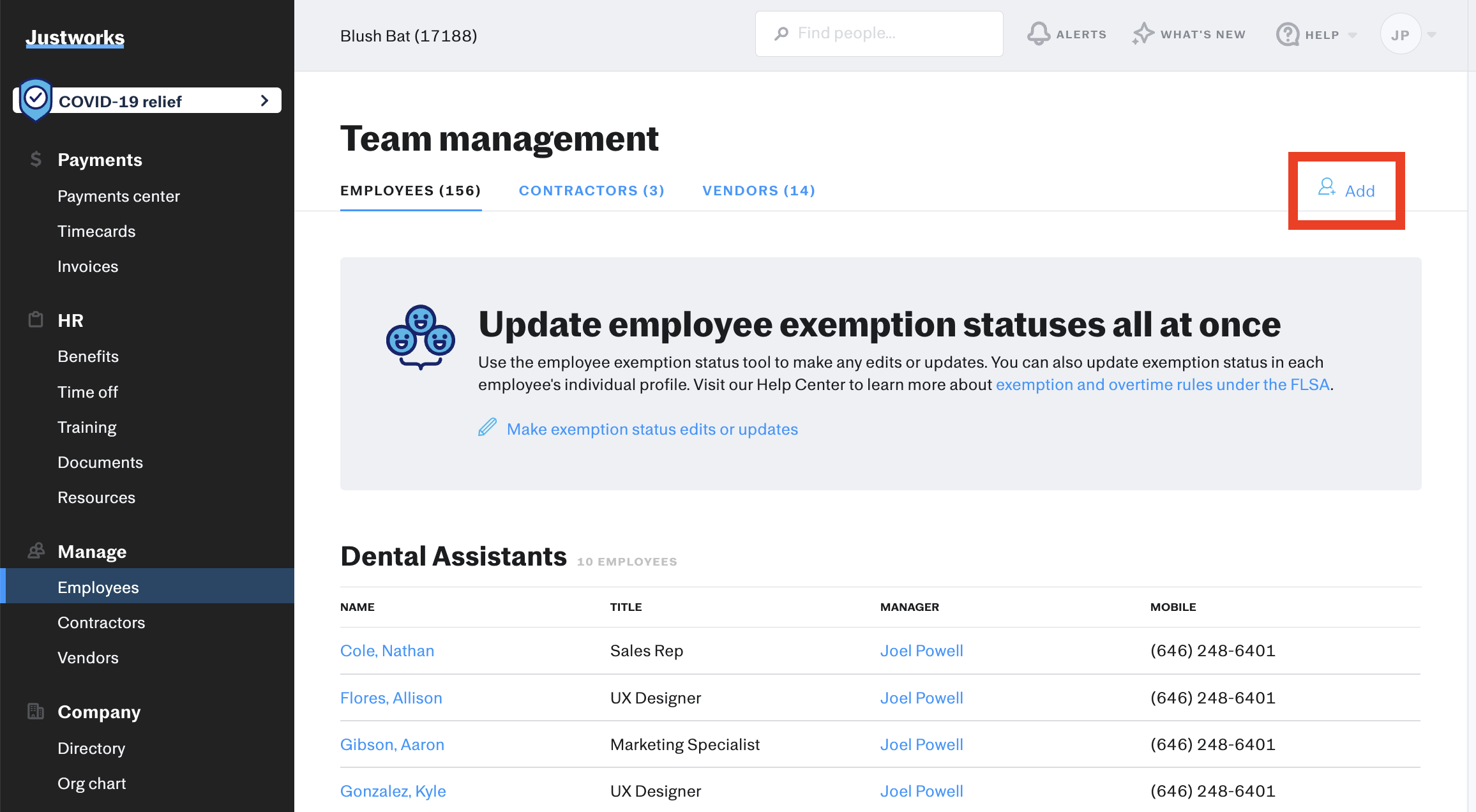 You'll be able to fill in your new team member's information in the next screen.
If you're adding a new W-2 employee (full-time, part-time, or paid intern), you'll have to enter their salary or hourly wage, worker type, and exemption status. You'll also be asked if you want to give this permission admin permissions for your company's Justworks account.

Moving further down that page is where you'll enter basic information about the employee, such as first and last name, email, and title. You'll also specify who will the employee report to, department, and their office location. If they are remote employees, you can specify this here.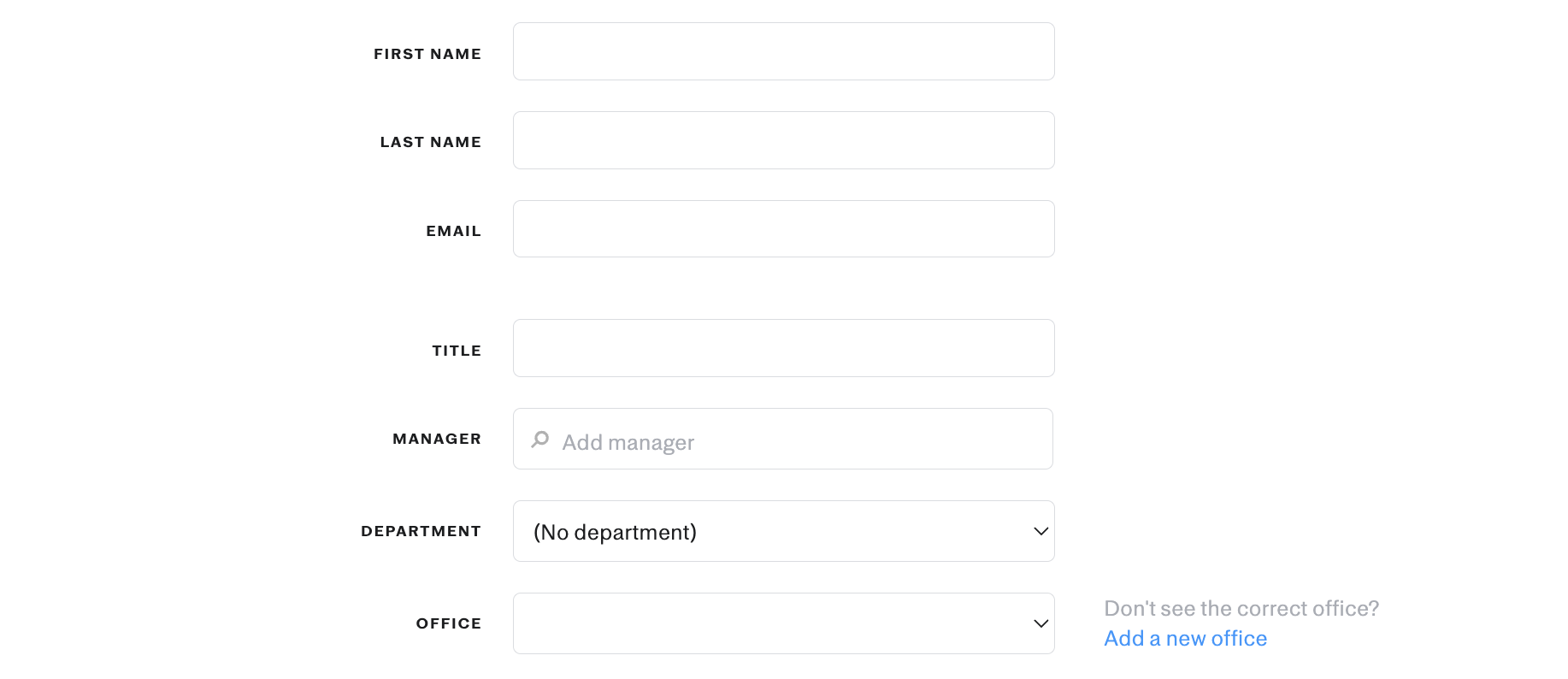 After you add your new employee to your company's PTO policies, and enter their start date, you can decide whether you want to send an invite to set up their Justworks account now or later, and if you'd like to include a note in your invitation. Once you select 'Invite New Member,' you should be all set.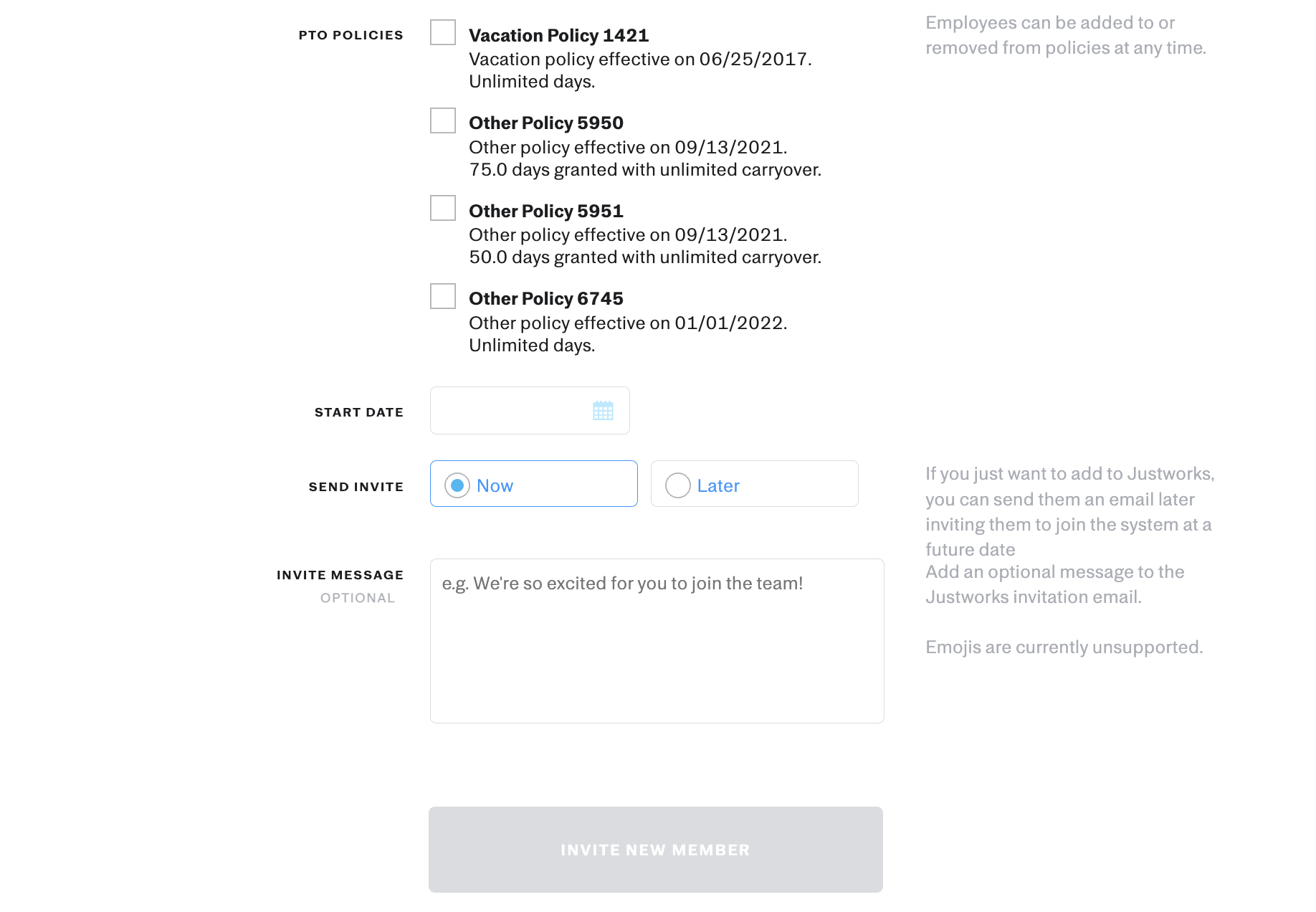 If you'd like to assign documents for the employee to acknowledge during their Justworks enrollment, you'll be able to add an existing document or upload a new document after adding the member.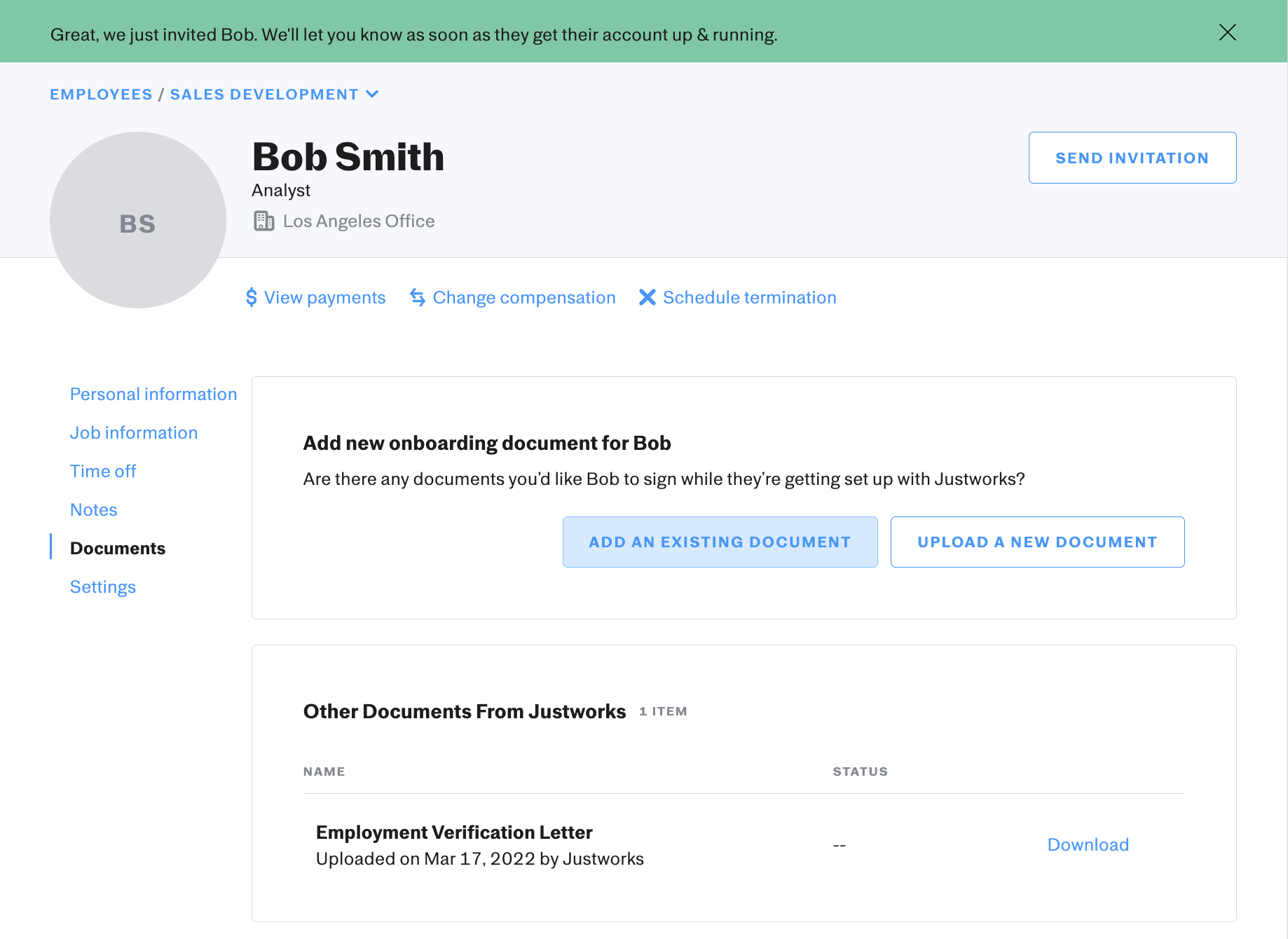 Adding an existing document will prompt a pop-up to appear where you can select any signature-required documents that have already been uploaded into your company's Documents Center.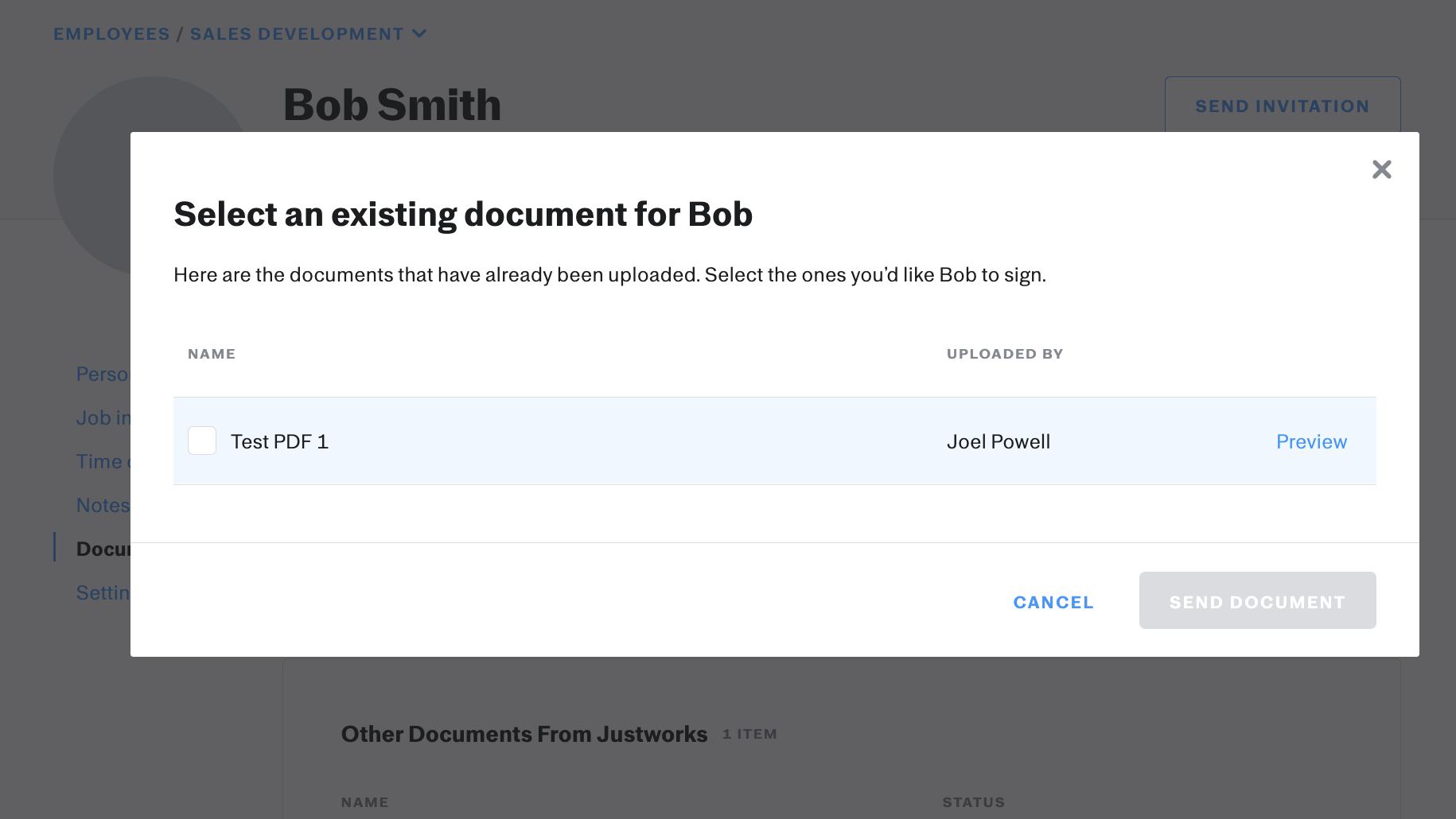 You can select one or multiple documents and click "Send Document" in order to have the employee acknowledge the document(s) as part of their onboarding flow. If a signature-required document is assigned after the employee completes their Justworks account, they'll receive an email alerting them that a document has been assigned for their signature in Justworks.
Clicking "Upload a New Document" will lead you to the Documents Center to upload a document. For more information on uploading and assigning documents to employees, you can review the Document Center - E-Signature page.
Adding Contractors
The process of adding contractors to your Justworks account is similar to the above.
From the 'Manage' category, you'll find the 'Add' button on the same top right corner in the Contractors tab:

The information you'll have to enter here for contractors is a bit different here than it is for employees. You'll have to enter the amount you've already paid this contractor, so that we can record 1099s accurately at the end of the year. We'll also ask you for their first name, last name, and email.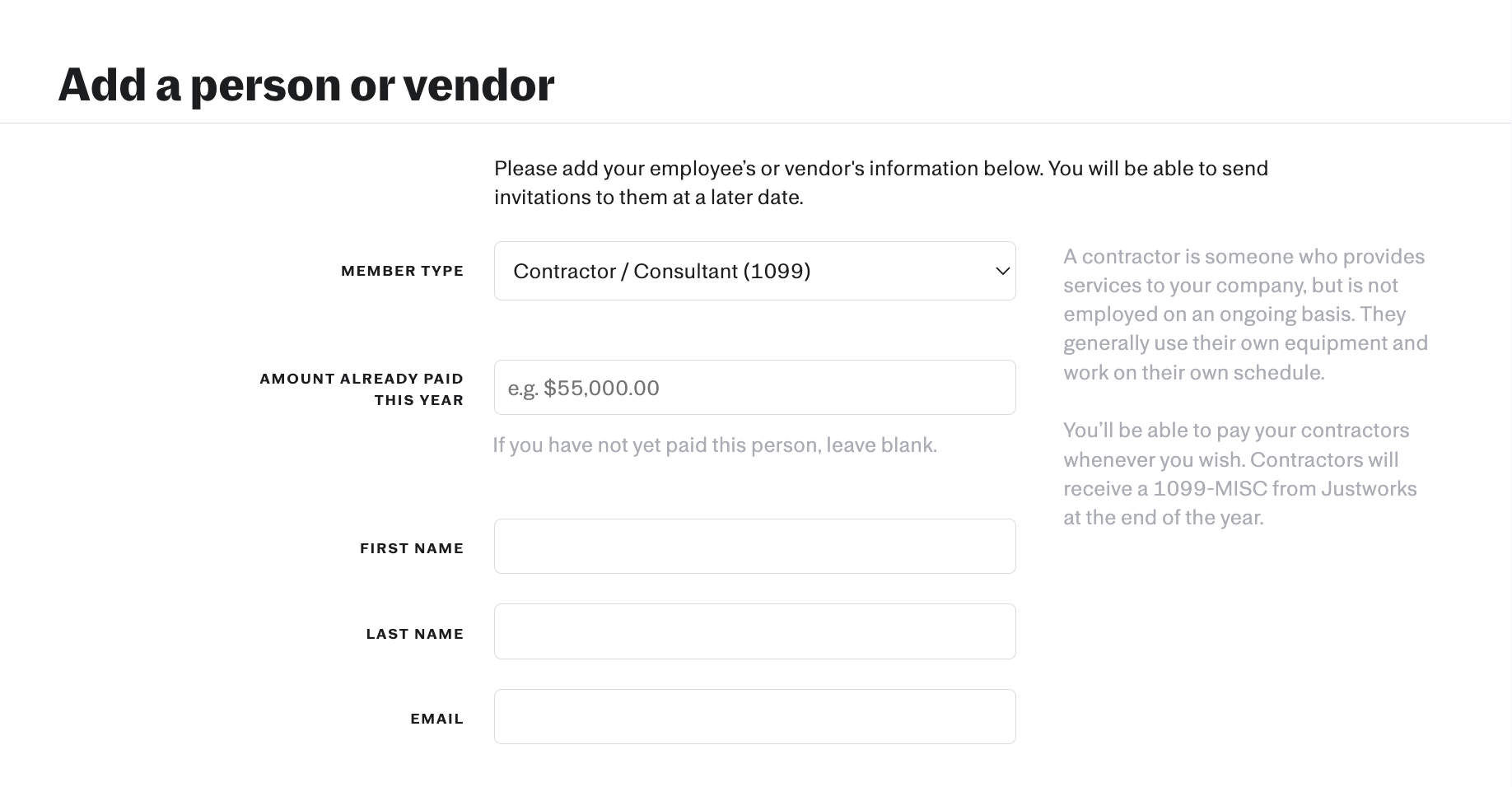 Once you enter in the contractor's title, manager, department, and office (all if necessary), you'll also be given the option to show them in your company's directory.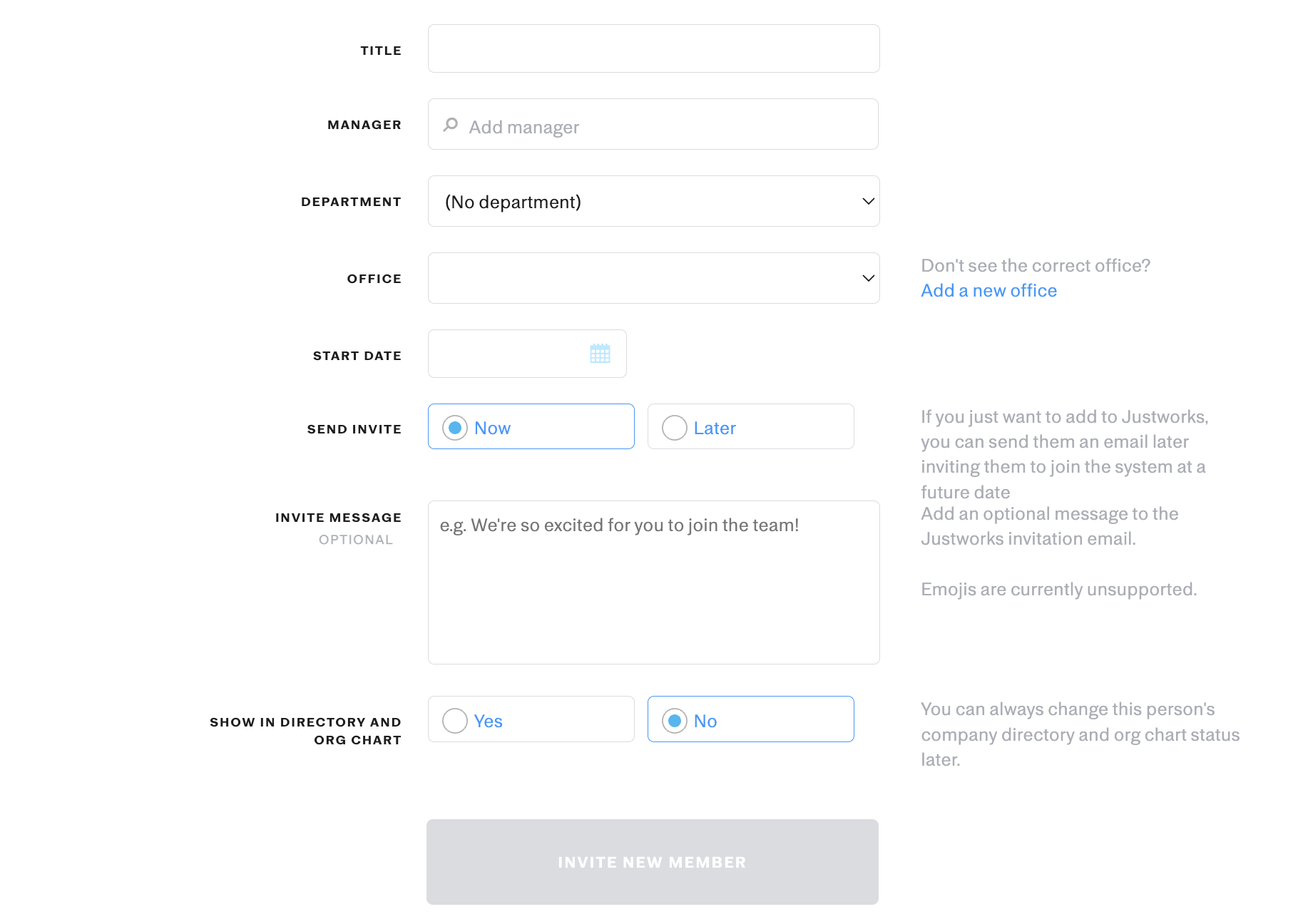 International Employees
While Justworks cannot process payments to international employees, if you have members of your team who live outside of the United States, you can still ensure they are able to take advantage of the Org Chart, Company Directory, and Documents Center.
To add an international employee, simply select 'Employee - Outside of US' as the member type when adding them to Justworks: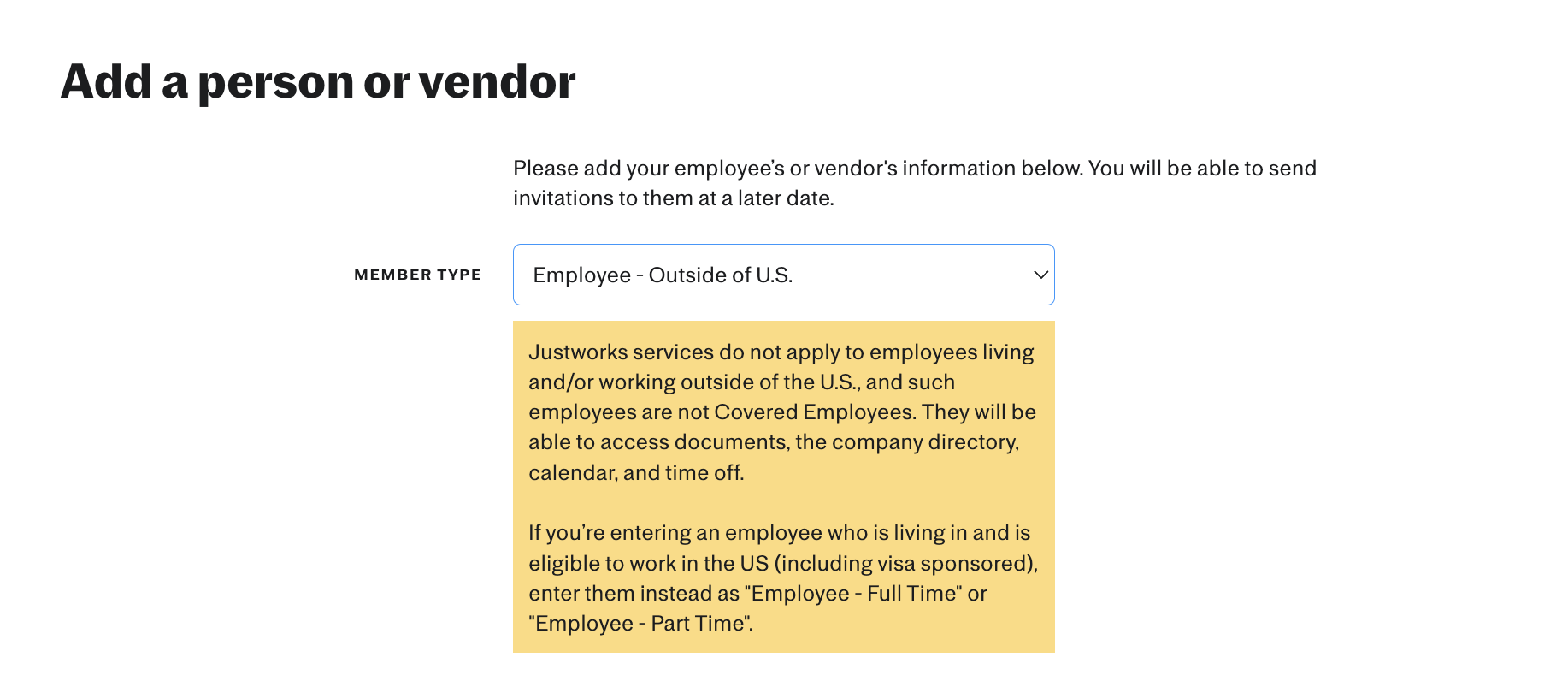 Adding international employees to Justworks allows you to maintain a more complete picture of your company's size and create more visibility across your teams.
You can also assign international employees to a separate PTO policy to allow them to request time off in Justworks.
Disclaimer
This material has been prepared for informational purposes only, and is not intended to provide, and should not be relied on for, legal or tax advice. If you have any legal or tax questions regarding this content or related issues, then you should consult with your professional legal or tax advisor.