Justworks knows how important it is to find the right talent for your business, especially when it comes to hiring contractors outside of the U.S. From currency to exchange rates, there's a lot to consider when you hire international contractors into your workforce.
Justworks' International Contractor Payments feature allows PEO customers to pay international contractors in 31 countries. By using this feature, you can manage your international contractor payments in the same tool as your domestic contractors and employees.
NOTE: International Contractors is not equivalent to International Employer of Record. This is intended only to be used for international individuals, not vendors, who provide services to a company but are not employed directly by the company on an ongoing basis.
Current Eligible Countries
| | | |
| --- | --- | --- |
| Australia | Finland | Luxembourg |
| Austria | France | Malta |
| Belgium | Germany | Netherlands |
| Bulgaria | Greece | New Zealand |
| Canada | Hungary | Philippines |
| Czech Republic | India | Poland |
| Croatia | Ireland | Portugal |
| Cyprus | Italy | Slovakia |
| Denmark | Latvia | Slovenia |
| Estonia | Lithuania | Spain |
| | | United Kingdom |

Adding An International Contractor
To add an international contractor, the admin can navigate to Manage → Contractors → Add.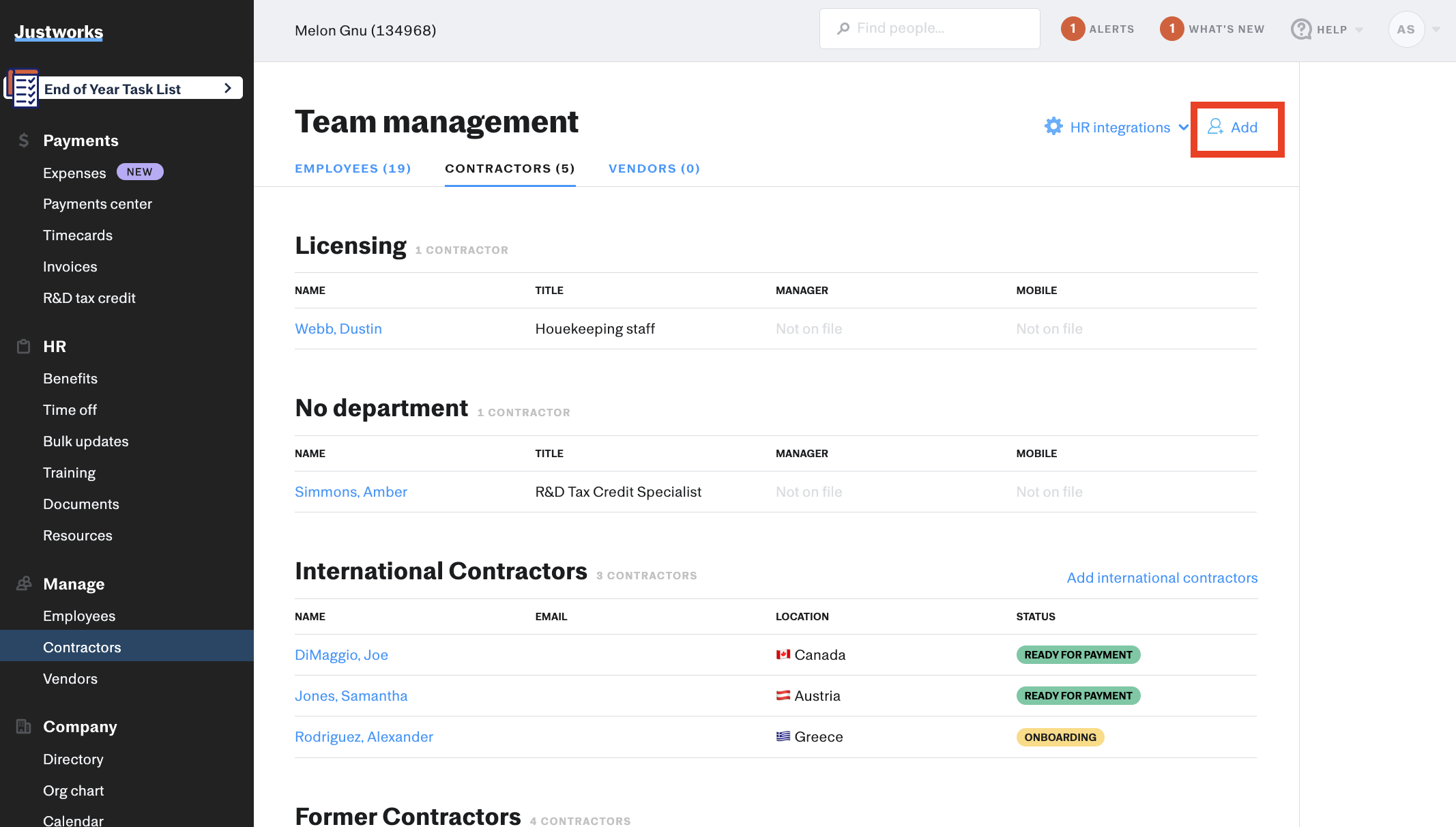 Within the Contractors category, a contractor type for International Contractors will be available.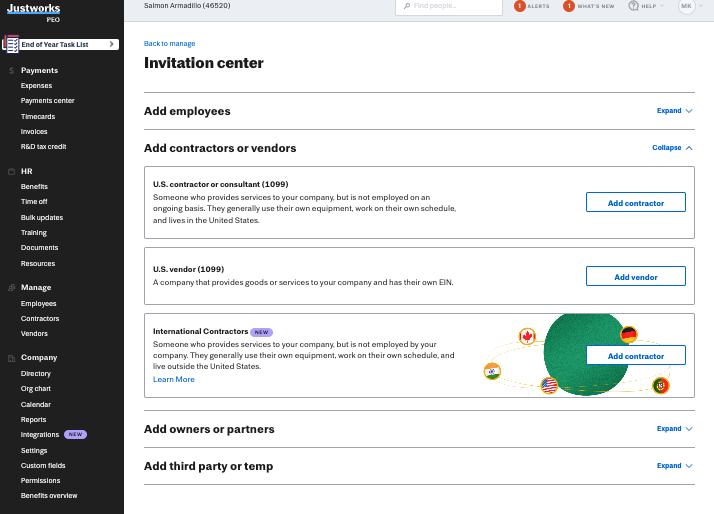 If this is your first time adding an International Contractor, you can click Learn More to get an overview of how this works on Justworks. Otherwise you can click Add Contractor to get started.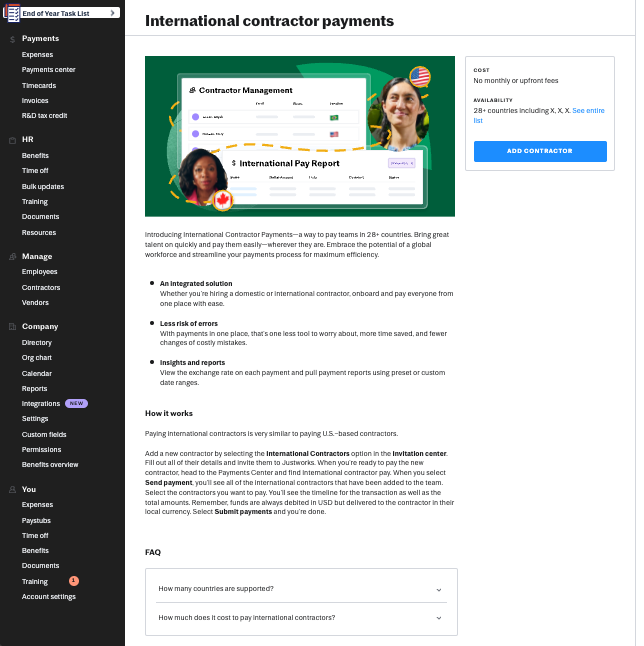 Selecting Add Contractor for International Contractors will redirect you to an invite flow that differs from a standard invitation. It will require you to include the following information:
Contractor First Name (note: not full name)
Contractor's email address
Country the contractor does business in
Brief description of contractor services
In addition to the required fields above, you can add an optional custom note to be included with the International Contractor's invitation email.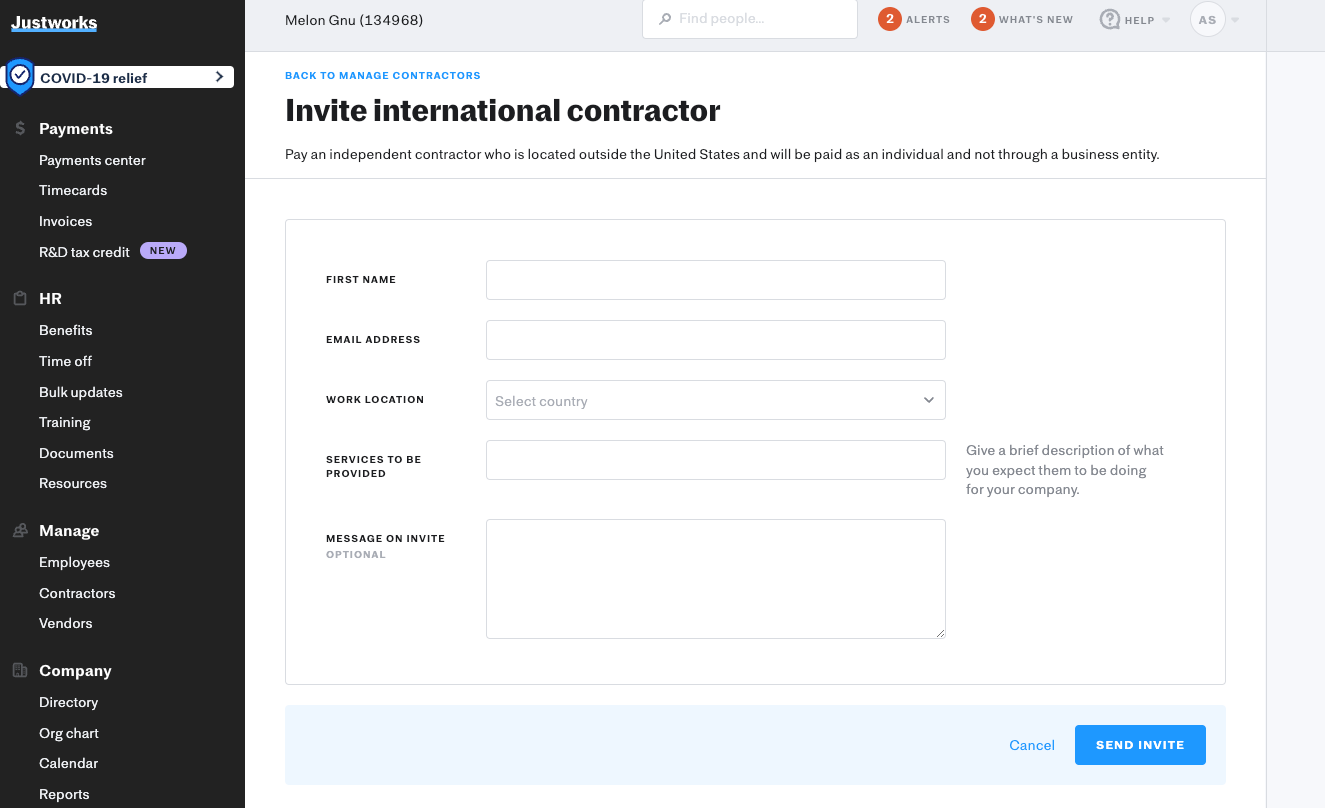 Once all required fields are complete, you can click Send Invite. If successful, a green banner will appear indicating the invitation was sent.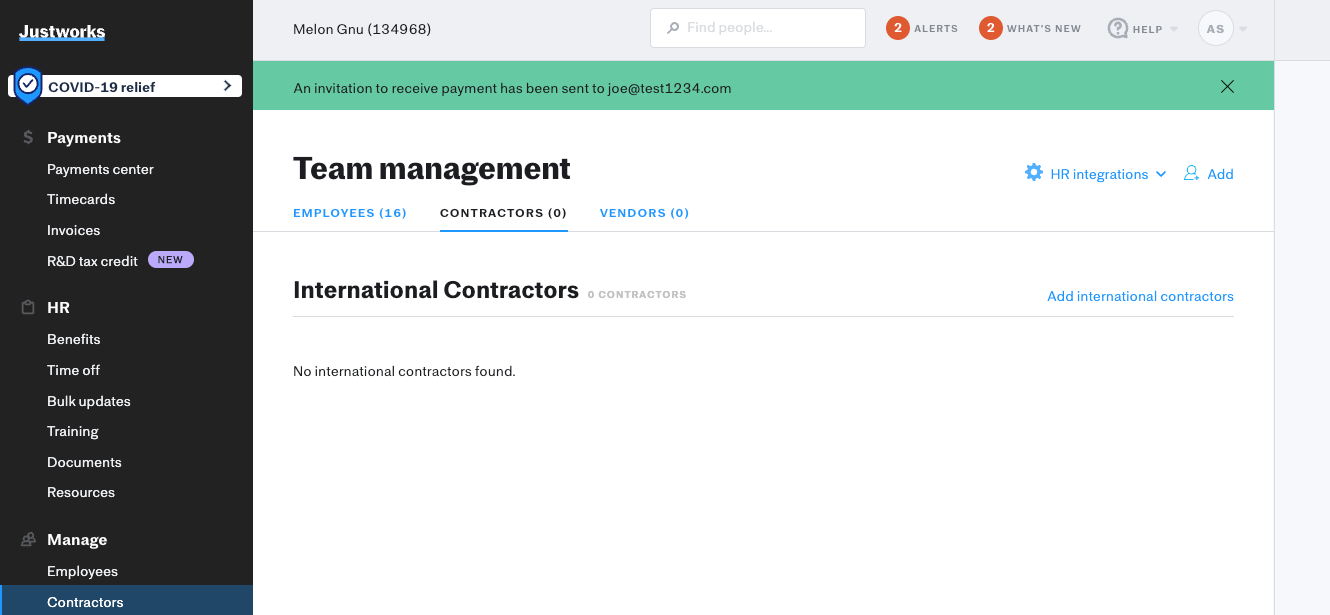 Once the invitation is sent, the contractor - along with their assigned country - will be visible and reflect one of the following statuses:
Pending; this means the pay recipient has yet to accept the invite that was emailed to them.

Onboarding; this means the pay recipient provided their email address, username and password via the invite email, but has not fully proceeded through the onboarding flow. If the pay recipient escapes the onboarding flow, they can return by logging in at contractor.justworks.com.

Ready for Payment; this means the pay recipient has fully proceeded through the onboarding flow and the admin may now schedule payments.

Invitation Flow (Contractor)
Once an international contractor has been added, an invitation email will be sent to the email address provided with a link to Accept Invitation.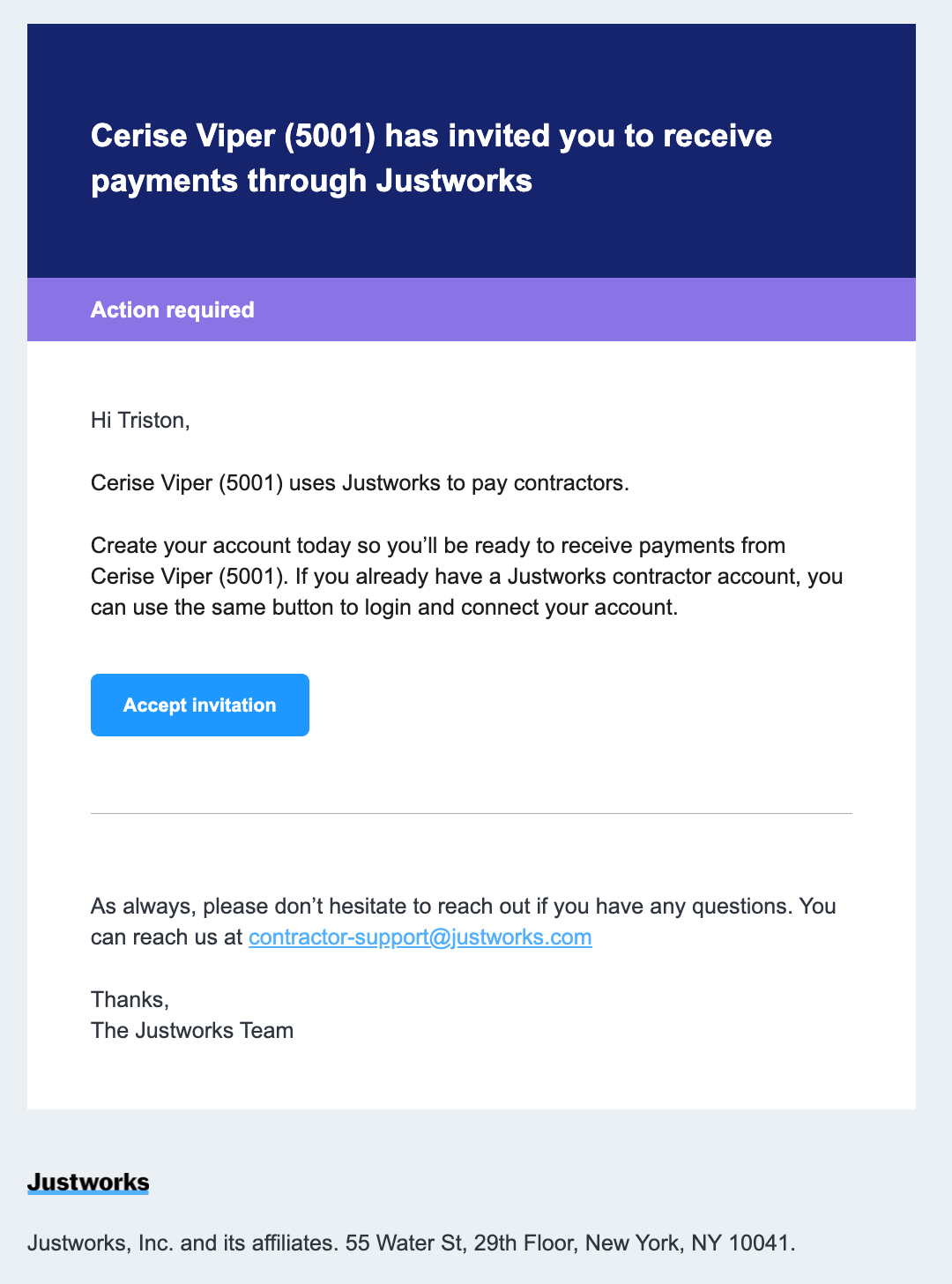 By clicking Accept invitation, they will be directed to our International Contractor portal site. This is a separate site from the domestic Justworks login and will prompt them to create an account if they do not already have an existing international contractor account.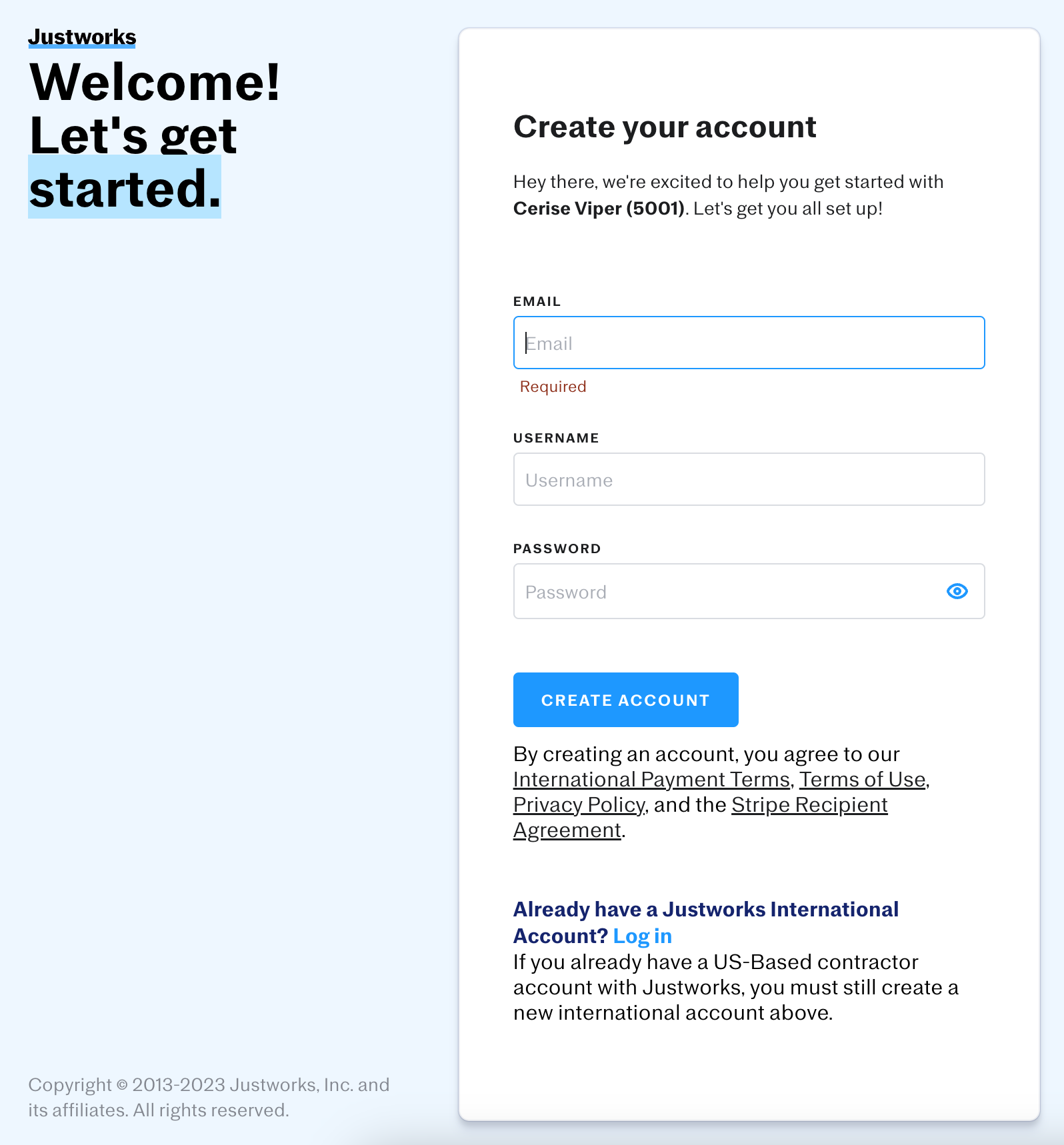 They will begin filling out their profile with key information such as legal name, date of birth, address, and a brief description of their contract work.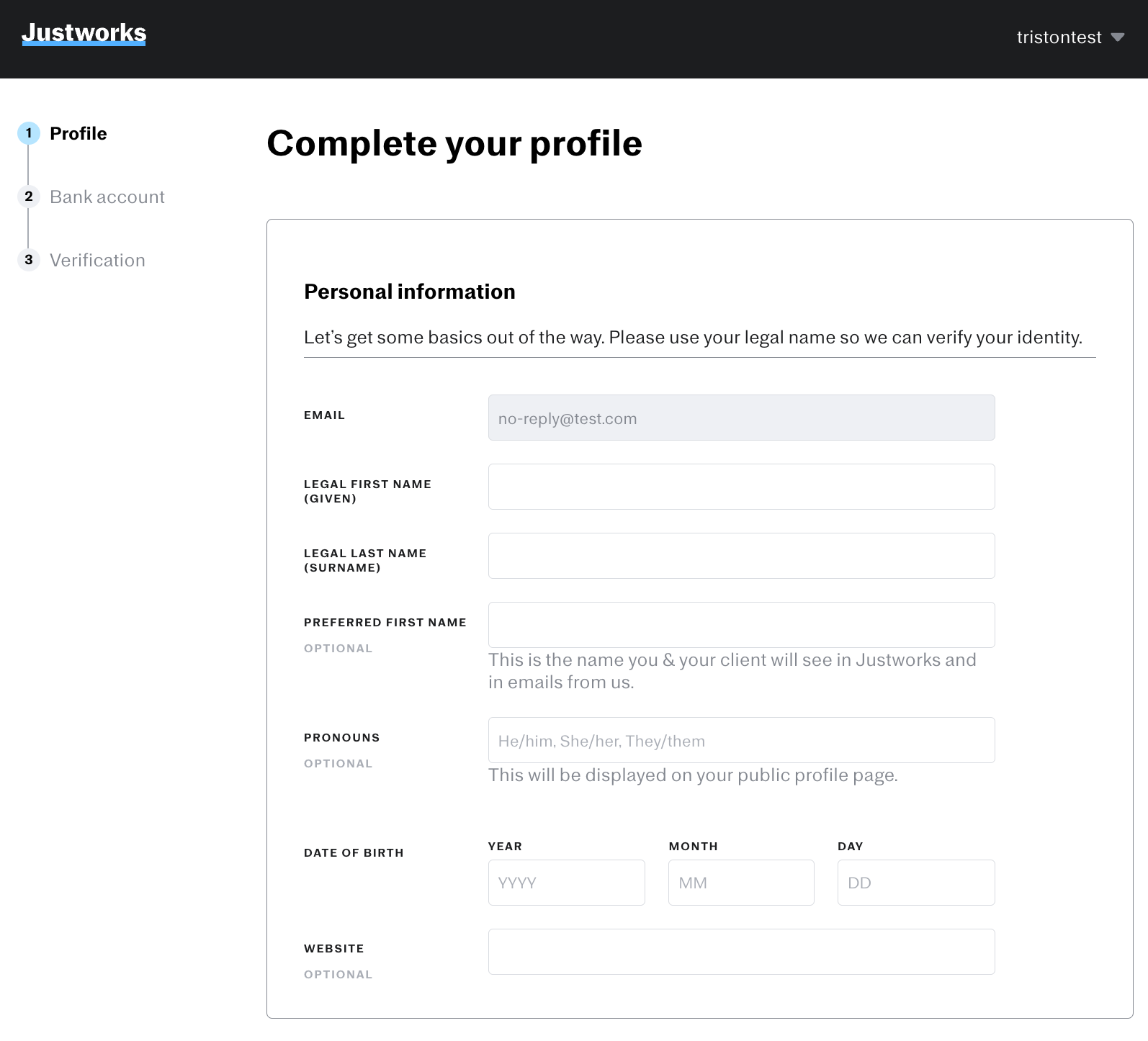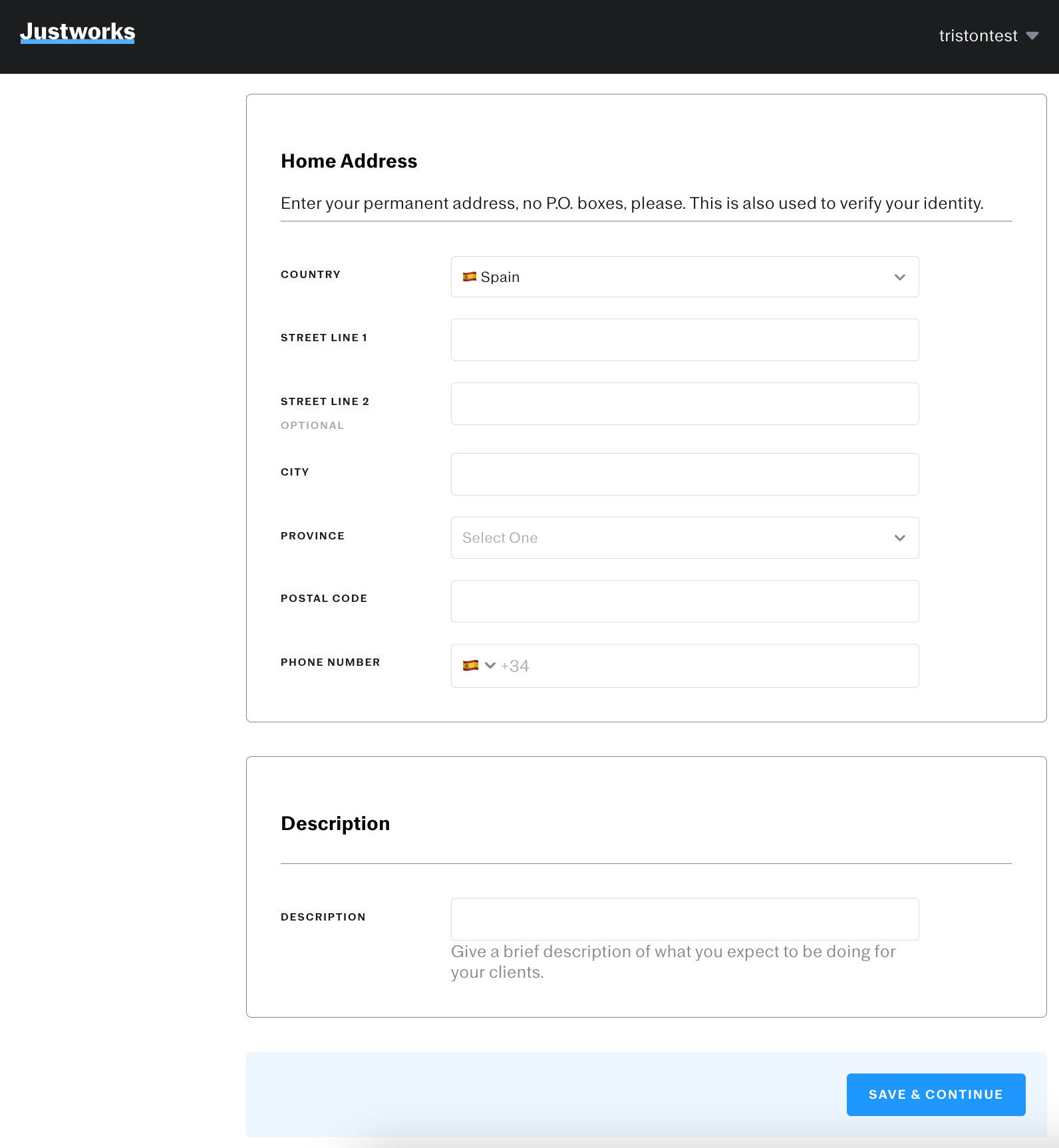 Additionally, they will need to enter their bank information for the account they wish to receive
deposits. Unlike contractors based in the United States, the profile requires a non-U.S. bank account.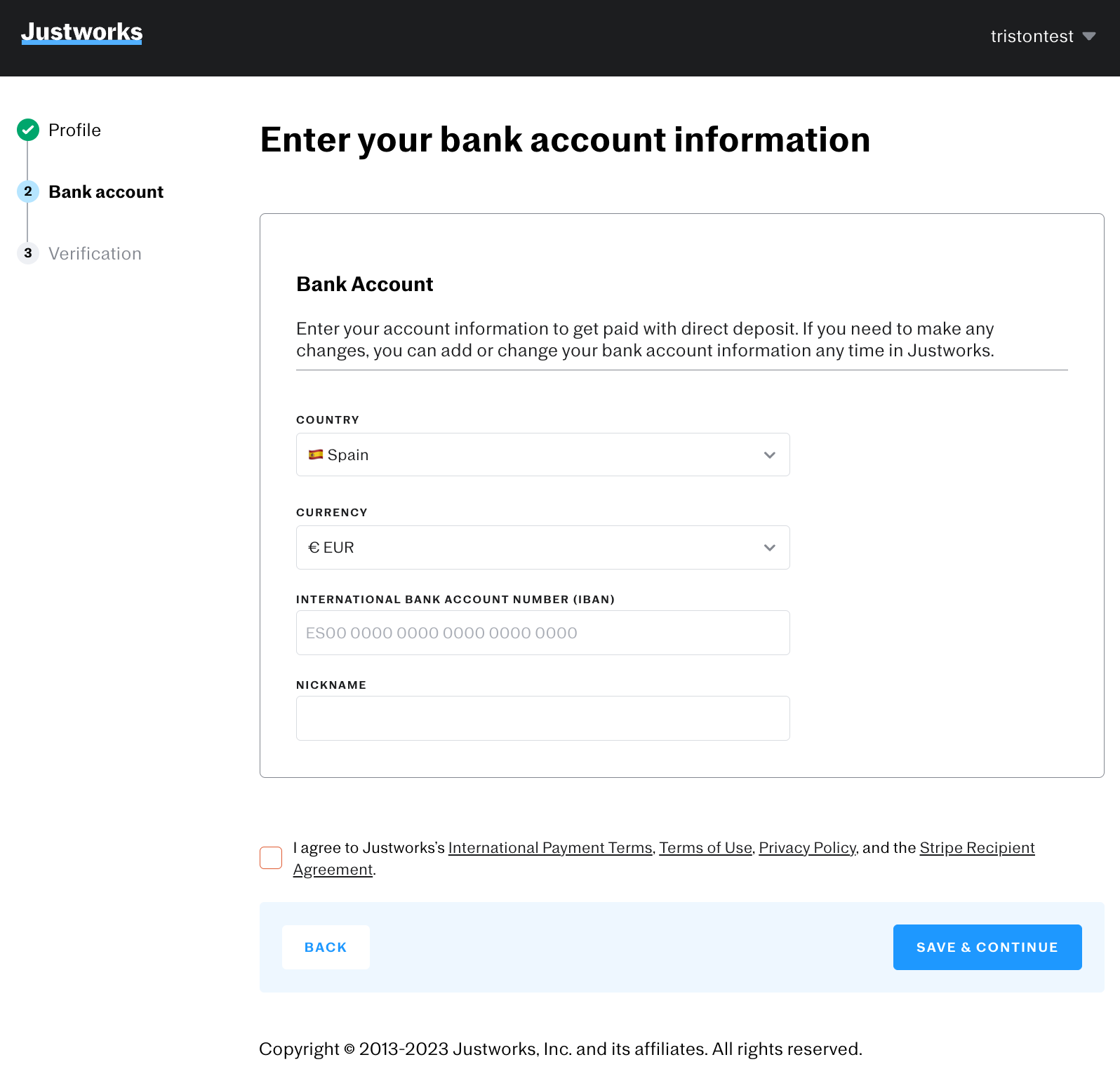 To ensure compliance with Know Your Customer (KYC) standards, Justworks partners with Persona for secure identity verification. In this segment of the onboarding flow, the contractor will be prompted to agree to Persona's Terms of Use.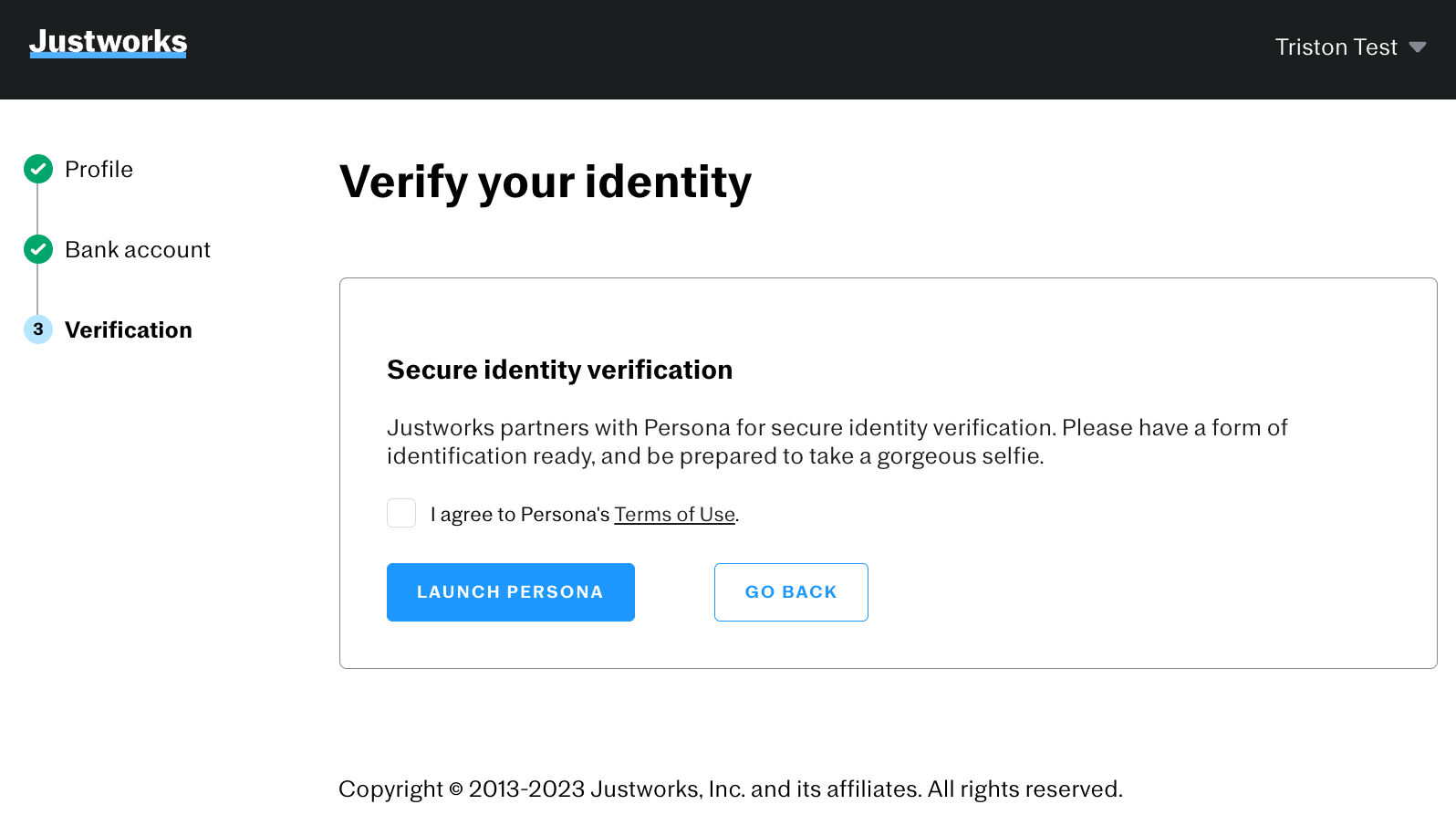 Clicking Launch Persona will direct the contractor to Persona's verification flow. Here is what the contractor will need to ensure they complete the KYC verification process successfully:
A valid form of government-issued ID, such as a driver's license or passport;
Any device with a supported web browser that has an unobstructed camera;
A well-lit room to ensure the camera takes a clear photo;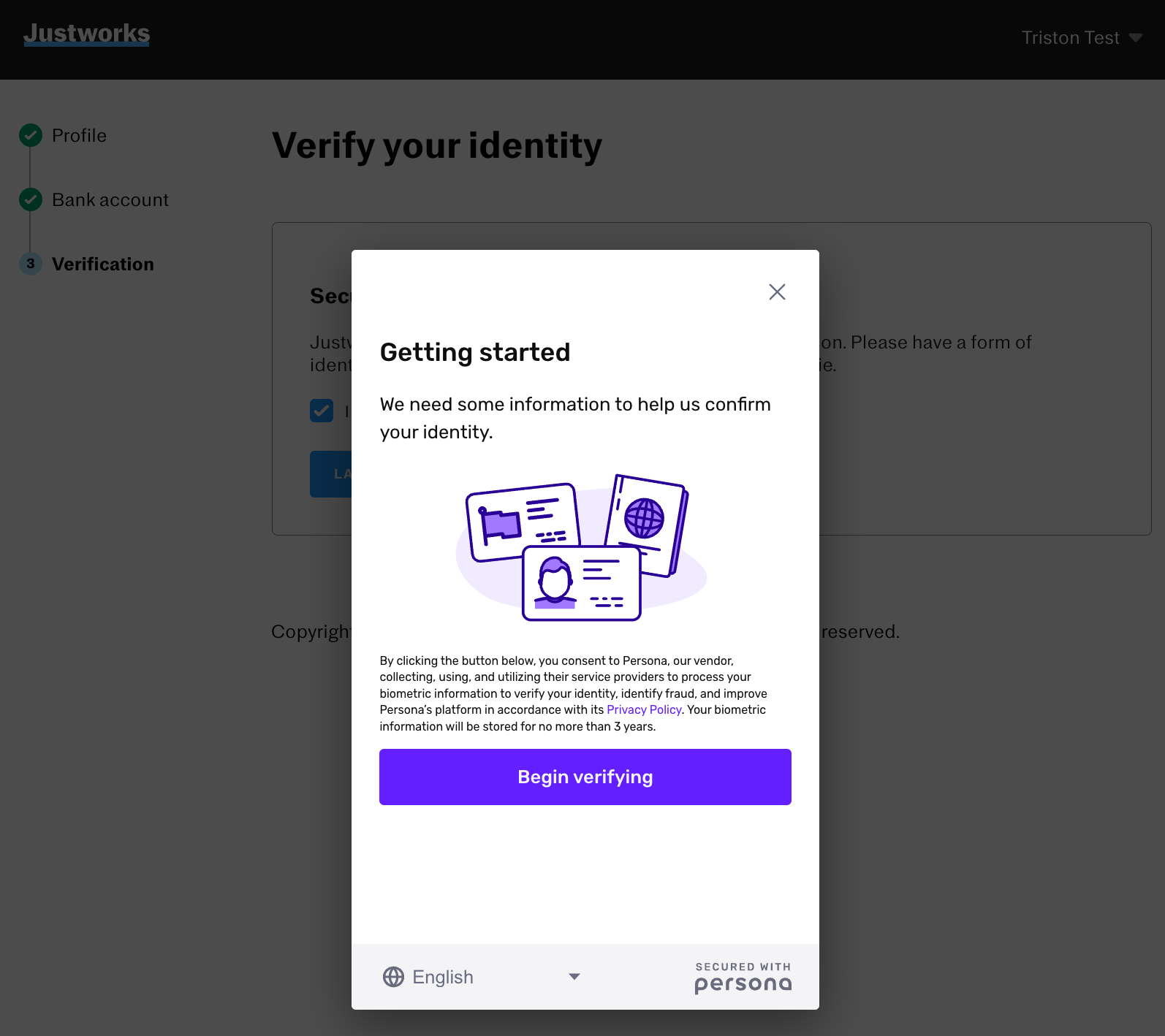 Once the contractor clicks Begin verifying, they will be prompted to select the country their government ID is from, then upload that form of ID. The form of ID that the contractor can opt to provide will vary depending on the country they select.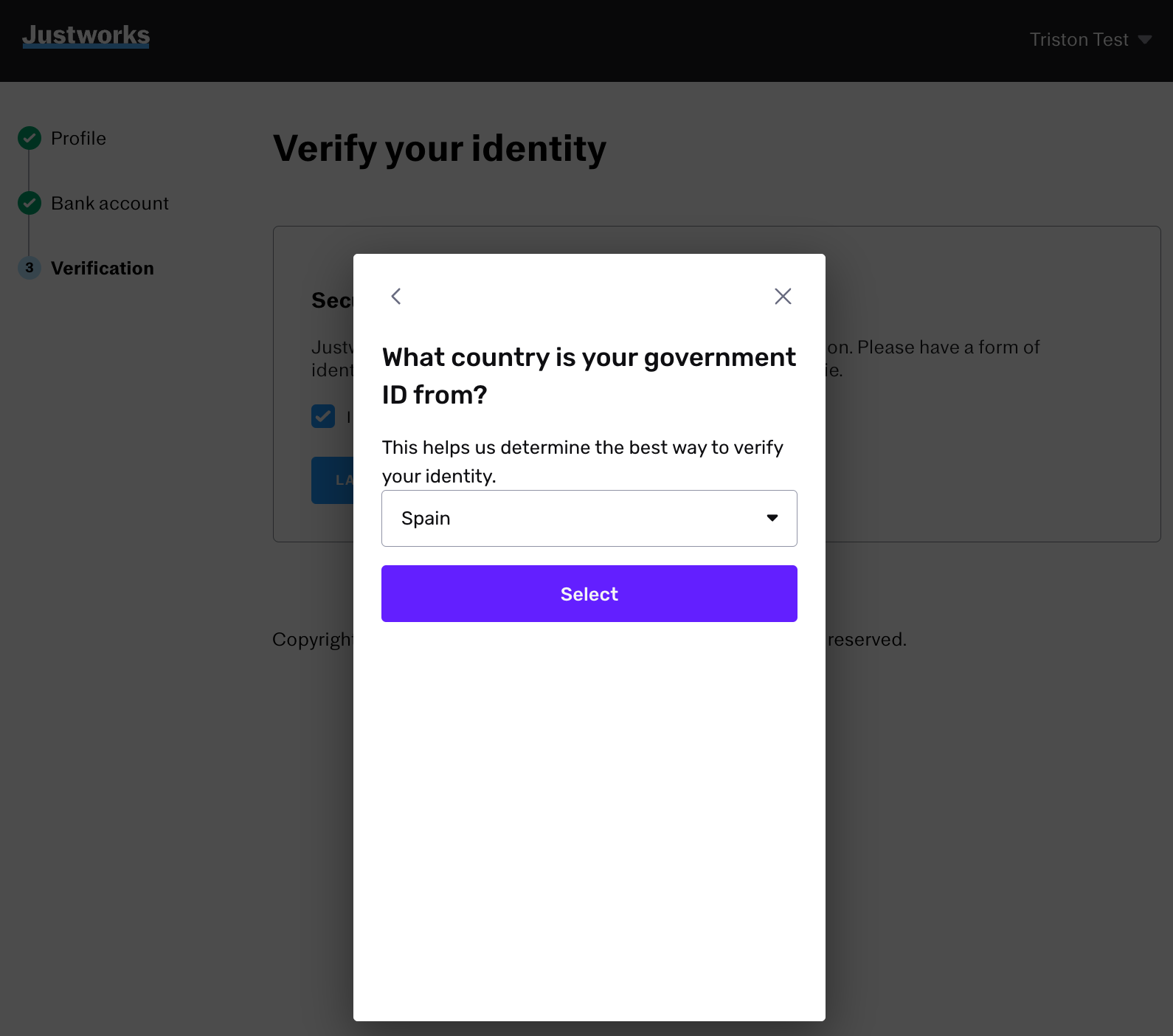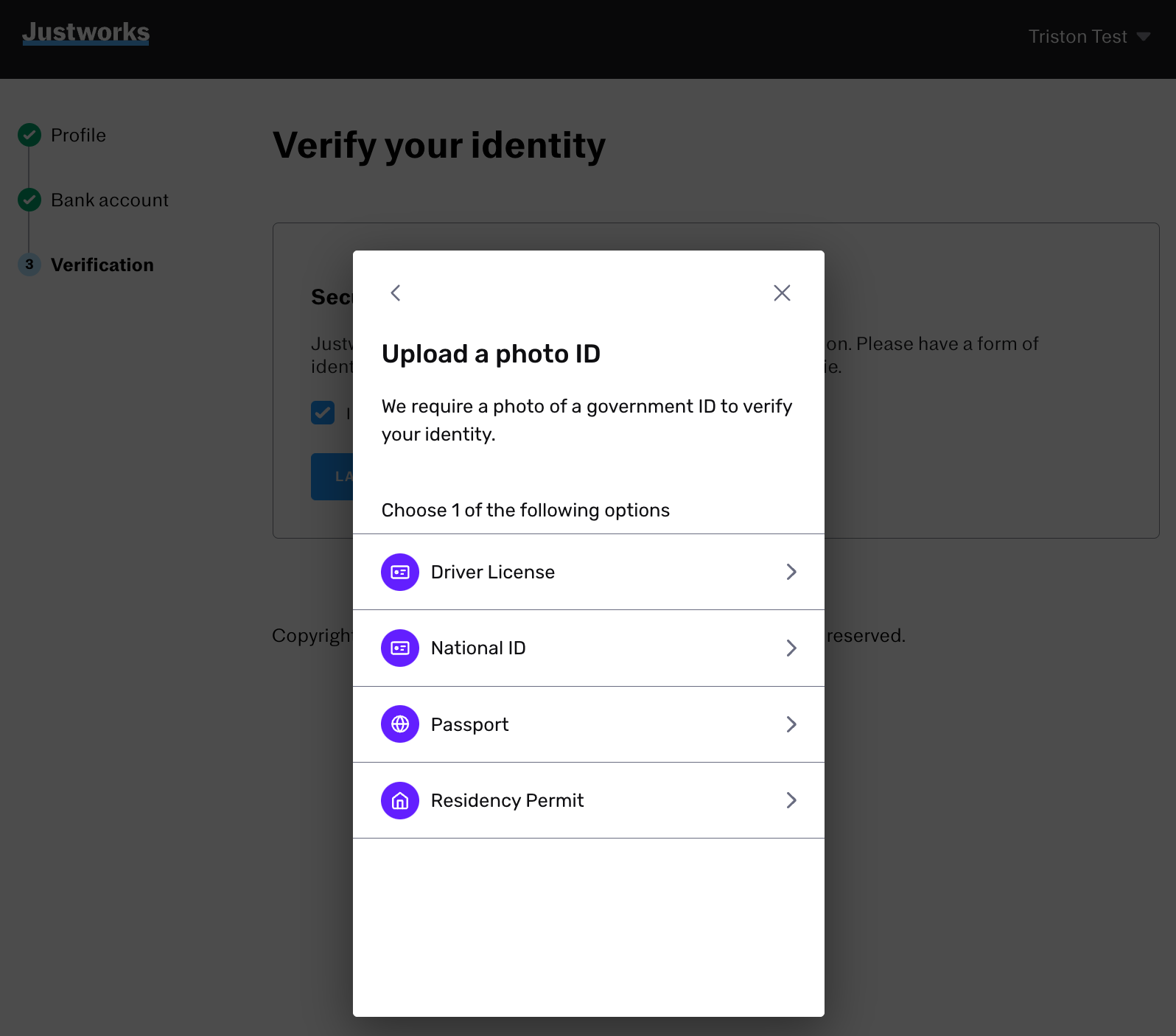 Once the government ID is uploaded and scanned successfully, the contractor will be prompted to verify their identity by taking a live profile picture. The contractor should ensure that they're in a well-lit room and that any headphones, glasses, or head gear not present in their government ID photo are removed.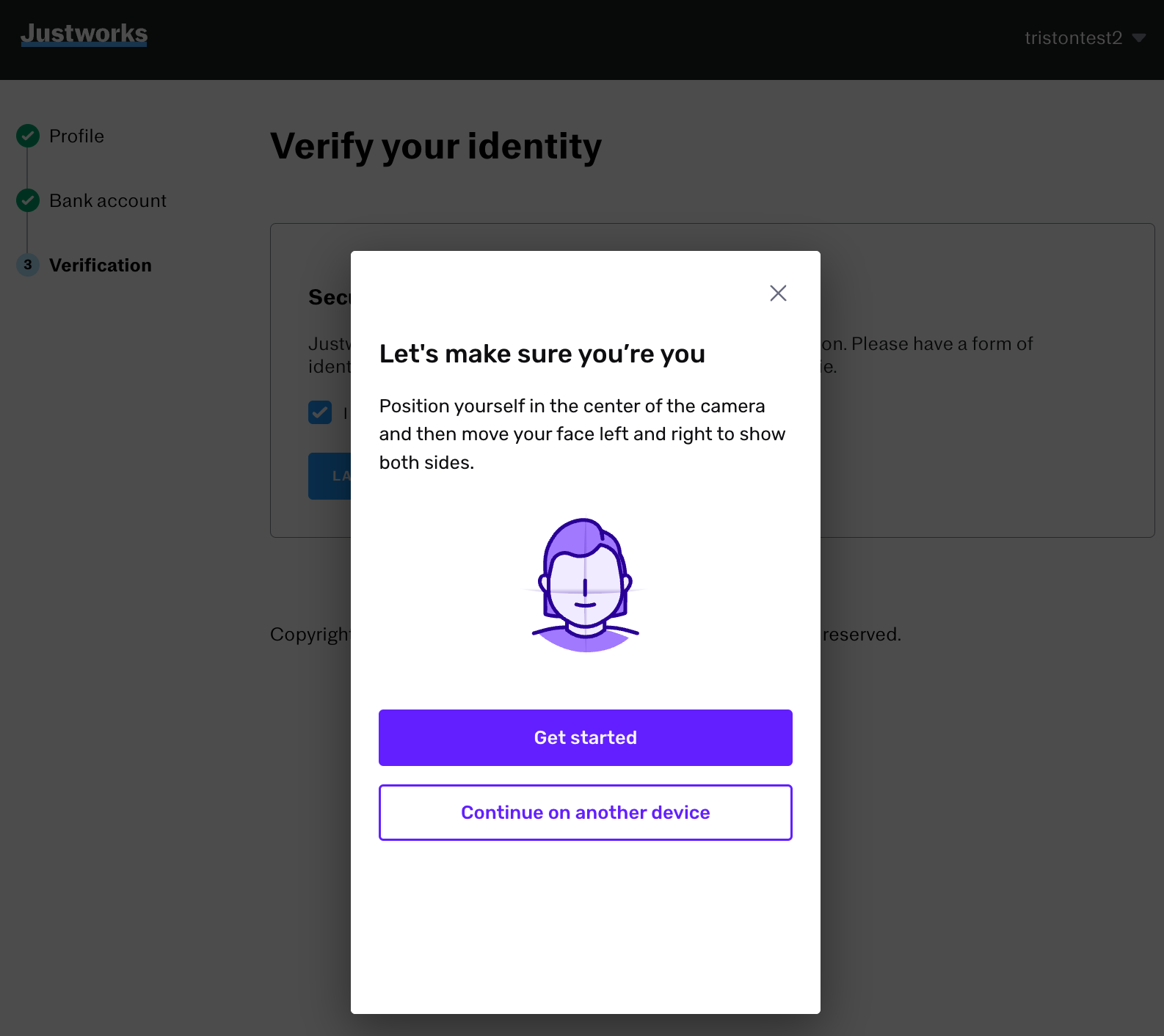 Upon a successful live photo verification, clicking Done will conclude the onboarding process and redirect the contractor to the home page of their account.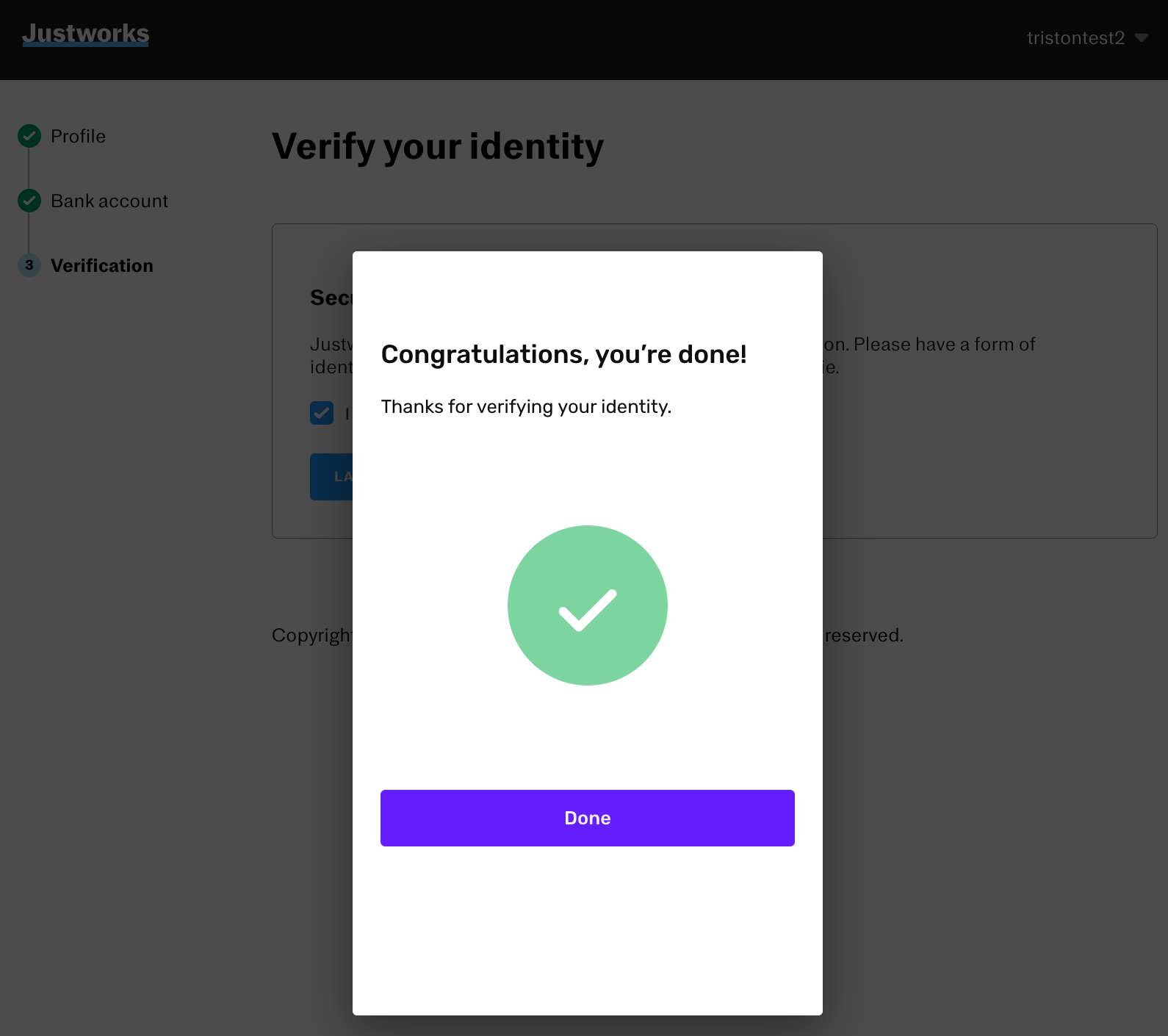 From the home page of their account, the contractor will see their payment history at a glance and have the option to update their bank account at any time.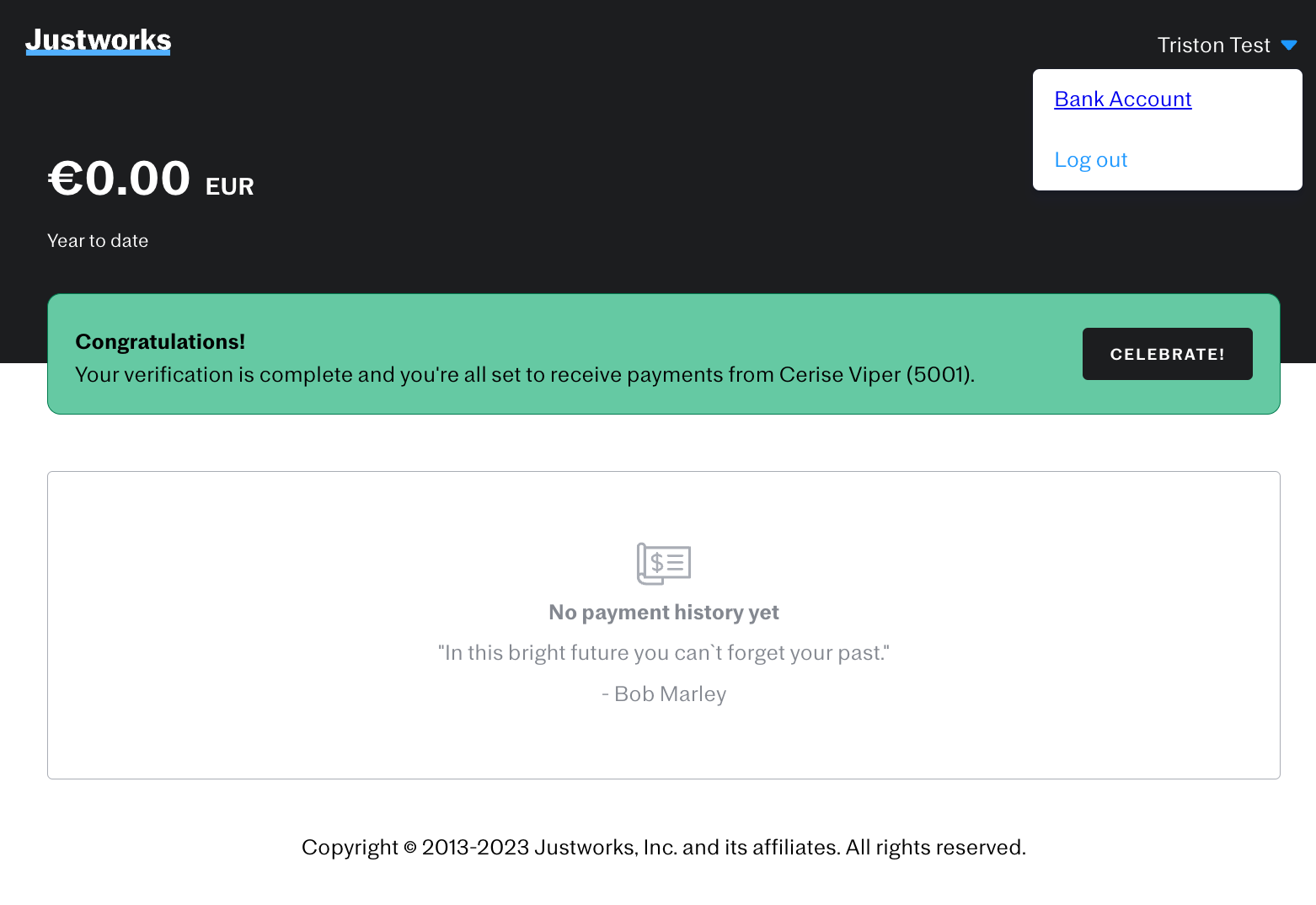 If an international contractor has already set up an account, they can use the same account used to receive previous payments. Their profile will allow them to review any payments they have received from any Justworks-related company.

Paying an International Contractor
Within the Payment Center, "International contractor pay" will exist as its own payment type.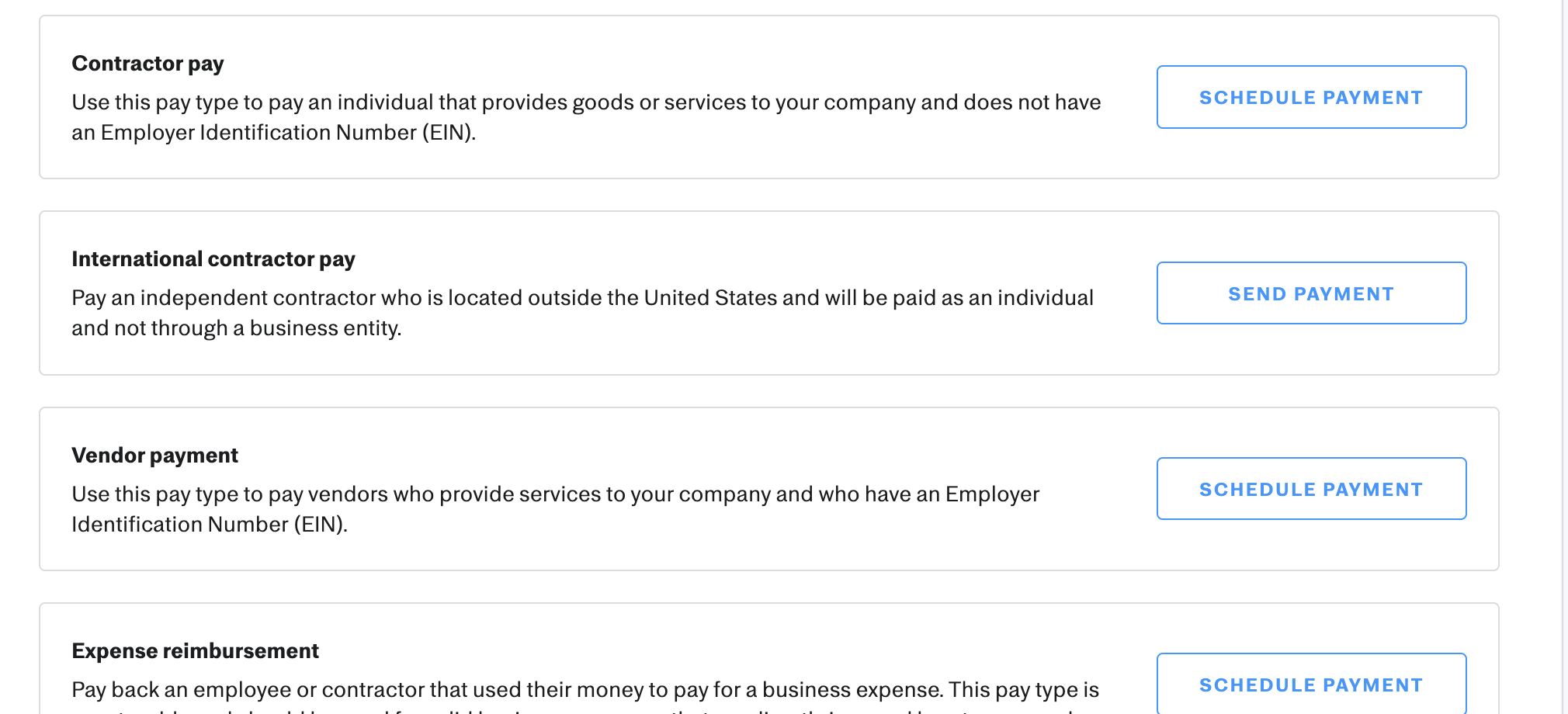 A list of all international contractors who have completed their account setup and are eligible to be paid will be visible along with their worksite country.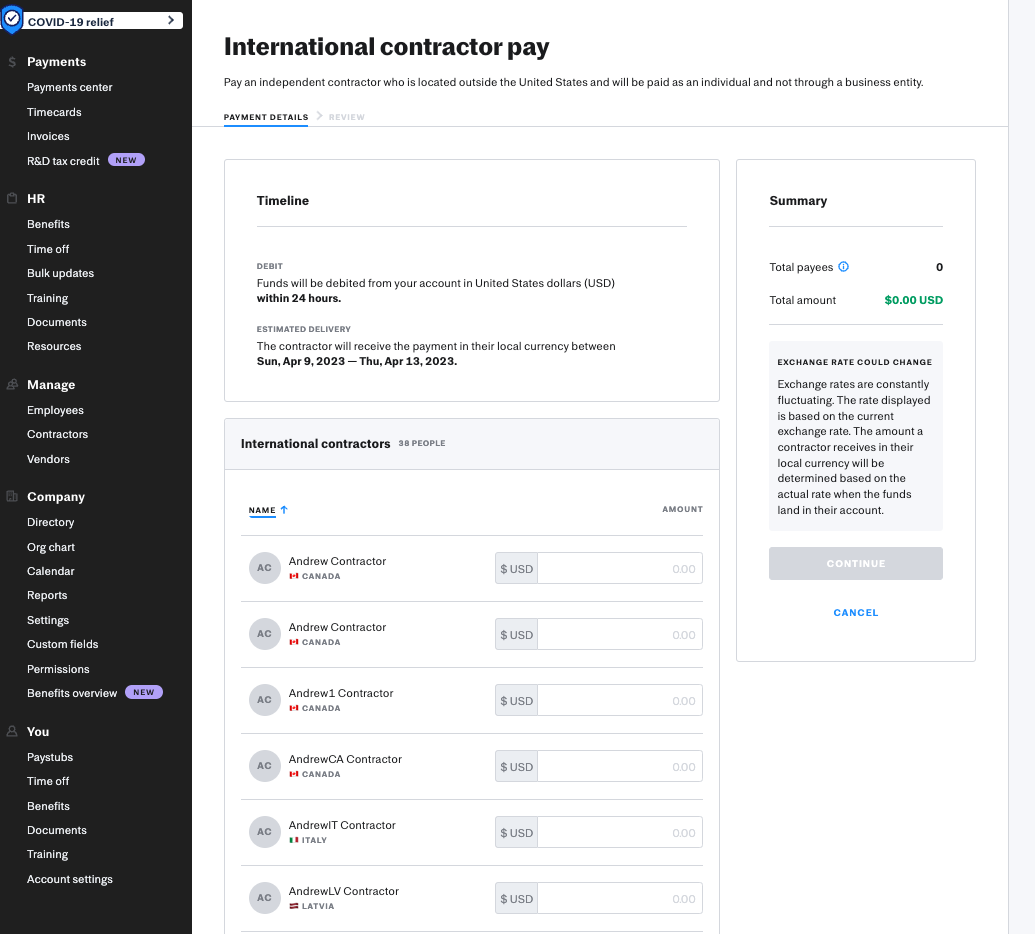 Enter the value to be paid in US dollars ($). An estimated value in the contractor's local currency and the current exchange rate is visible below the entry box for your reference.
Exchange rates constantly fluctuate and the currency exchange does not occur until the ACH debit clears. Because of this, the amount is only an estimated value and the final deposit amount may differ based on the deposit date.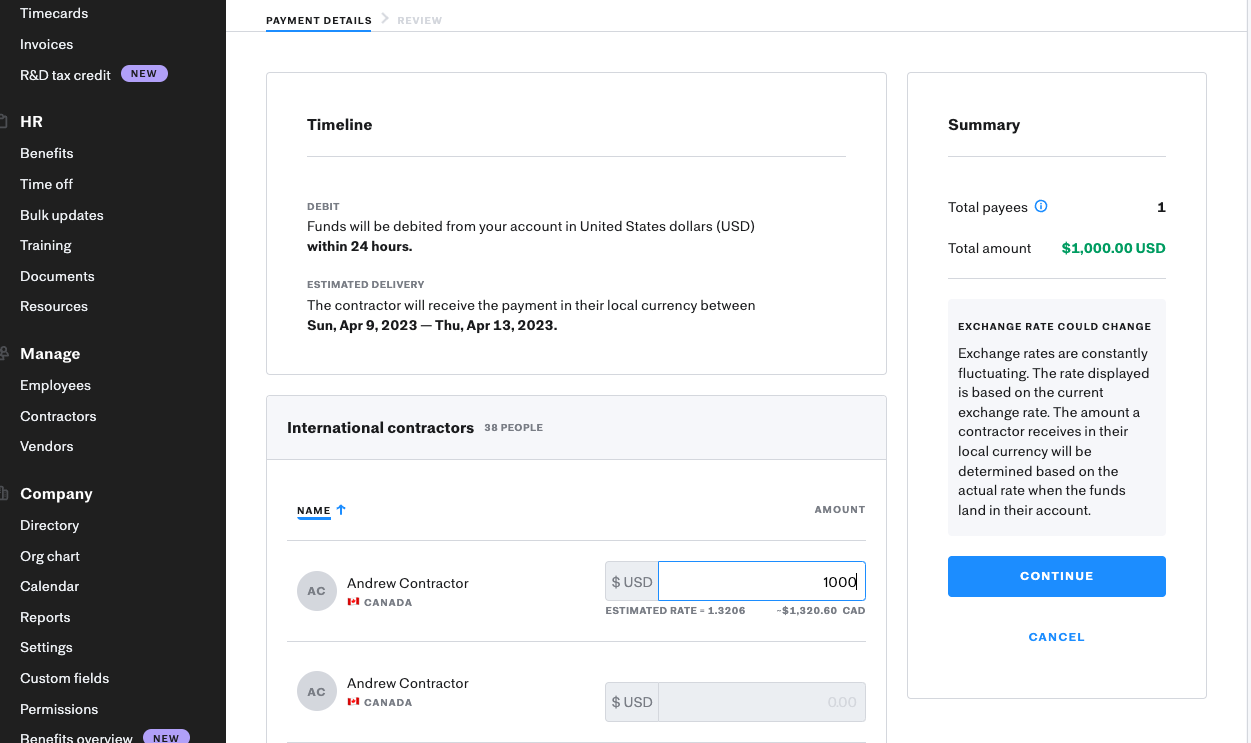 The individual amount for a contractor must equal or exceed $200 USD. If the amount is below that threshold, an error message will appear directly below the entry box.

Clicking Continue will give you one last opportunity to review the payment before submitting.
It is very important to fully review pay information before you submit. Unlike other payment types that can process same-day at 3pm ET or at a later date, international contractor payments process immediately and cannot be edited after submitting.
Note: Due to the volatile nature of fluctuating exchange rates, international contractor payments process immediately to ensure the payment amount is as closely aligned with the estimated exchange rate displayed.
You will be redirected to a success page after submission and have the option to return to the Payments Center or schedule additional international contractor payments.

Your company will be debited in US dollars ($) for all transactions within 24 hours of submitting the payment. Because deposit timelines can vary based on a country's banking technologies and policies, a specific deposit date cannot be guaranteed and instead a date range is provided for actual deposit.
Canceling an International Contractor Payment
While it is still important to check your payment prior to submitting, you can cancel an international contractor payment and request a refund up until the currency conversion occurs.
On the Payments Activity tab within the Payments Center, you can click the trash icon next to the appropriate contractor payment.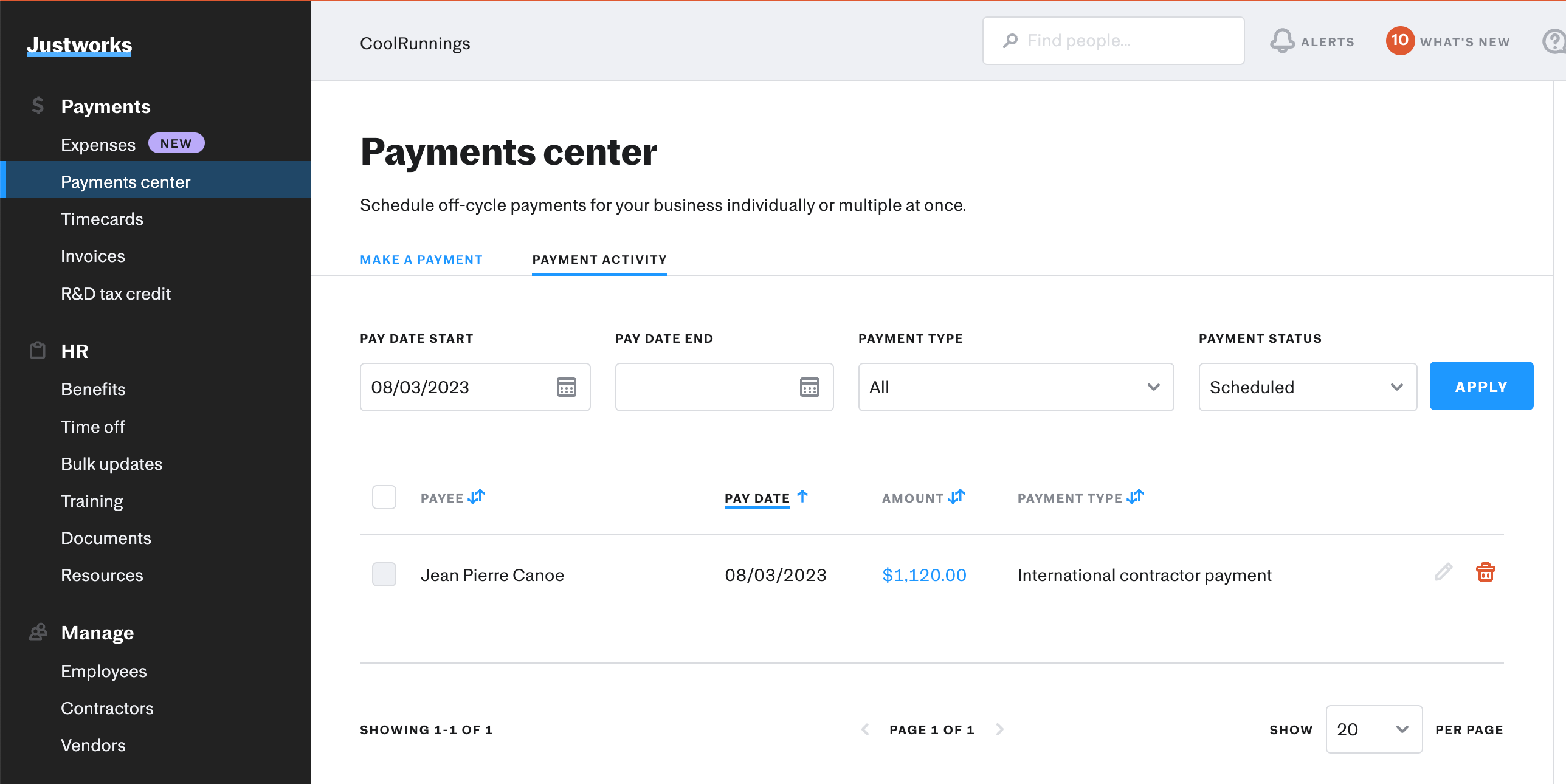 A warning will appear confirming if you would like to Cancel & Refund the payment. By clicking the button, this will cancel the scheduled payment and a refund will be issued to your bank account in 5-7 business days.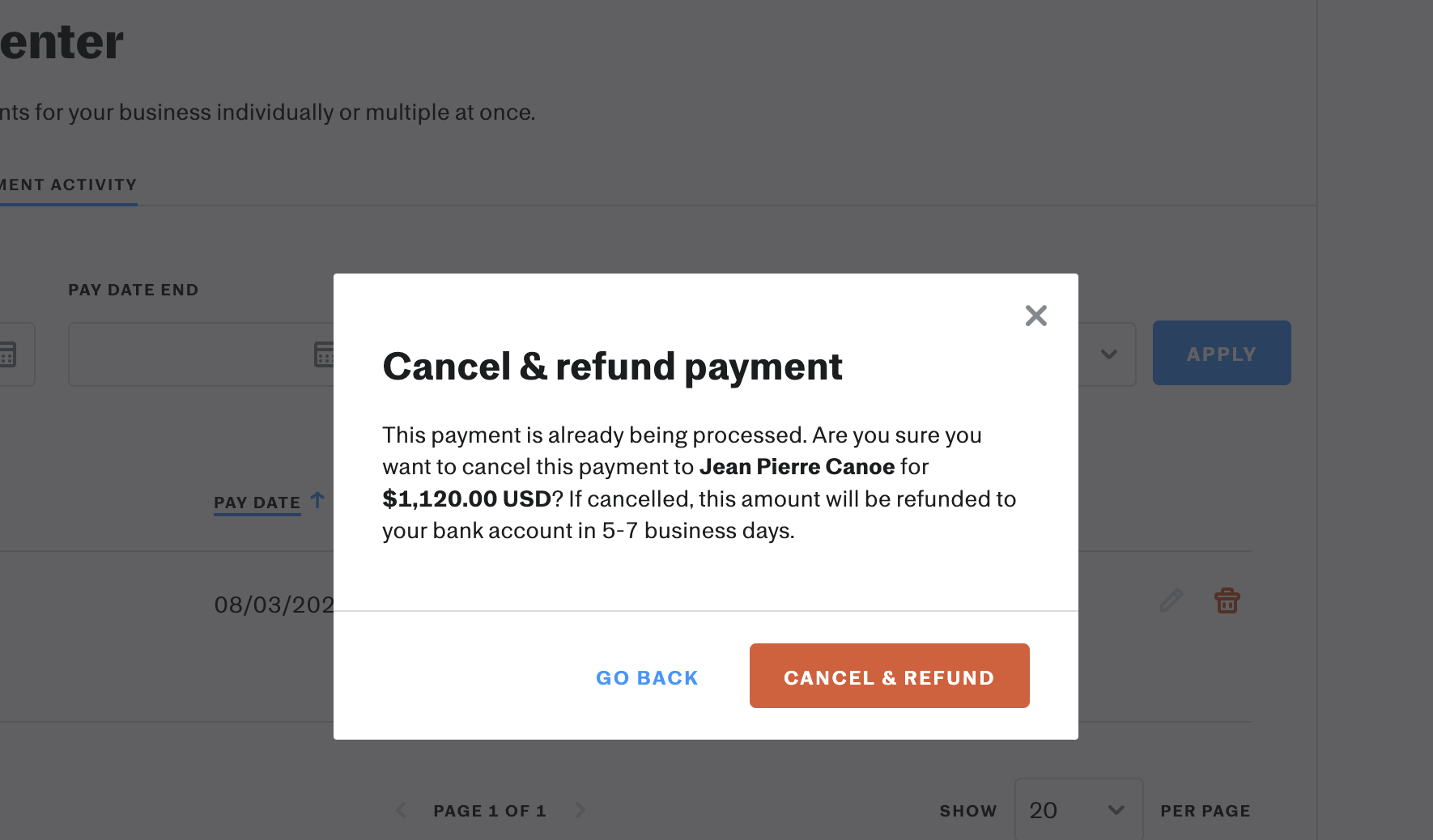 International Contractor Payments Report
International contractor payments have a dedicated report found in the Payments section of the Reports tab of the navigation bar.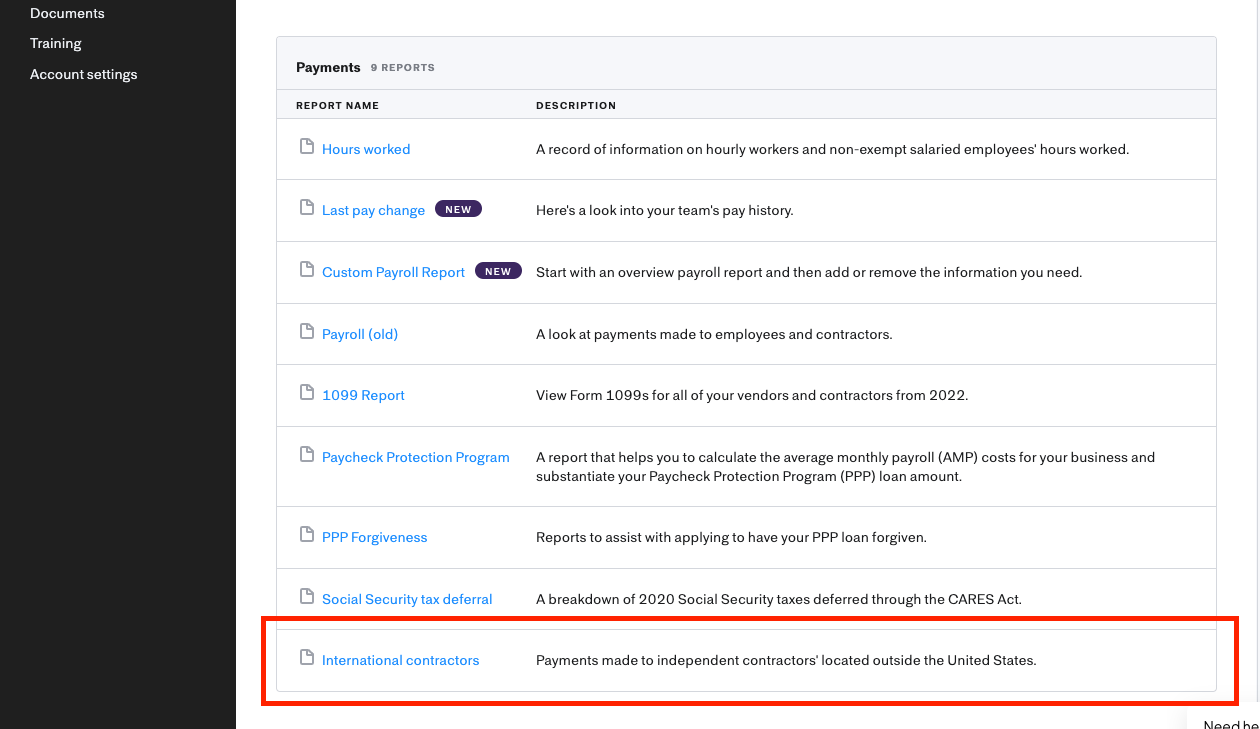 You can pull a report of payments from a preset range (such as month-to-date) or choose a custom range of pay dates. A preview will generate in-app and you will have the option to download it as a CSV.
This report will include each individual payment scheduled along with:
Amount in US dollars ($)
Date payment was submitted
Contractor's local currency
Contractor's country
Status of the payment
Disclaimer
This material has been prepared for informational purposes only, and is not intended to provide, and should not be relied on for, legal or tax advice. If you have any legal or tax questions regarding this content or related issues, then you should consult with your professional legal or tax advisor.