Personal days and floating holidays
Personal days may be something you have considered in order to provide additional time off to your employees during the year in addition to vacation and sick time. Personal days are not required to be granted to employees, may be paid or unpaid, and may be used for any planned or purposes that the employer defines.
Floating holidays are also not required, and may be unpaid or paid. Employers use floating holidays for situations in which an employee must work on a scheduled holiday. For example, if an editorial department is unable to take Martin Luther King, Jr. Day off because they consistently have a Monday publishing deadline, the employer's floating holiday policy could provide that such employees may schedule and take a different day in lieu of the holiday they were unable to take. In the case of a floating holiday policy, the employer may give employees a certain limited timeframe in which to take the floating holiday or alternatively, permit employees to take the floating holiday at any point during the year. As detailed below, in jurisdictions like California, when employees have a lot of discretion regarding scheduling and taking a paid floating holiday, such time will generally be deemed to be additional vacation time, and as such subject to California's non-forfeiture rules, including the requirement to pay out unused time upon separation from employment.
In most states, payout of paid personal days or floating holidays upon separation is generally not required, but see below for the rules that may apply in California.
Providing floating holidays and/or personal days can give you the flexibility to recognize the different customs and observances of your diverse employee base, separate from vacation time. The Justworks PTO policy tool can be used to track paid personal days or floating holidays.
Paid floating holidays and personal days in California
Employers should note that in California, paid personal days or floating holidays that can be used at any time during the year are treated as paid vacation days, and are subject to the same nonforfeiture regulations and other requirements as paid vacation, including payment upon separation of any accrued, unused time.
However, if paid floating holidays are tethered to the occurrence of particular events and cannot be taken except on or near the date of the particular event, such time is generally treated the same as paid holidays with a set date. For example, if an employee was granted one day off on or near their birthday, which is earned upon their birthday, to be used within two weeks of that date, this would not typically be subject to the same rules as vacation in California. Your paid holiday and paid personal time policies and practices should be reviewed by your legal counsel for the states and localities in which your employees are working to ensure compliance with applicable laws, and to ensure that your policies and practices are appropriate to your particular situation.
Custom holidays
Different than floating holidays, the custom holiday feature allows you to add holidays that are specific to your company. Justworks allows you to select federal holidays from a pre-populated list, and you also have the option to add other holidays -- Chinese New Year or Rosh Hashanah, for instance -- or another day that's specific to your company.
Holidays on a set date are not required to be paid to employees and are not payable upon separation unless your policy states otherwise.
How to set up custom paid holidays
Navigate to "Time off policies" under the HR section of the left navigation bar, and select the "Holiday Schedule" tab to view your current holidays. Simply click "Add a custom holiday" to get started.

Now, go ahead and enter the info associated with your custom holiday: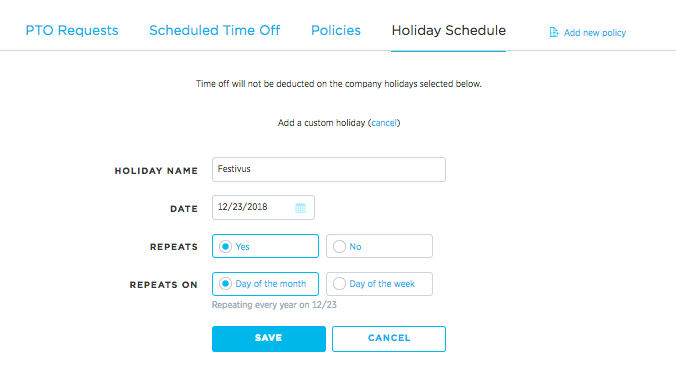 Enter the name of the new holiday

Select the date

Select "Yes" or "No" to indicate whether the custom holiday is repeated annually.

If it is a repeated, you'll want to indicate whether the holiday is repeated on a specific date of the month (e.g. New Year's Eve is always December 31st) or day of the week (e.g. Columbus Day is always the second Monday of October, so the date varies)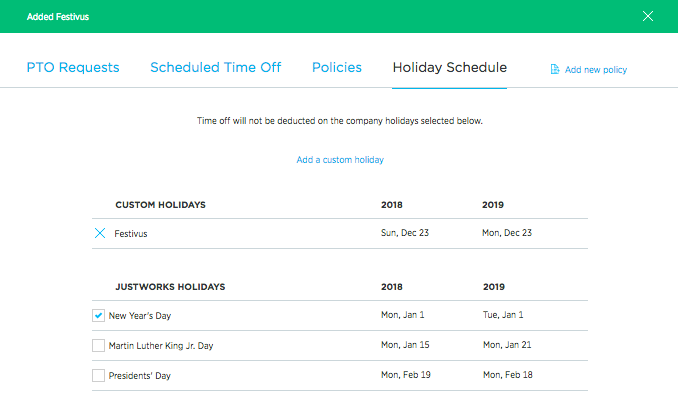 Your custom paid holidays will appear in a new section above the standard Justworks Holidays. If you make a mistake or need to delete a custom holiday, just click the "X" to remove the custom holiday from the list.
Disclaimer
This material has been prepared for informational purposes only, and is not intended to provide, and should not be relied on for, legal or tax advice. If you have any legal or tax questions regarding this content or related issues, then you should consult with your professional legal or tax advisor.