Get started
Getting set up for PTO with Justworks is easy. From your main dashboard, click the link under "HR."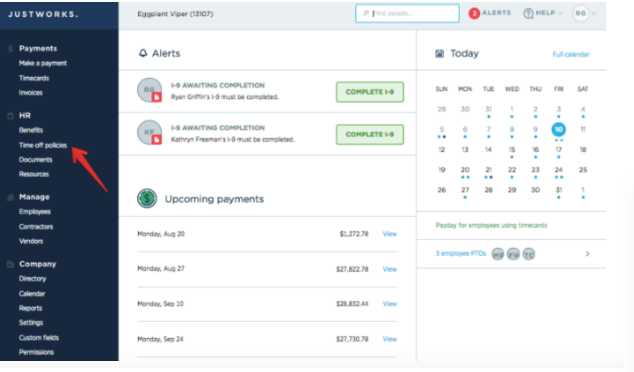 Select holidays
Next, select the days that your company recognizes as holidays. Justworks will automatically designate these same days as holidays each year. Our software knows that while Thanksgiving is on Thursday, November 26 in 2020, it will be on Thursday, November 25 in 2021. You can also add custom holidays to your holiday schedule!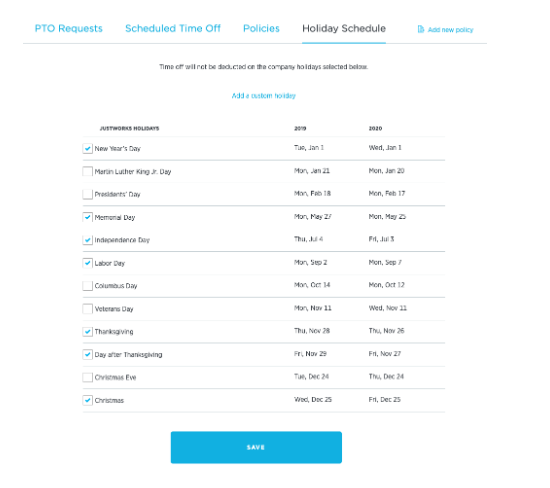 Setting up a new policy
Basic Setup
Create a paid-time off policy that fits your business needs. In the basic setup stage, you are able to fill out some general information about your PTO policy.
Policy Name: 
Choose the name that you would like to call your PTO policy (this is how it will appear to your employees).
Policy Description:
Here you have the option to add a description to your policy. The policy description will make it easier for you to distinguish between PTO policies later.
Policy Effective Date:
Next, select the start date of the PTO policy for your employees. 
Note: It is important to take into account that choosing a date in the past will retroactively add time to your employee's PTO balance.
Policy Type:
Choose the type of PTO policy you want to create. On the platform, you will see the following options:
Vacation Policy: This can be used as a general PTO policy.
Sick Leave: Use this to track sick days. 
Other: Some common PTO policies include, volunteer days, bereavement, and floating holidays.

NON-US employee:  This policy will only allow non-U.S. employees to request time off. PTO balances will be neither tracked nor calculated.
Note:  Please be aware that, depending on the locations in which your employees work, you may be required to pay out any accrued, unused vacation to those employees when they leave your company. Additionally, many jurisdictions have laws that may require you to provide sick leave to employees who work within those jurisdictions. If you're unsure which laws apply to your employees, please reference resources available via ThinkHR, and contact legal counsel accordingly.
Policy Structure
In this section, you will need to decide when the policy cycle should restart and how your employees accrue PTO. 
Annual PTO Cycle
Each policy's PTO balance runs on an annual cycle. There are two choices available for the policy cycle:
The Calendar Year: This policy runs from Jan 1–Dec 31 and the annual PTO amount you assign will restart every January 1.

Employee's work anniversary: The annual PTO amount you assign will restart each year on the anniversary of the date your employee was hired.
PTO Grant types
On the platform, you are able to choose from one of the following grant types:
Days per year - accrued: This allows you to assign a number of PTO days per year to be accrued at a specific rate per day. 

Days per year - granted upfront: Here you are able to assign a number of PTO days per year to be granted upfront at the start of the cycle.

Flexible or Unlimited:  This structure does not place a limit on PTO requests, however, a company can decline a PTO request made by an employee. 

Hours per hours worked - accrued: This grant type enables you to assign an hourly PTO accrual rate based on hours worked.
Note: PTO requests work off of the standard work week. PTO will only deduct Monday through Friday, and 8 hours constitutes one work day.
Policy Add-ons
Here you are able to set some additional preferences for your PTO policy.
Tenure Levels
If you would like to give more time off to your employees based on their length of service at your organization, you can add tenure levels.
For a policy on the calendar year annual PTO cycle, tenure increases will occur on January 1, after your employee's 1st work anniversary. For example, an employee with a start date in February 2019, will receive their first tenure increase on January 1, 2021.   For a policy on the employee work anniversary annual PTO cycle, tenure increases will occur on the employee's work anniversary.
Carryover caps
You'll be able to select whether or not employees are allowed to carry over days from one year to the next. If you allow carryover, you will be able to limit the number of days that carry over.
In certain states, like California, employers may not limit the amount of PTO that carries over from one year into the next. If you're unsure which laws apply to your employees, please reference this page and contact legal counsel accordingly.
Accrual caps
Here you are able to limit the number of PTO days an employee can accrue. Accrual caps halt the accrual of PTO when an employee's total balance has reached the preset cap, as set by the policy. Once the employee uses some PTO and falls below the cap, they immediately resume accruing PTO until they hit the cap once more. 
You are able to read out more about carryover and accrual caps here.
Accrue on overtime
Choose whether or not employees accrue PTO when they're on overtime.
Timecard sync
While creating your PTO policy, you can choose whether or not the time your hourly employees take from this policy are automatically included on their timecards once approved.
If you prefer to not have this time automatically sync in their timecards, you can select 'unsync.' You can change this setting at any time.

Assigning policies to specific employees
After the PTO policy has been created, you can select which employees need to be assigned to the specific policy. To help break this down, you can choose to group employees by employee type, department, or office location. For example, you can create different PTO policies for full-time and part-time employees or give your employees in New York a different PTO policy than your employees in California.
Review
Finally, approve your policy and make any final adjustments to employee's starting balances.
Once you've finished setting up your PTO policy, you can learn more about how to manage it here. You can also direct your employees to this article so they can request time off.
Editing and Disabling policies
Under the 'Paid Time Off Policies' section, you can go to edit and disable policies under the 'Policy' section.
If you need to add new employees to a PTO policy, you can edit the policy and click through the steps to the 'assign employees' section. 
If you need to change a PTO policy for your employees (other than adding more people or changing the name), we recommend disabling a current policy and creating a new one in its place. 
When making a new PTO policy, make sure to record all of your employees' current balances beforehand with the PTO Balance report. Go to the Report > PTO Balance Report and download the report so that you have your employees' balances to input as each employee's  'starting balance' in your new PTO policy.
Disabling policies is easy. First, navigate to HR > Paid Time off > Policies. From here, you should see all of your active policies. To disable, just click on the "Disable" button in the top right corner of the policy.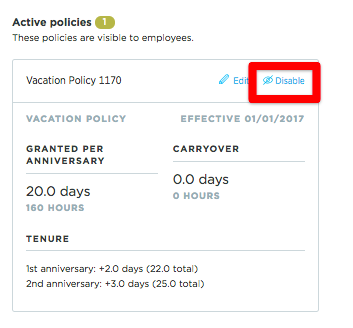 Disclaimer
This material has been prepared for informational purposes only, and is not intended to provide, and should not be relied on for, legal or tax advice. If you have any legal or tax questions regarding this content or related issues, then you should consult with your professional legal or tax advisor.