Get started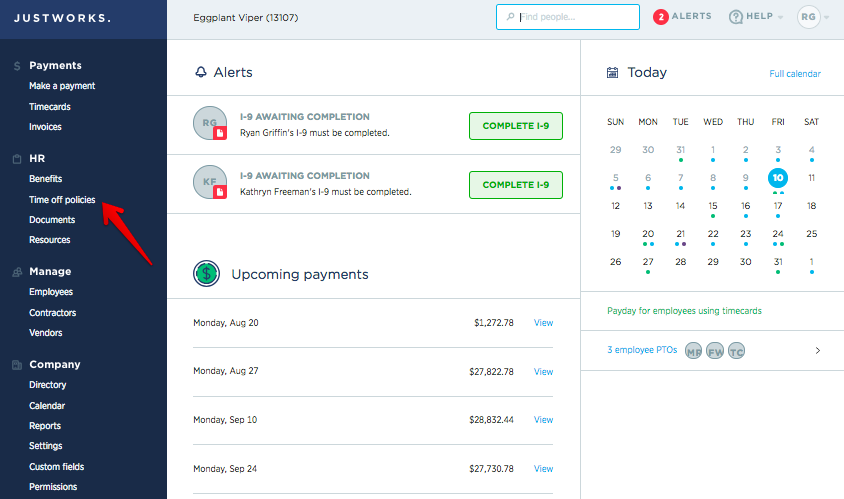 Getting set up for PTO with Justworks is easy. From your main dashboard, click the link under "HR."
Select holidays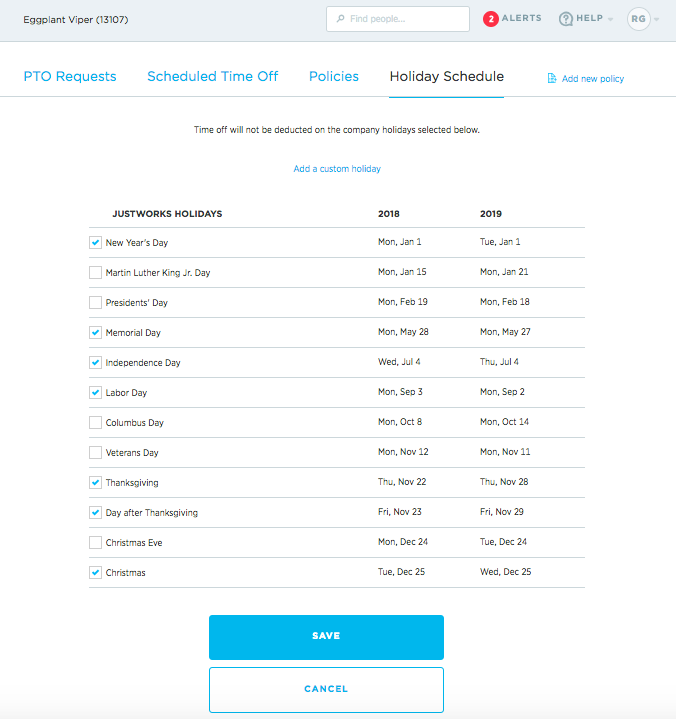 Next, select the days that your company recognizes as holidays. Justworks will automatically carry these days over to the next year. Our software knows that while Thanksgiving is on Thursday November 23 in 2017, it will be on Thursday November 22 in 2018.
Setting up a new policy
Create a time off policy that fits your business. You can create as many policies as you need (e.g., a vacation policy, a sick leave policy, etc.), and each can be configured differently.
To start, select a policy type (Vacation, Sick Leave, Other, or non-U.S.) and create a name (this is how it will appear to your employees).
Next, select the start date for the policy.
Choose how you'd like to track PTO
When you select "Vacation", "Sick Leave", or "Other", you'll then be prompted to either track days off or give your employees an unlimited number of PTO days per year. If you select "Tracked Days Off", we'll ask you for the number of tracked days per year.
Note: Please be aware that depending on your location, you may be required to pay out any remaining vacation time to employees when they leave your company. You may also need to follow "sick leave" guidelines as determined by your state. If you're unsure of how these laws work, please contact us.
Choose how you'd like to grant PTO
You'll be able to choose whether you'd like to do "Upfront" granting (in this case, days are granted on either employee's anniversary or the beginning of the calendar year) or "Accrued" (in this case, tracked days are accrued over the course of the calendar year).
You'll be able to select whether or not employees are allowed to carry over days and whether or not there is a cap. If there is, you can then tell us the maximum number of carry over days per year.
Tenure levels
If you would like to give more time off to your employees based on their tenure, you can add tenure levels.
If you've chosen "Upfront" granting, additional days will be granted either on the employee's anniversary or at the beginning of the calendar year.
If you've chosen "Accrued", the additional days will accrue over the course of the year, starting on each employee's work anniversary, just like normally accrued hours. For example, an employee who is accruing an additional two days each year starting on their fifth anniversary, 6/1/2015, will see their accrual rate increase starting on that day.
Timecard Sync
While creating your PTO policy, you can choose whether or not the time your hourly employees take from this policy are automatically included on their timecards once approved.
If you prefer to not have this time automatically sync in their timecards, you can select 'unsync.' You can change this setting at any time.
Assigning policies to specific employees
After the policy has been created, you can select which employees need to be assigned to the specific policy. To help break this down, you can choose to group employees by employee type, department, or office location. For example, you can create different policies for full-time and part-time employees or give your employees in New York a different policy than your employees in California.
Review
Finally, approve your policy and make any final adjustments.
Once you've finished setting up your policy, you can learn more about how to manage it here. You can also direct your employees to this article so they can request time off.
Disabling policies
If you need to change a policy for your employees, we recommend disabling a current policy and creating a new one in its place. Disabling policies is easy. First, navigate to HR > Time off policies > Policies. From here, you should see all of your active policies. To disable, just click on the "Disable" button in the top right corner of the policy.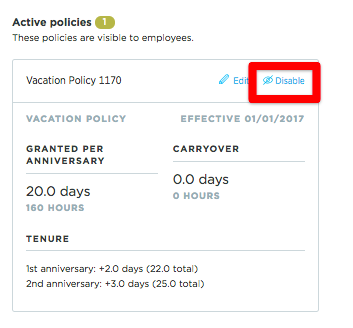 Depending on the type of policy and the state in which your employees work, accrued PTO may be considered part of the wages of the employee and must be paid out if the policy is not being replaced. Sick leave policies may also be required in some locations. Please check your local laws to confirm.
Disclaimer
This material has been prepared for informational purposes only, and is not intended to provide, and should not be relied on for, legal or tax advice. If you have any legal or tax questions regarding this content or related issues, then you should consult with your professional legal or tax advisor.