Justworks supports payments to employees, contractors, and vendors through ACH direct deposit. As an employee or contractor, you'll be invited to Justworks by your employer and in order to be paid, we'll need some basic personal information as well as your bank details so we can ensure you're paid on time.
You will be presented with the option to set up your bank account during your onboarding process while setting up your Justworks account. However, you can always update your bank account details by navigating to You > "Account Settings" > click on the "Finances" tab > click on the "Verify to Edit" option under "Bank Account."
How do I find my routing and account number?
You can find this required information on a check from your bank. All checks will list both the account and routing number for the associated bank account as pictured below.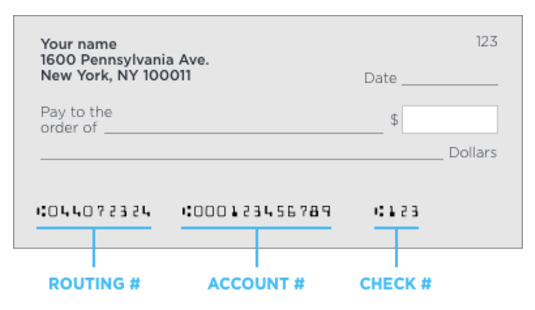 Routing numbers are tied to regions and will be the same for all banks in a certain area. Account numbers are unique to each individual.
Can I be paid to more than one bank account?
Yes you can! To learn how to do so, please visit our help article on splitting payments into multiple bank accounts.
Disclaimer
This material has been prepared for informational purposes only, and is not intended to provide, and should not be relied on for, legal or tax advice. If you have any legal or tax questions regarding this content or related issues, then you should consult with your professional legal or tax advisor.