What is Two-Factor Authentication?
At Justworks, your security is a top priority. To help further protect your sensitive information, Two-Factor Authentication is enabled on your account.
How does Two-Factor Authentication work?
Two-Factor Authentication adds an extra layer of security to your login process.
Similar to how an ATM requires a debit card and pin number, you will use your username and password as well as an authentication code delivered through a secondary delivery method to access your Justworks account.
The secondary delivery methods you can use are app, email or mobile.
An authentication app, such as Google Authenticator, Duo, or Authy, is the most secure secondary delivery method.
How do I change my delivery method?
You can change your delivery method directly from your profile. On the bottom left, you'll see a section labeled "Account settings" You are able to select that option and then navigate to your "Security/ Log in" profile.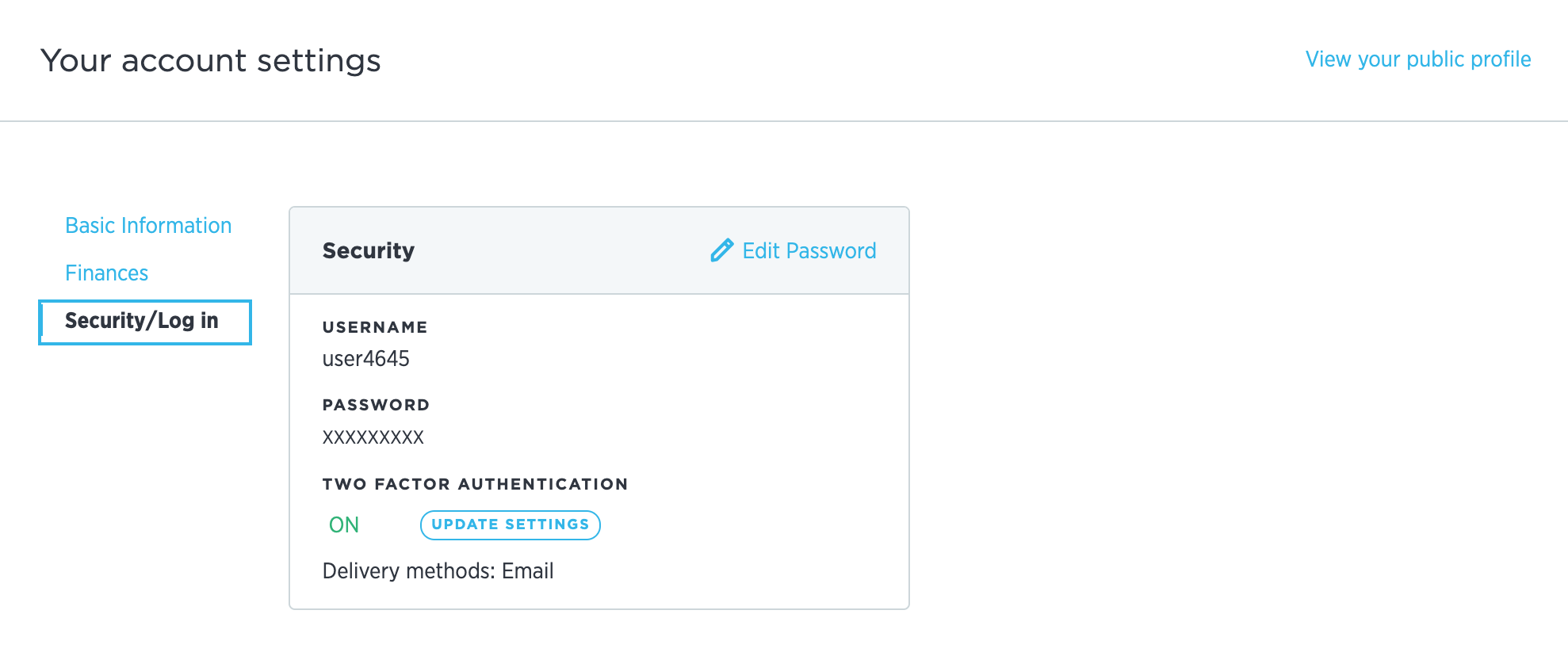 By clicking "Update Settings", you'll be taken to a screen to change your preferred method of authentication. Please note, standard text messaging rates may apply.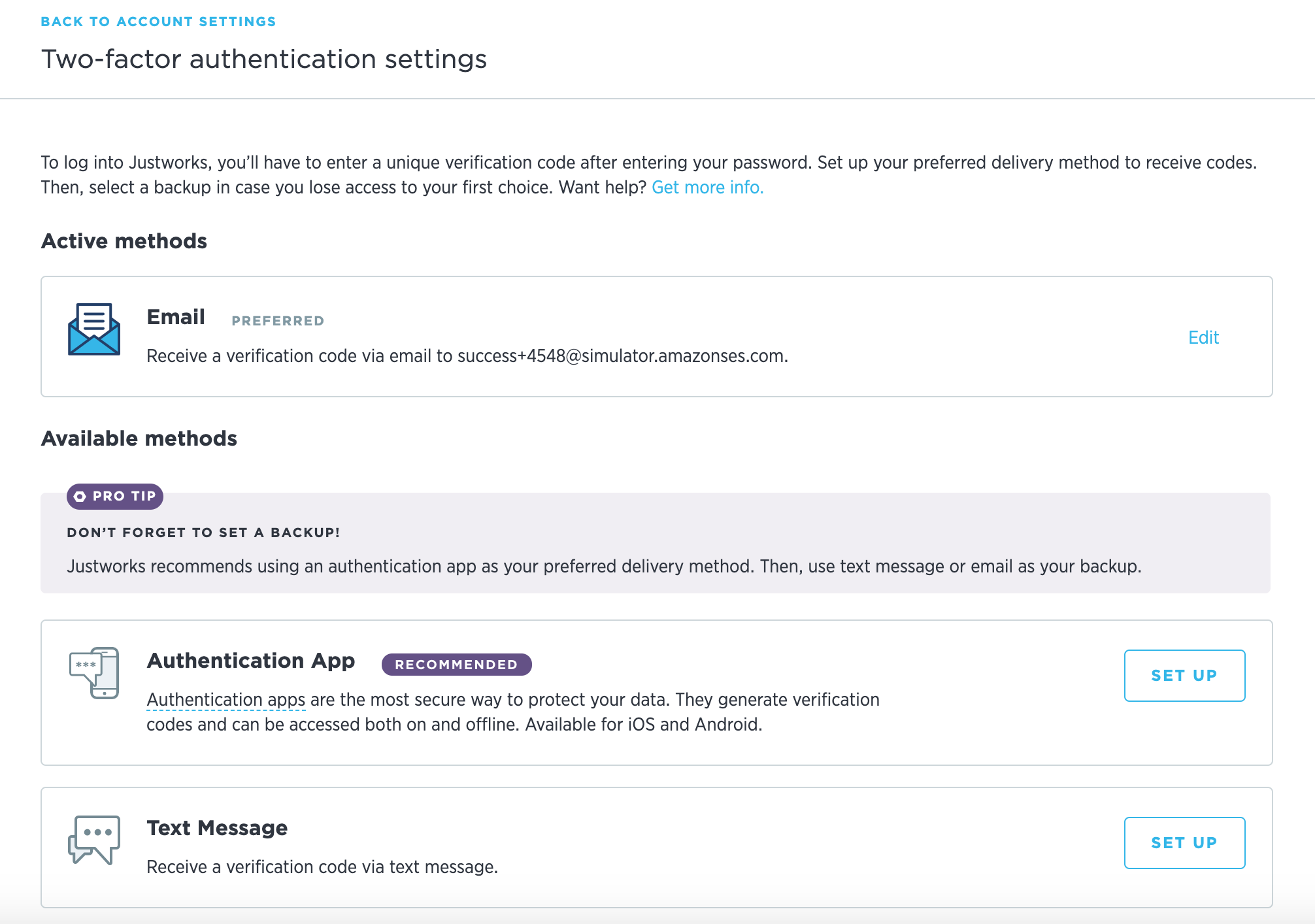 Available methods
Authentication App
To set-up an Authentication app, you'll need to download an authenticator app such as Google Authenticator, Duo Mobile, or Authy. Once you've done so, open the app and scan the barcode on the screen.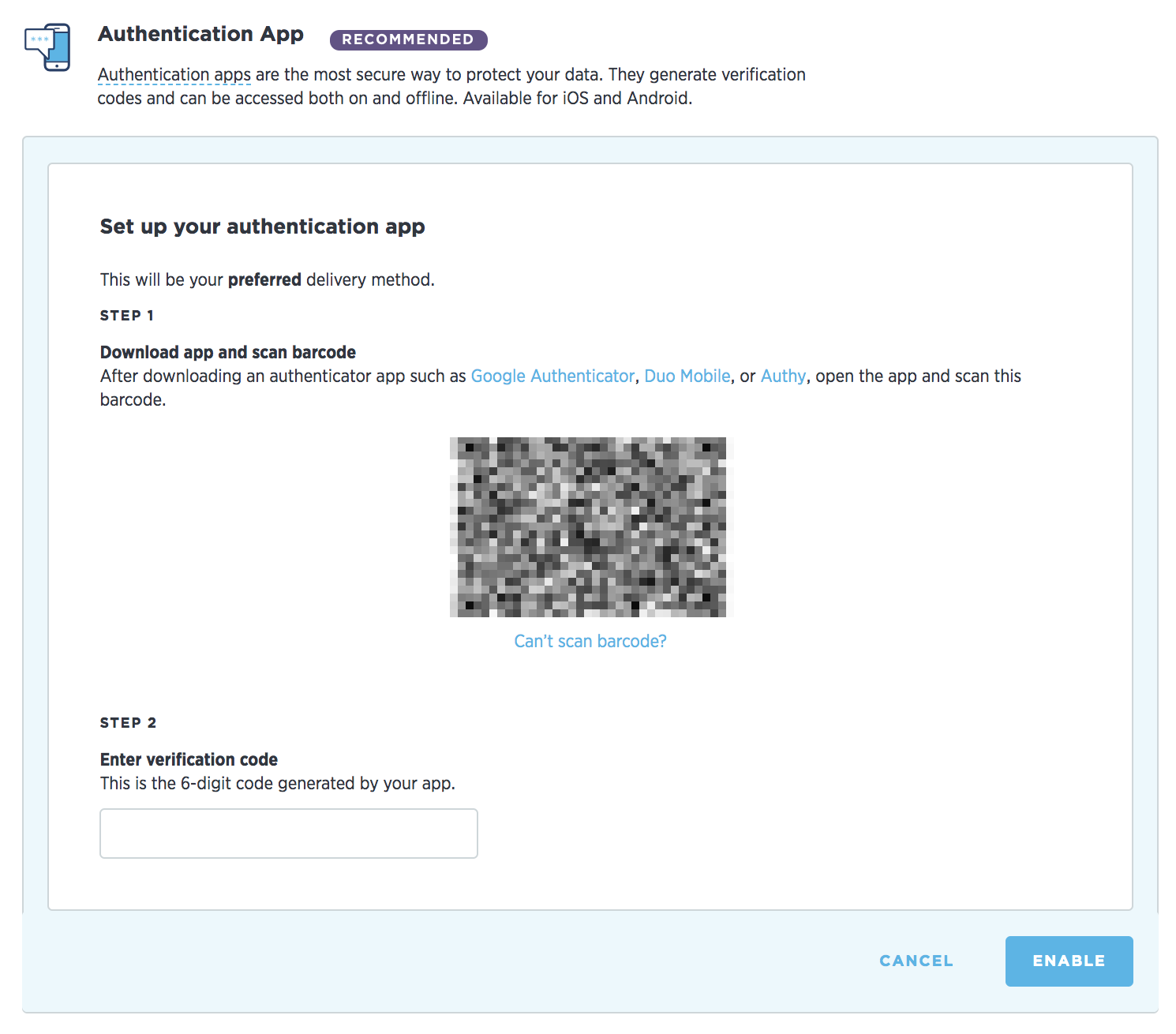 You'll then be given a 6-digit verification code that you'll enter on the screen and then click "enable."
If the app has been chosen as the preferred method, you will always be given the option to send code via email or text message instead.
Text Message
If you select Text Message, we'll confirm the mobile number you have on file and once you click "send code", you'll receive a text message with a 6-digit verification code.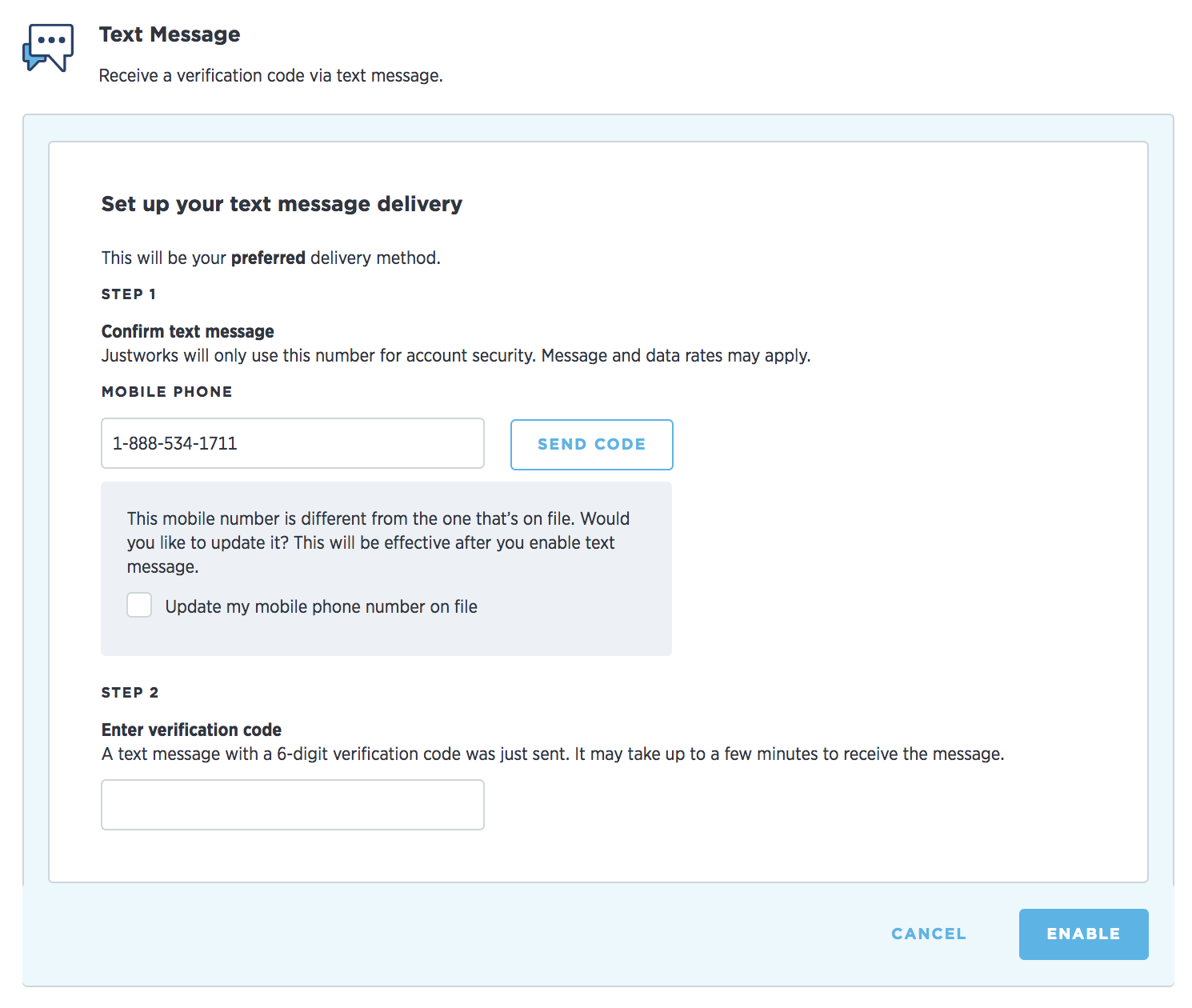 If the number on file is incorrect and needs to be updated, you can also do that from this screen as well.
Email
Enter your preferred email address (we'll default to your "work email" already on file) and you'll receive a 6-digit authentication code.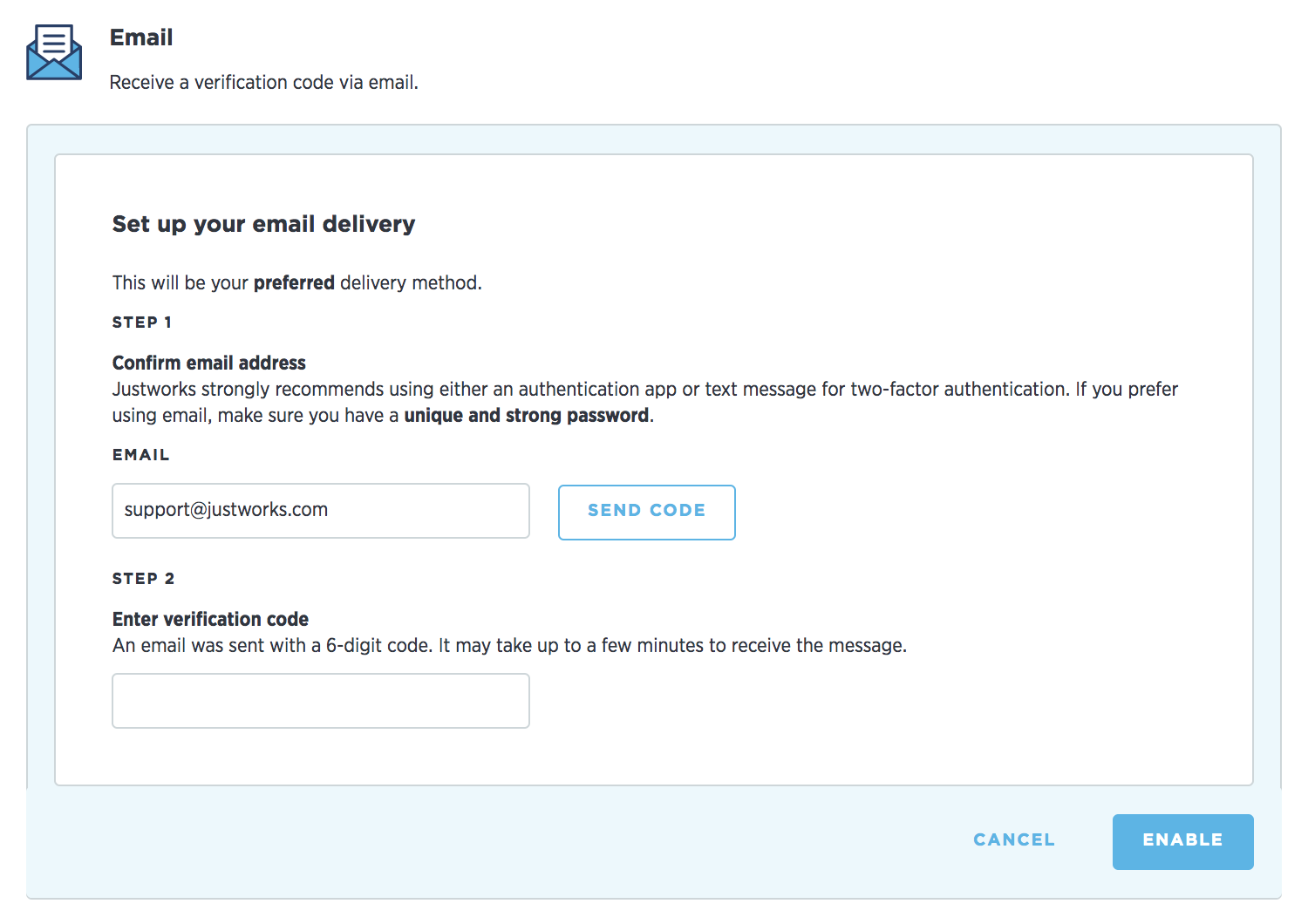 We also recommend you set a preferred and back up method in case you lose access to or cannot login with one or the other.

How often will I need to enter a code to access my Justworks account?
You'll be prompted to enter your authentication code every 90 days and/or every time you attempt to access your Justworks account on a new device.
Once you've indicated a new device, you'll be able to see a history of when your account has been accessed and on which device.
What do I do if I am locked out of my account?
If you become locked out of your account, you'll be prompted to choose either the email or phone number you have on file to receive an authorization code. You'll also be able to update either of these fields in the event your information has changed. Once you've received the code to either your phone or email, you'll then be able to set up your desired method of authentication.
Disclaimer
This material has been prepared for informational purposes only, and is not intended to provide, and should not be relied on for, legal or tax advice. If you have any legal or tax questions regarding this content or related issues, then you should consult with your professional legal or tax advisor.