When your company joins Justworks, it's important to pay attention to your allowances, additional withholding amounts, and filing status while setting up your account. Those settings, among other factors, will directly impact how taxes are applied to your paychecks through Justworks.
Account Settings - Address & Tax Information
Since taxes are applied based on where you live and work, it's important to enter your home address here accurately while creating your Justworks profile: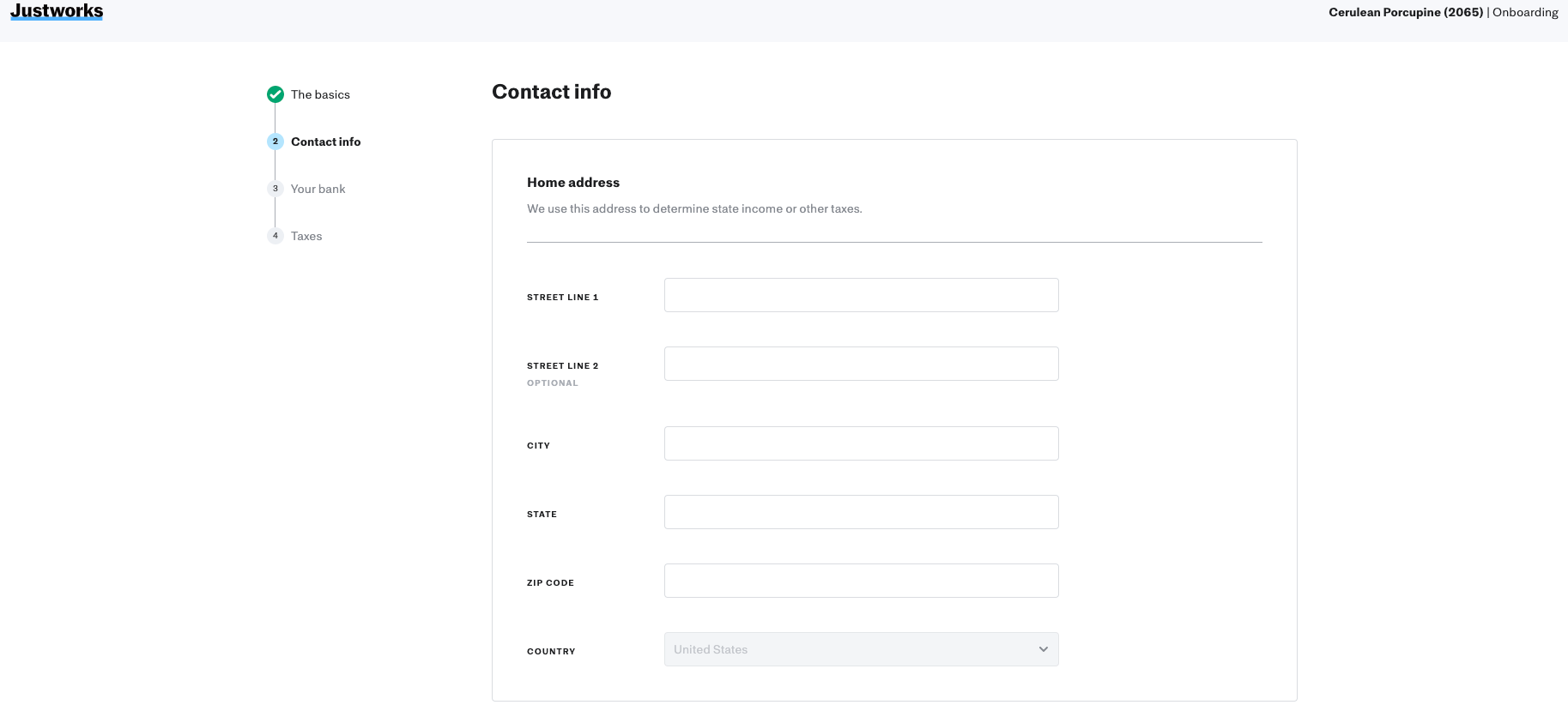 On the next page of the enrollment process, you'll be able to enter your withholding information and enter information regarding multiple job or spouse working, dependents, other income, and other adjustments if they apply as calculated by the most recent version of Form W-4.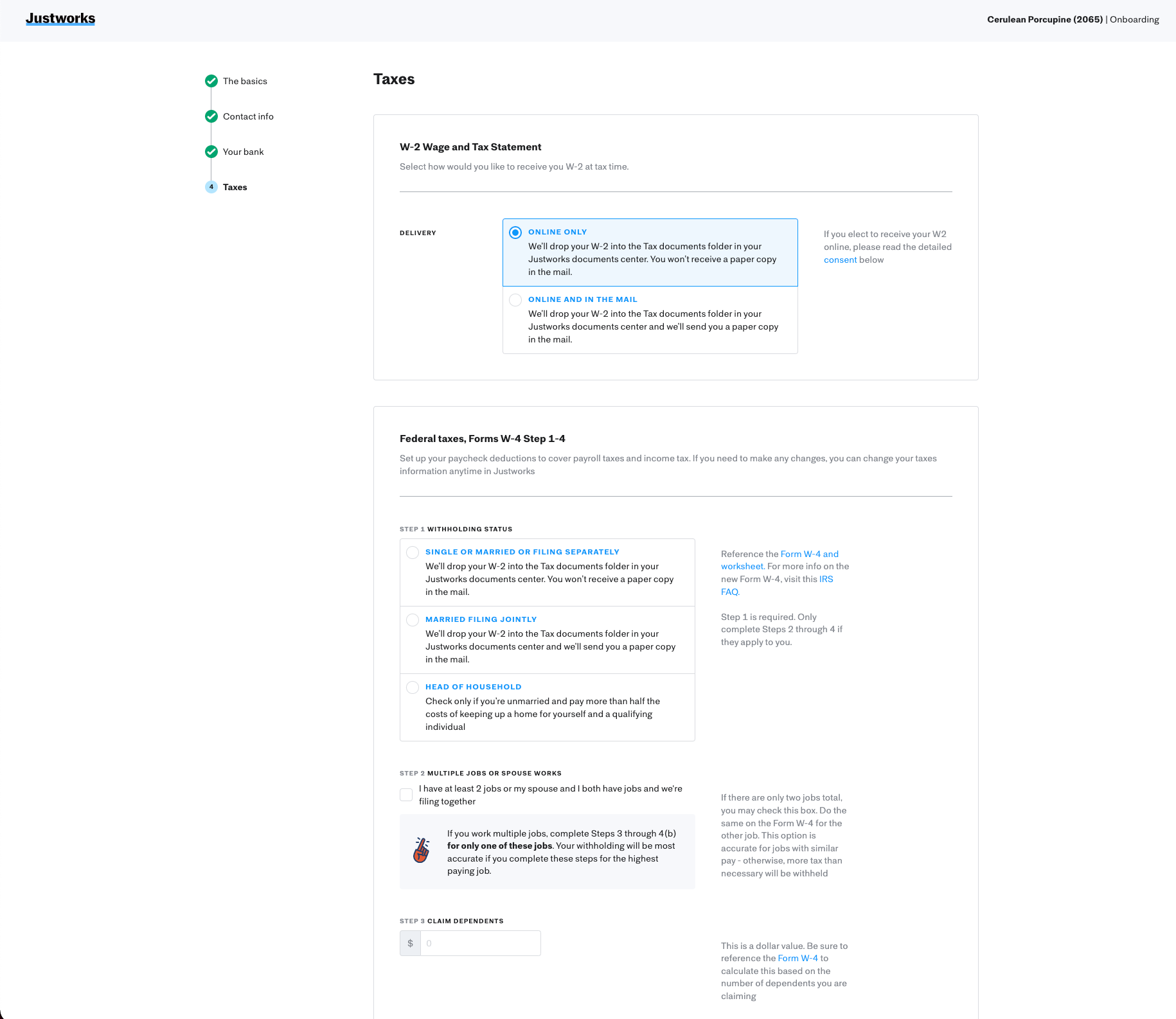 You may also be able to add state withholding amounts from your Account Settings once you complete enrollment. To do so, you'll want to reference each state's own form. You can find each state's withholding form below:
| | |
| --- | --- |
| State | Form |
| Alabama | |
| Arizona | |
| Arkansas | |
| California | |
| Connecticut | |
| District of Columbia | |
| Delaware | |
| Georgia | |
| Hawaii | |
| Idaho | |
| Illinois | |
| Indiana | |
| Iowa | |
| Kansas | |
| Kentucky | |
| Louisiana | |
| Maine | |
| Maryland | |
| Massachusetts | |
| Michigan | |
| Minnesota | |
| Mississippi | |
| Missouri | |
| Montana | |
| Nebraska | |
| New York | |
| New Jersey | |
| North Carolina | |
| Ohio | |
| Oklahoma | |
| Oregon | |
| Rhode Island | |
| South Carolina | |
| Vermont | |
| Virgina | |
| West Virginia | |
| Wisconsin | |
You may also live in a state that doesn't have it's own custom form (Colorado, New Mexico, North Dakota, Utah), which default to the withholding settings entered on the Federal W-4. If you need to make changes to your state withholdings for any of those states, please reach out to our Customer Success team.
If you don't see your state listed above, you may live in a state that does not take state income tax (Alaska, Florida, Nevada, New Hampshire, South Dakota, Tennessee, Texas, Washington, Wyoming).
Pennsylvania has a flat personal income tax, so there is no custom form.
Reciprocal Agreements
Reciprocal agreements are agreements between two states that allow residents of one state to request exemption from state withholding of the other. This is especially helpful if you work in one state, but live in another.
If you are eligible for an exemption under a reciprocal agreement, you'll see a banner that notifies you as such in your Account Settings:

If you are indeed eligible, please reach out to our Customer Success team who will help you locate the proper paperwork to submit.
Benefits + Company Contributions
It's also possible that your Justworks paychecks look different than the ones from your previous provider because of your company's benefits offerings.
If you've enrolled in more pre-tax benefits through Justworks than you had previously (for example, you've enrolled in Medical, Dental, and Vision plans now but only were enrolled in Medical previously), the total amount you'll have deducted from each paycheck and your total taxable wages will likely be different.
Furthermore, if the cost of the benefits and/or what your company may be contributing towards benefits has changed, this likely will result in a change in your taxable wages.
Your taxable wages may also be impacted by ancillary benefits, 401(k) deferrals, or transit deductions. Depending on how much you are having taken out per paycheck or per month, your taxable income may increase or decrease from what you had through a previous provider.
Paystubs
Justworks will provide you with a wage statement (also known as a paystub) for every regular wage earned or off-cycle payment you receive. Justworks paystubs provide a breakdown of wages, employee and employer contributions and deductions, and a number of other details to help you understand your pay.
Common to all paystubs at Justworks are sections detailing your personal information (name, address), taxes withheld (rates will vary depending on the type of pay and the state and locality you work in), pre-tax withholding and deductions (like medical insurance contributions) and after-tax withholding and deductions (like paid family leave).
Paystubs may look a little different depending on if you're a salaried or hourly employee and exempt or non-exempt.
Hourly Employees
As an hourly employee, it is possible that the hours worked in a given pay period are based on a single hourly rate or on multiple hourly rates. In either case, it is also possible that you earned overtime wages in the same pay period.
To help clarify this for you, your paystub will include a breakdown of the regular hourly rates you earned during that pay period. If you earned overtime in the same pay period, you will see a separate item in the "Gross Earnings'' section of your paystub detailing the overtime hours you worked and at what overtime rate was paid.
See the below example of a paystub with a single, regular pay rate and the standard overtime calculation (1.5x the regular rate):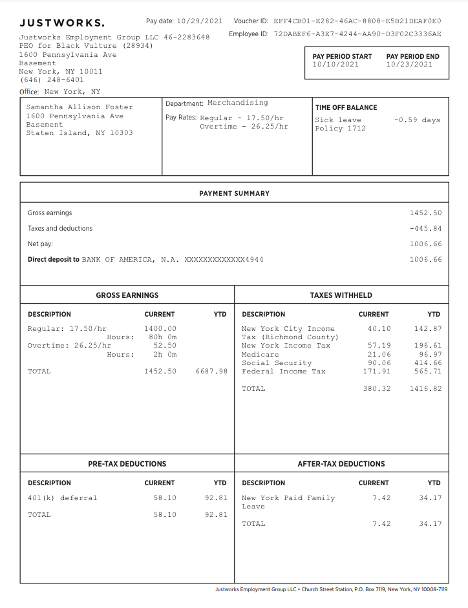 If you earned wages at multiple hourly rates with overtime in one pay period, you may notice a different overtime calculation. Let's go over why:
Overtime Premium (OT premium) refers to the half in time and a half. The rest of the overtime earnings are applied as part of Regular Earnings. You may see a rate labeled OT premium that applies to your hours worked with your employer using a weighted average or highest rate overtime premium calculation.
Here's what your paystub will look like with Multiple Rates, Overtime, and the OT premium calculation (0.5x):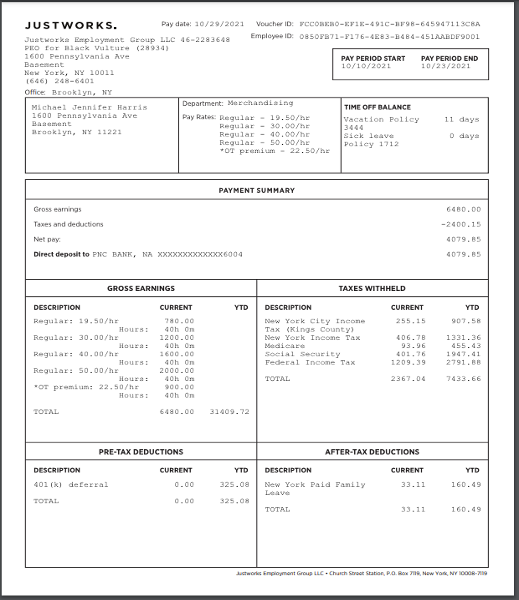 Salaried Employees
Salaried Exempt employees are not paid overtime so generally only one line item will appear in the "Gross Earnings" section of the paystub. Salaried employees sometimes earn other types of pay (e.g., bonuses) that will show up in this "Gross Earnings" section.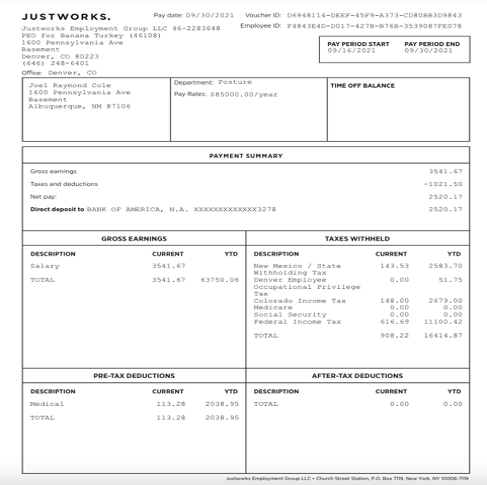 Salaried, Non-Exempt
If you are a salaried, non-exempt employee, you can earn overtime based on the hours worked during that pay period (and applicable overtime requirements) and as such, might have overtime show up on your paystub.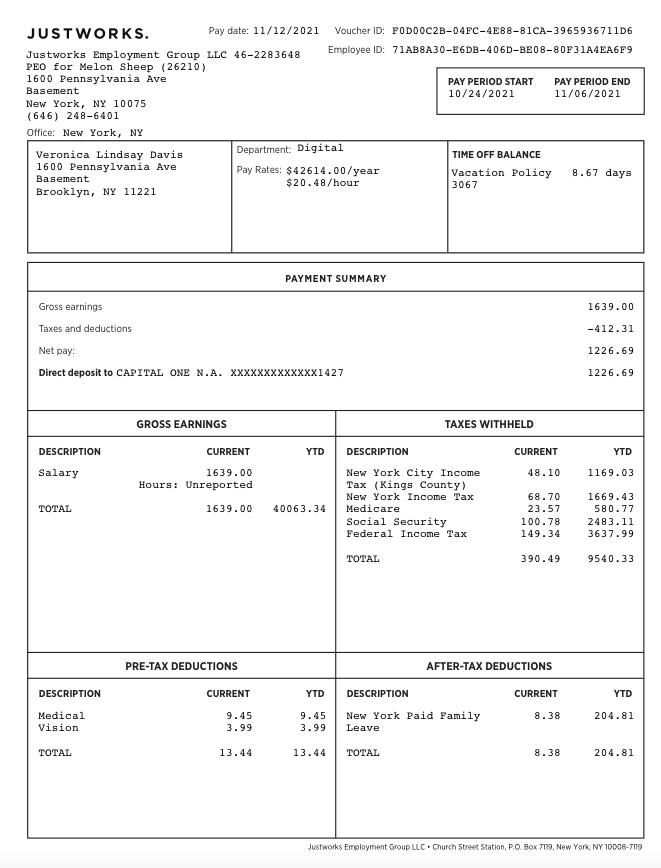 Other Factors
Pay Frequency
There are three pay frequencies that Justworks companies can be on:
Semimonthly - Employees are paid on the 15th and last business day of the month (or closest previous business day to each), 24 times a year.

Biweekly - Employees are paid every other Friday for the two work weeks prior, 26 times a year (biweekly pay periods may span over two calendar years)

Weekly- Employees are paid each Friday for the work week prior, 52 times a year (weekly pay periods may span over two calendar years)
*non-exempt employees cannot be on the semimonthly frequency on Justworks.
If you notice slight changes to your gross and/or net pay once your company has fully onboarded, be sure to check your company's pay frequency.
Wage Bases - Social Security & Medicare
Depending on the amount of taxable wages you earned prior to when your company switched to Justworks, you may see a difference in your withholdings for Social Security. This is because the 2020 Social Security Wage Base is $137,700, so once you've earned that taxable amount in one year, you will not have to continue to contribute to Social Security until the calendar turns to the next year.
However, there is no such base for Medicare. In fact, an additional .9% gets added to the standard 1.45% Medicare taxes once an employee has received more than $200,000 in taxable wages within one calendar year.
If you move to Justworks mid-year, and your admin did not provide us with year-to-date payroll reports, you may see Social Security tax withheld even if you have satisfied the base while on your previous provider. You may also see that regular amount for Medicare applied, if you've received over $200,000 in the calendar year prior to moving over to Justworks. Any underpayment or overpayment of Social Security and/or Medicare should be reconciled at the individual level, when you file your taxes for the preceding year in the spring.
Keep in mind that if your company does start on Justworks on January 1st, your first paycheck will include the above taxes, which you may have hit the base for through your previous provider.
Disclaimer
This material has been prepared for informational purposes only, and is not intended to provide, and should not be relied on for, legal or tax advice. If you have any legal or tax questions regarding this content or related issues, then you should consult with your professional legal or tax advisor.