Enrollment and Order Deadlines
Enrollment deadlines:
If your employer is offering the commuter benefit, you can enroll yourself for the benefit through the dashboard. Go to You > Benefits > Ancillary benefits > Commuter benefits. You can complete this at any time.
Once this step has been completed, employees must enroll in Optum Financial and create an account to get started to place a new order. Enrollment does not have a deadline, but please review the order deadlines below.
Both full-time and part-time employees are eligible. Unfortunately, unpaid owners are not eligible for this benefit.
Order deadlines:
Employees have until the 6th of each month to place new orders, make changes, or cancel their order, effective for the following benefit month.
For example, if you place an order on October 27th, you'll have until November 6th to make any changes to your December order. You'll then receive your card or transit/parking pass by December 1st or the modifications or cancellations will take effect on December 1st.
Commuters utilizing Metro-North or Long Island Rail Road in NY:
Employees have until the 4th of each month to place new orders, make changes, or cancel their order for the following benefit month, specifically for Metro-North or LIRR.
If you are using a benefit debit card to purchase your Metro-North or LIRR pass in person then your deadline will remain the 6th of the month.
How to enroll in Optum Financial
Eligible employees will be able to enroll in Optum Financial through Justworks.
To set it up, go to 'Benefits' from your dashboard, then click the 'Ancillary Benefits' tab.

Once you click 'enroll' from the Commuter Benefits box, you'll be led to a page where you can see more information about commuter benefits through Optum Financial.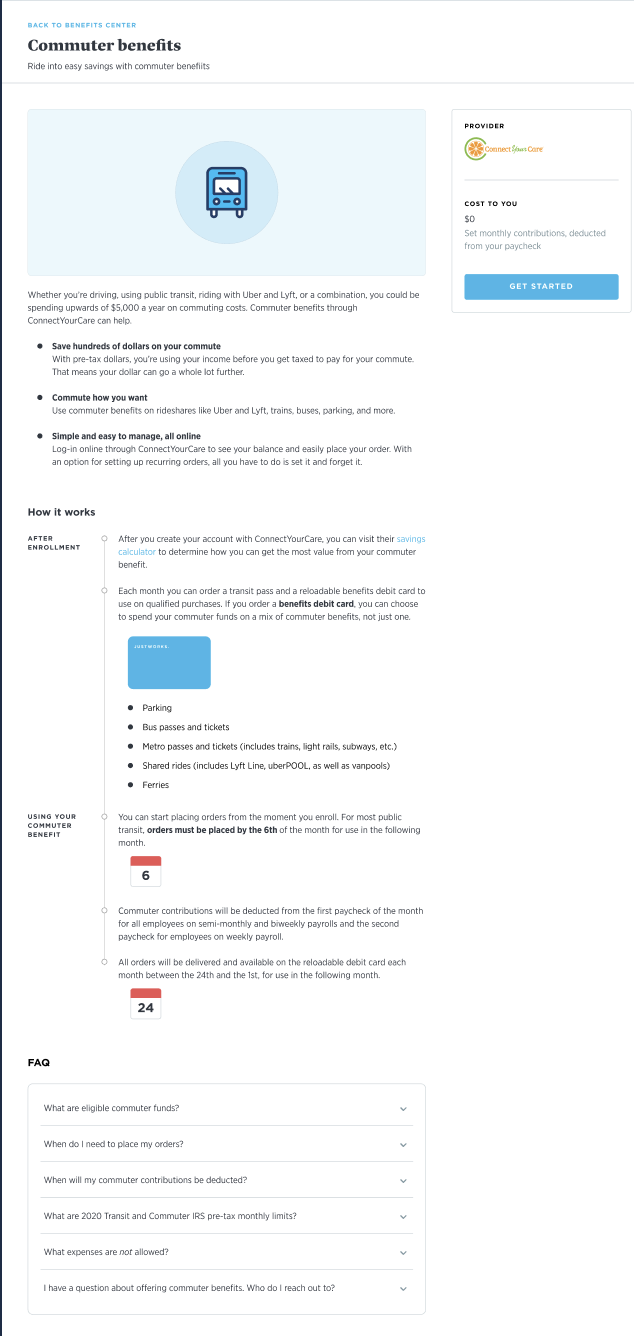 Once you select 'Submit Enrollment,' you will be redirected to Optum Financial to complete the flow to make your benefit selections. You will be asked to register your account using the last 4 digits of your Social Security number, mailing zipcode, and date of birth exactly as it appears in the "Account Settings" section of your Justworks account. If this does not reflect your actual SSN/DOB, adjust it and try again.
Please note you may have to turn off your pop-up blocker in order to successfully register your account.
If you have not yet submitted an order and have not received your Optum Financial debit card you can select the blue link at the bottom labeled "I have a Commuter account".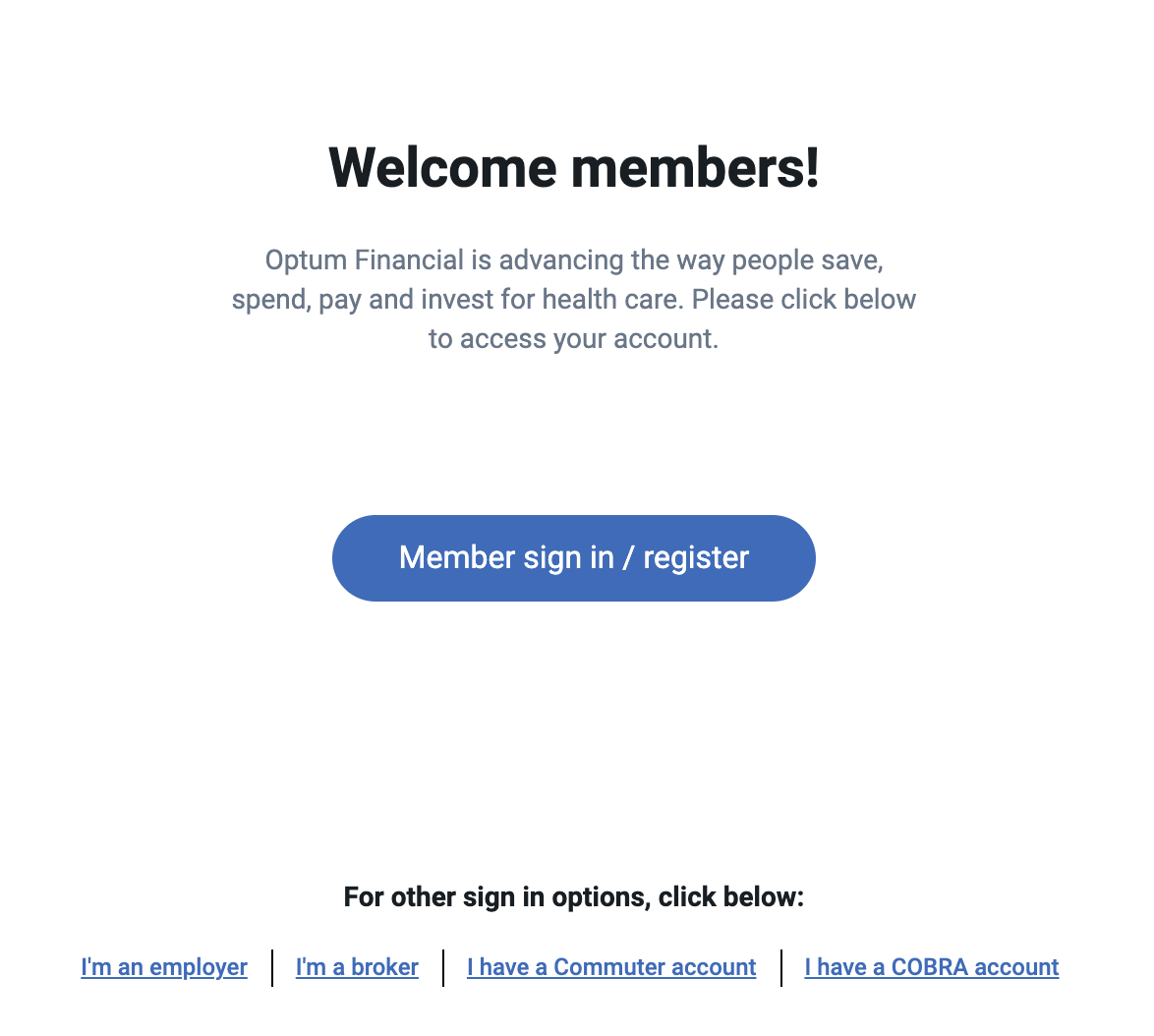 From there you can Submit Information and will be taken to a second screen where you will be asked for your SSN, date of birth, and zip code.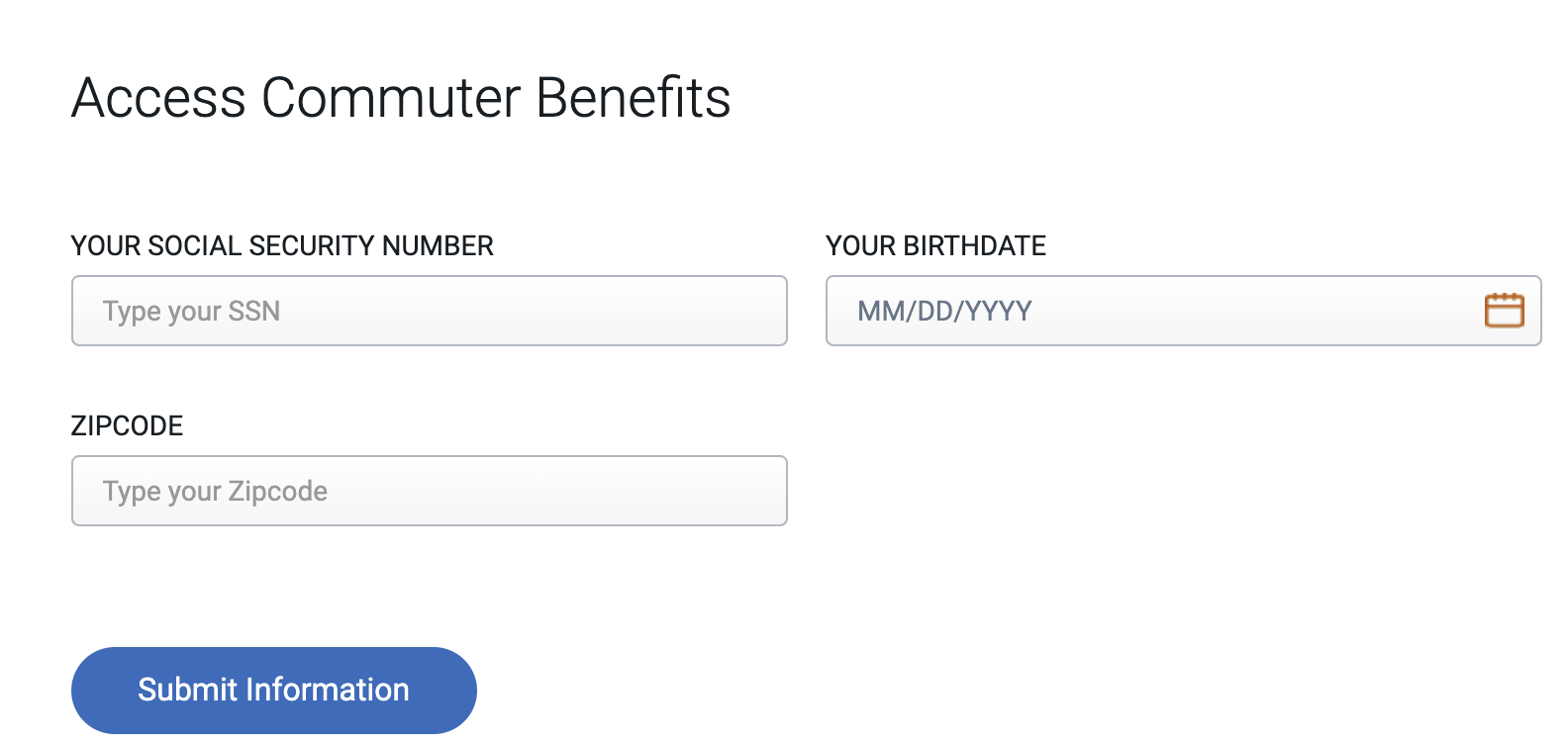 If you receive an error message that does not allow you to register your account you can bypass the registration by clicking the green Access Commuter Benefits. This will allow you to temporarily forgo the registration and place your commuter order. You can then officially register your account at a later date.
When your enrollment is complete, you'll receive a confirmation email from Optum Financial. You will also receive an email confirming every future order, even for recurring orders.
It's important to note that your address in Justworks is the address that is shared with Optum Financial and will used to mail your order to you.
Deductions
Your commuter benefit from Optum Financial will be billed once a month. The amount that is deducted will be based on the plan for which you enroll and the orders that you place. The deduction will be pre-tax from your gross pay and sent to Optum Financial. The remaining gross pay will be taxed as usual and paid out.
Please note, the IRS maximum for pre-tax contributions for commuter benefits is $280 for transit and $280 for parking per month in 2022.
Making changes to your benefit
To make changes, log into your Optum Financial account directly. If you have questions related to changing your benefit selection or the type of selections available for your location, you can contact Optum Financial Customer Support to learn more. You can reach them at 844-881-0242
or email of-service@of.optum.com. Their Customer Support is available 24/7 365 days a year.
Lost cards
If you've lost your card, it's best to contact Optum Financial Customer Support at 844-881-0242
or file your claim directly on the Optum Financial app. Please keep in mind that it's best to reach out to them as soon as you are able.
Terminated employees
If you are terminated in Justworks, your Optum Financial account will be canceled immediately. If you have credits on your account due to a transfer or refund those will be forfeited on the day of your termination. To avoid losing commuter credits it may be a good idea to transfer credits immediately to your debit card. If you have a commuter debit card, then you will have 90 days to use the funds in the account. After that, you will lose access to any remaining funds.
Credits
Credits added to your commuter account as a result of a reimbursement or transfer operate differently than funds already available on a commuter debit card. Credits, similar to pre-tax deductions, are subject to IRS rules and are therefore capped at $280 per month for transit orders (2022), $280 per month for parking orders (2022)f, and expire upon termination of employment.
Contacting Optum Financial
Optum Financial's Customer Service is open 24/7 365 days a year. If you have any questions or need to contact Optum Financial for help on your account, you can call 1 (877) 292-4040 or email of-service@of.optum.com.
You can also get more information and submit your claims through the Optum Financial app. For more information and links to download please visit their mobile app page here.
Disclaimer
This material has been prepared for informational purposes only, and is not intended to provide, and should not be relied on for, legal or tax advice. If you have any legal or tax questions regarding this content or related issues, then you should consult with your professional legal or tax advisor.