What is a 1099?
IRS Form 1099-MISC is issued from a business to a contractor and will report all amounts paid to that contractor. A 1099 is only issued if the contractor has received over $600 in the taxable year. This is what it looks like: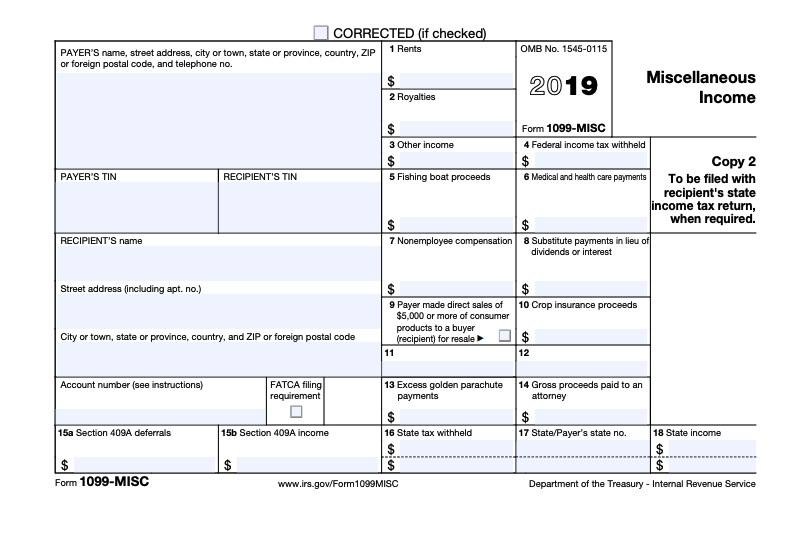 What Do I Do With My 1099?
You will receive your 1099 either by mail, directly in your Justworks account, or both. The electronic and paper copies will be identical and either can be used to file your taxes.
What Does Each Box Mean?
Box 1: This box reports rental payments of at least $600 for an office space or equipment rentals.
Box 2: This box reports royalties in excess of $10.
Box 3: This box reports other types of payments which are not considered wages, like prizes or awards.
Box 4: This box reports the amount of federal income tax withheld.
Box 5: This box reports fishing boat proceeds.
Box 6:This box is for payments providing healthcare services made in the course of trade or business over $600.
Box 7: This is most likely the box that will have the most relevant information. Any non-employee compensation, which includes money paid to you as an independent contractor, in excess of $600, will be reported in this box.
Box 8: This box reports substitute payments in lieu of dividends or interest.
Box 9: This box reports proceeds from the sales of consumer goods.
Box 10: This box will be populated if you're a farmer that received crop insurance proceeds of $600 or more paid by an insurance company.
Box 11: This will be blank.
Box 12: This will be blank.
Box 13: This box will be populated by any excess golden parachute payments subject to the 20% excise tax.
Box 14: This box will be populated by gross proceeds totaling $600 or more paid to an attorney.
How Do I Find My 1099 in Justworks?
Log in to Justworks and click on "documents" in the left-side menu bar to find a PDF copy of your 1099.
I Lost My 1099. Can I Get Another Copy?
Unfortunately, we only issue one 1099 for each individual, but don't worry, you can print off a PDF copy of your 1099 from your Justworks account.
My Company is an S-Corps or a C-Corp, Why Did I Receive a 1099?
Per the IRS, 1099s can be issued to S-corps and C-corps for certain types of payments, like attorneys fees or medical and health care payments. They may be required.
Disclaimer
This material has been prepared for informational purposes only, and is not intended to provide, and should not be relied on for, legal or tax advice. If you have any legal or tax questions regarding this content or related issues, then you should consult with your professional legal or tax advisor.