You can easily enter hours for several of your hourly and non-exempt salaried employees at once using the Import Hours tool.
Prepping and Uploading your file
Admins with the 'Make Payments' permission will be able to access the Import Hours tool from the top of the screen of the 'Timecards' tab. You'll need to download the import template, and fill in your team's information accordingly. 

Pre-populated fields are first name, last name, work email, the start and end dates of the weeks of the pay period. These fields, as well as the regular hours worked, are required for upload.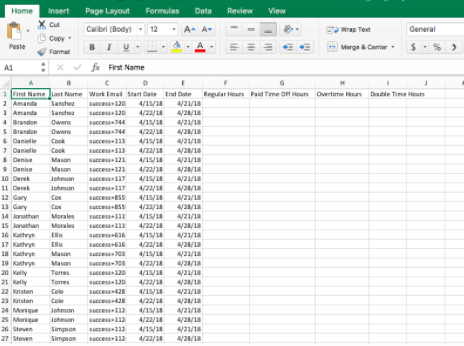 The start and end dates coincide with each week of the pay period. Each week begins on Sunday and ends on the following Saturday. Generally, there are two rows for each employee, coinciding with both weeks of the pay period. Companies with hourly employees who are paid weekly, though, will only see one row per employee.

You can also choose to add any paid time off, overtime, and/or double time for your team here. 

Once you've entered the necessary information, save your file as a CSV and upload it. You do also have the option to drag and drop a file into the tool directly from your desktop as well.
There's an error! What do I do?
If there's an error with the file you've uploaded, you'll see a description and location of the error, where applicable. To resolve the error, correct your file and re-upload it. 
Common Errors:
At this time, the tool will not accept zeroes in any field. For the file to be accepted, each cell for hours either has to have a positive number or be left blank. If there are no hours to enter for one week for any employee, you can simply delete that row.

Any of the cells that come pre-populated when the template is downloaded should not be edited, as those fields are how the Import Hours tool matches the hours to a member's timecard.
Admins won't be able to enter more than 168 hours for each week. If you're trying to make up for another payment, it's best to schedule an off-cycle payment through that tool.
You will be able to add time both in decimal form (ex. 20.5 hours) or by hours:minutes (eg, 25:30) in the template, but the file cannot be accepted if hours & minutes are written out in the cell.
Reviewing the imported data
You'll have to review and submit the hours before they are saved. Towards the bottom of the page, you'll see a confirmation banner that you'll have to check, ensuring that the hours entered are correct, before they are saved.

Additionally, please keep in mind that currently, the tool won't automatically factor previously-approved PTO into the timecards. Those hours will still have to be added to the file manually.

Once you submit the data, you will still have the ability to edit their employees' hours until processing time. Admins will be able to go into the 'Timecards' tab and edit individual timecards. 

More than one file can be uploaded through the Import Hours tool for one pay period. This is especially useful for those with hourly employees at different offices or with different managers. If multiple entries are entered for an employee, the most recently imported data will overwrite what had been previously entered.

Manager Permissions
You'll also now be able to give managers the ability to fill out, submit, and approve timecards for their direct reports and extended teams. You can set up Manager Permissions by going to the 'Permissions' tab from the left-hand menu in your Justworks account, clicking on the 'Manager Permissions' tab at the top of the screen, and enabling 'Manage Employee Timecards.'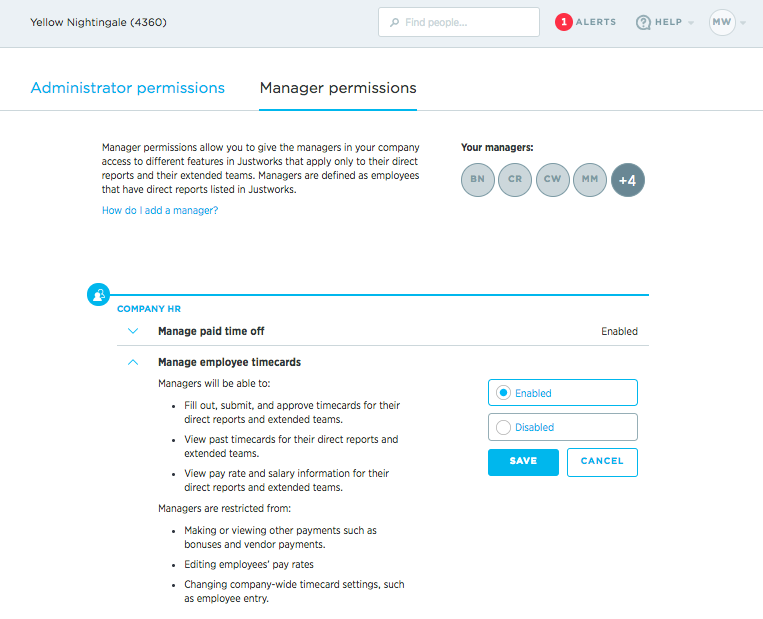 Managers who have this permission will not be able to make other payments, or approve timecards of those who are not in their reporting chain.
Preferred Vendors
Our preferred vendors TSheets and Boomr bring customers a more streamlined process with pre-formatted reports that are ready to be imported into Justworks.

TSheets helps to eliminate any room for payroll errors with precise time tracking, as well as additional features such as project and job costing and employee alerts and scheduling. Companies who already use TSheets will be able to easily upload their employees' hours into Justworks.

Boomr supports time tracking with 'one-click onboarding', making it easy for hourly and non-exempt salaried employees to set up and start logging their hours within minutes. Admins can also manage their team with overtime warnings and live notes. The data from Boomr will also be easy to upload into Justworks.