Once you've set up your PTO policy, you can manage incoming requests, view scheduled time off, and make any necessary edits.
PTO requests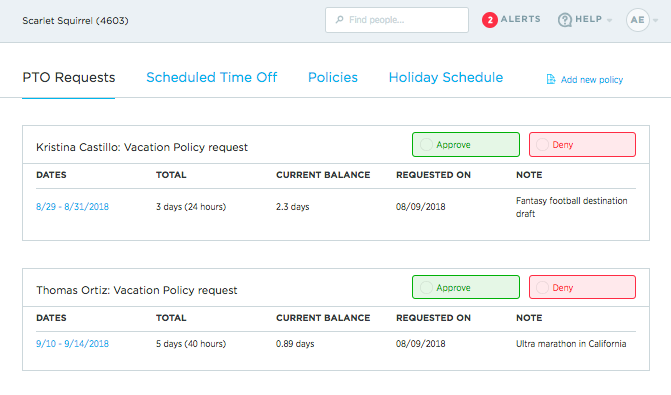 Admin with the 'Manage all paid time off' permission can view all incoming requests for PTO. Managers will see requests from their direct reports first, and then from their extended team. You have the ability to approve or deny any requests and provide reasons for the actions to your employees.
Scheduled time off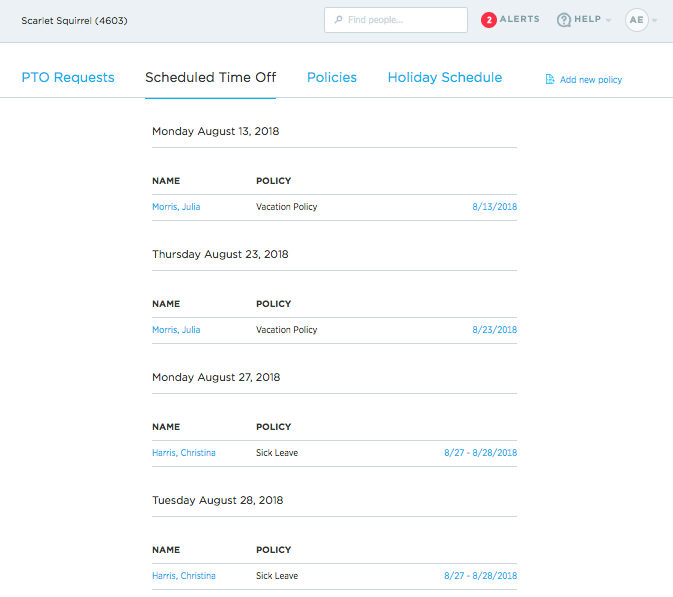 View all upcoming time off for your team in one handy list. Admin with the 'Manage all paid time off' permission will see all employees and managers will see their team's requests. You'll see a day-by-day breakdown of all upcoming time off so you and your team can be prepared.
Policies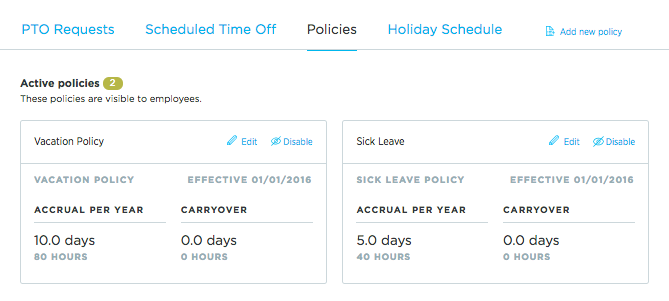 View all of the policies you've set-up for your company and make any edits along the way.
Disabling policies
Disabling policies is easy. First, navigate to HR > Time off policies > Policies. From here, you should see all of your active policies. To disable, just click on the "Disable" button in the top right corner of the policy.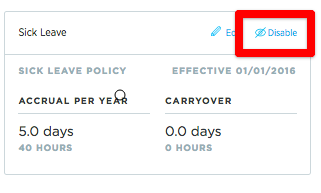 Depending on the type of policy and the state in which your employees work, accrued PTO may be considered part of the wages of the employee and must be paid out if the policy is not being replaced. Sick leave policies may also be required in some locations. Please check your local laws to confirm.
Calculating Balances
You can also easily calculate the PTO balance of your employees for any given date directly from your Justworks account. For any employee who'd like to calculate the balance for simply go to Manage > Employees, and click on their name. Under the 'Time Off' tab, you'll see the option to calculate PTO balance. Select a policy to which to calculate from, and a date, and you'll be all set.
PTO in Timecards
When your hourly and non-exempt salaried employees take PTO, these hours may or may not automatically show in their timecards, depending on Timecard Sync setting of the policy they've taken time from.
If the policy has 'unsycned' timecards, those hours will not automatically show up in their timecard when you go to approve them. Additionally, please note that any edits made here will not adjust the employee's balance from their Time Off Section. You'll need to adjust the hours under that section as well.
Disclaimer
This material has been prepared for informational purposes only, and is not intended to provide, and should not be relied on for, legal or tax advice. If you have any legal or tax questions regarding this content or related issues, then you should consult with your professional legal or tax advisor.