Justworks provides access to your reporting needs all in one place with easy-to-use tools so you can get those insights you want without waiting for someone else to crunch your data.
You can find Reports in your Justworks account directly from your dashboard. On the left navigation, head to "Reporting" under Company and explore the options available to you.
Our range of pre-built reports are categorized in a list by specific topics (Benefits, HR and Payroll), with a clear definition of each report's purpose so you can easily navigate to the one you want.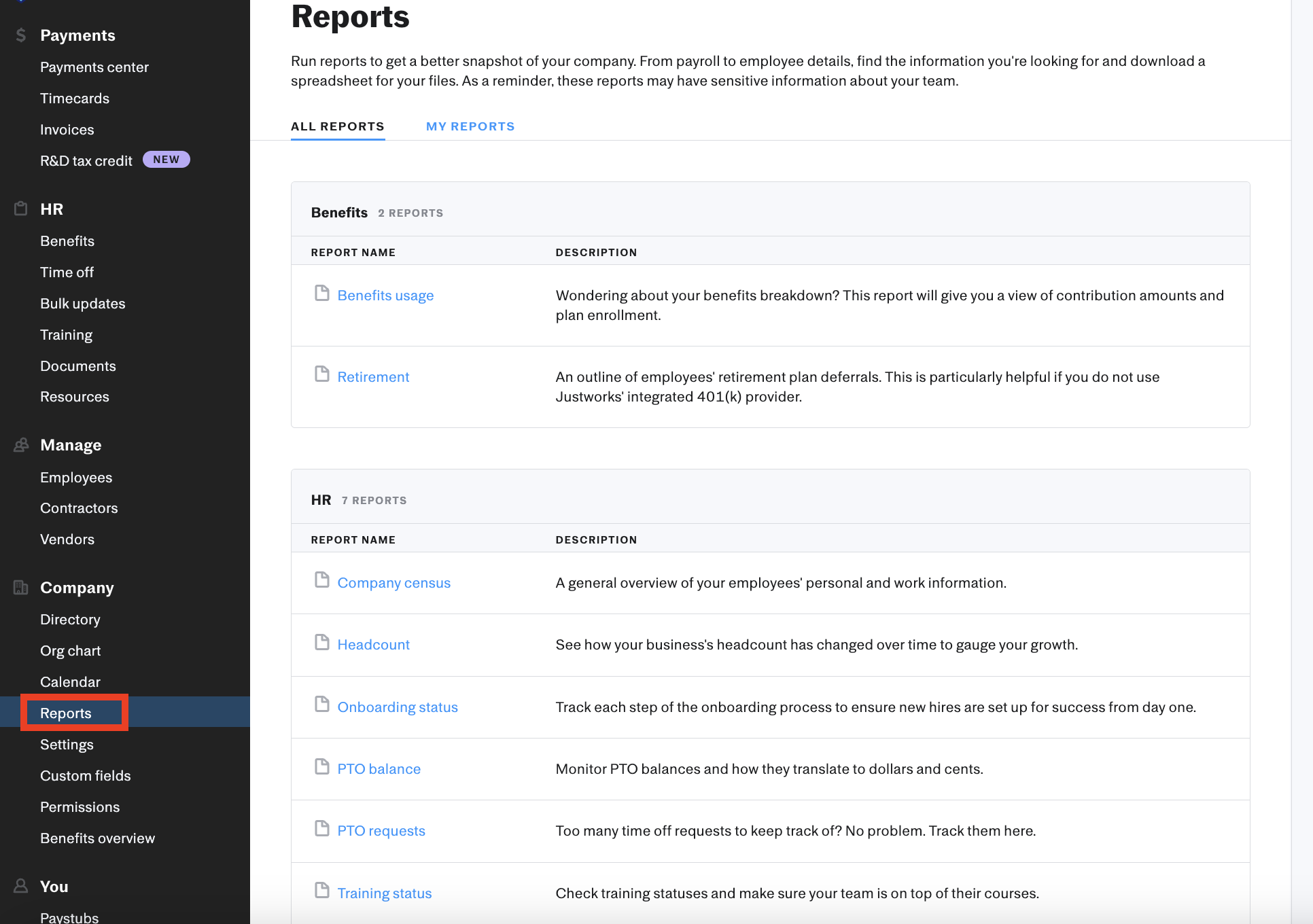 Our reports combine only the most relevant data points and present them in a comprehensible and usable way so you can begin to see trends and build insights from within Justworks.
What are some example reports included with Justworks?
Training Status Report
The Training Status Report that allows you to track the progress of all your team's assigned trainings in one place.
PTO Balance
Allows users to track their team members' accrued PTO, how much has been used and what the accrued, unused PTO balance is in time and dollars.
Disclaimer: Dollar amounts shown in the Ending Balance (Estimated Dollars) column are subject to the customer's confirmation (e.g., that the estimated amounts are consistent with their PTO policy)
Onboarding Status
Track each step of the onboarding process to ensure new hires are set up for success from day one . This report allows users to see which onboarding activities have or have not been completed by new starters. The onboarding activities have been grouped into key steps
Basic Info - the new hire's personal info

Payment - their linked bank account

Health Insurance - enrollment

I-9 - completion status
Work History
Spot trends in work history to see how your team has progressed.
The Work History report provides this information in aggregate so customers can review their entire team's current and past information - title, department, manager, pay rate - in one spot
Last Pay Change
Track and analyze your team's pay rates and increases to see who may be eligible for a raise
This report allows users to view their team members' previous pay rate, current pay rate, the percentage increase (if any) and the date the pay change was made

Headcount
See how your business's headcount has changed over time to gauge your growth
Allows users to see a list of all member types active and terminated over a period of time.
Company Census
Build a report of your employees, contractors, and vendors, their personal contact information, and their relationship to the company including but not limited to job titles, managers, salaries, and start/end dates.
PTO Requests
Builds a PTO request report based on a date range you select and your choice of employee types (full-time, part-time, contractor, etc…), offices, departments, employee info fields (name, department, office), PTO request info (includes any notes between employee and manager).
Builds an employee payment report along with a breakdown of any specific perks, insurance or tax payments, and 401(k) contributions the employee made for a given time period. You can choose to see each payment that was made on an individual line or sum up the payments by week, month, year, or the selected time frame.
Benefits usage
Builds a report of the benefits your employees are enrolled in, how much they cost, and how that cost is shared between the employee and the company.
Retirement
Builds a report with all relevant information about your employees' retirement plan deferrals (the most common of which are 401(k)s).
Hours Worked
Builds a report that allows you to download timecard data across different pay periods all in one place. You can group results by pay periods, entry type (weekly or daily), or simply take the total hours across all pay periods.
Customizing your reports
Sort and filter the reports in real-time and instantaneously view the results right from within Justworks or export your data to CSV for your records.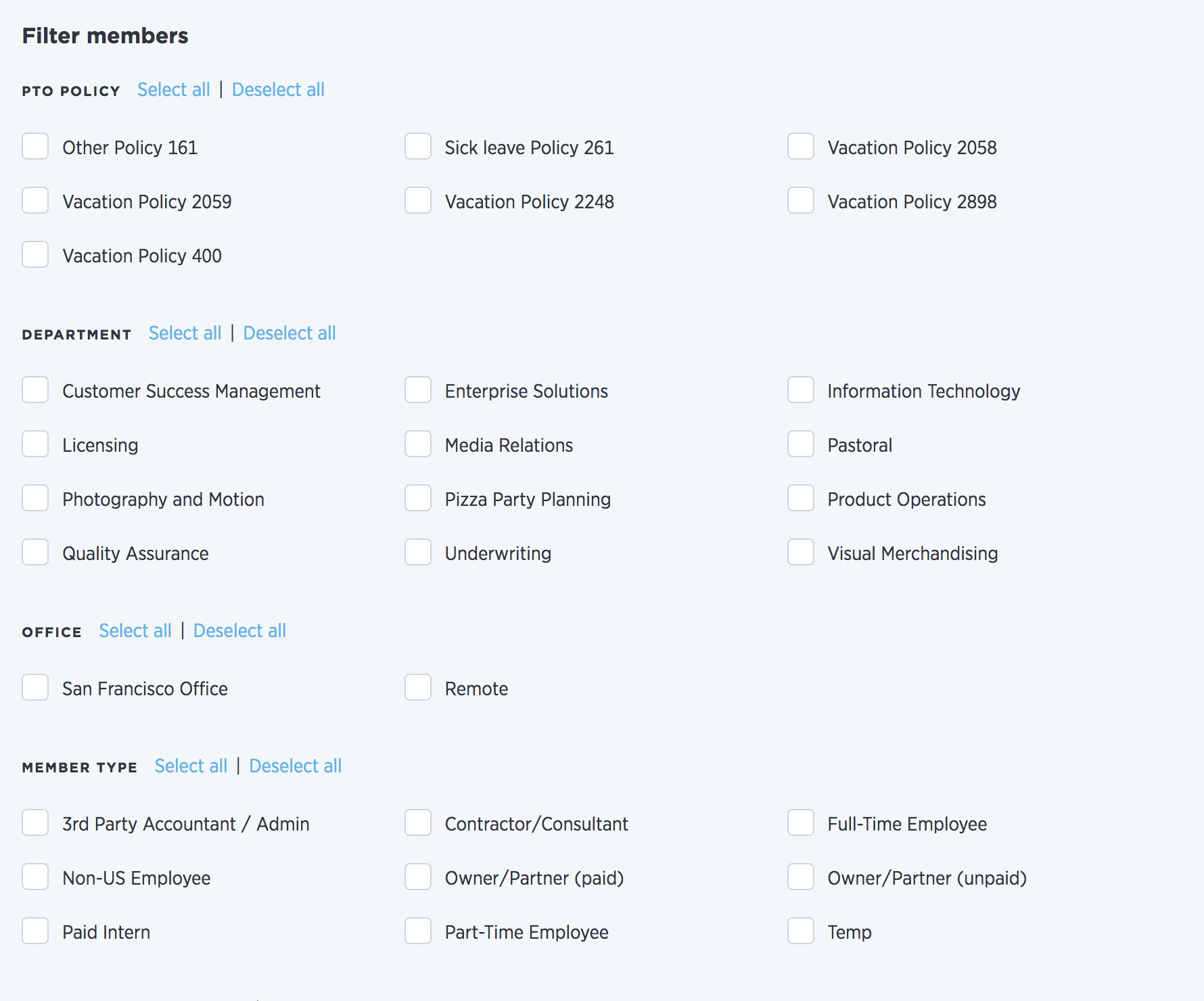 Who can access reports?
We know that certain reports can allow for the viewing of sensitive information so we've made sure to help keep your data protected. Reports are visible to users based on their permissions.
Customers that have the

Make Payments

OR

Manage Employees

OR

View All Employee Info

permissions are able to view

the following reports:

Work History, Last Pay Change, Onboarding Status, PTO Balance

and

Headcount



Users that have the

View Invoices & Reporting

permission will be able to view the

Headcount Report

and

Last Pay Change

report
Note: Already existing reports (Benefits Usage, Retirement, Company Census, Time Off, Hours Worked and Payroll) will remain under the View Invoices & Reporting permission
Downloading reports
Once you've filtered your data and generated your report, you can download a .CSV by clicking "Export" in the upper right corner. We'll generate your data and once your report is finalized, you'll be able to click "download."
Warning
These reports may contain sensitive data. Please be careful when transmitting the information as a CSV file.
Disclaimer
This material has been prepared for informational purposes only, and is not intended to provide, and should not be relied on for, legal or tax advice. If you have any legal or tax questions regarding this content or related issues, then you should consult with your professional legal or tax advisor.